The US and Iran both spoke of progress yesterday towards a deal about Iran's nuclear programme, with a deadline for an agreement fast approaching and pressure mounting on both sides to find common ground.
John Kerry, the US Secretary of State, said in Switzerland, after a number of days of negotiations in Lausanne that "substantial progress" had been made, but tempered that with the fact that "tough decisions" still needed to be made.
Iranian President Hassan Rouhani struck a more positive note earlier, saying there was "nothing that cannot be resolved" between the parties – with partners Britain, China, France, Russia, the United States and Germany (known as the P5+1) on one side and Iran on the other. However, speed is of the essence as the deadline for an initial deal is 31 March – while a full deal must be reached by June.
The talks centre around the use of Iran's nuclear programme, with the six world powers worried about the potential for Iran to use the programme for military purposes. What Iran would get in return for limiting its programme would be a lifting of sanctions that have crippled the Iranian economy.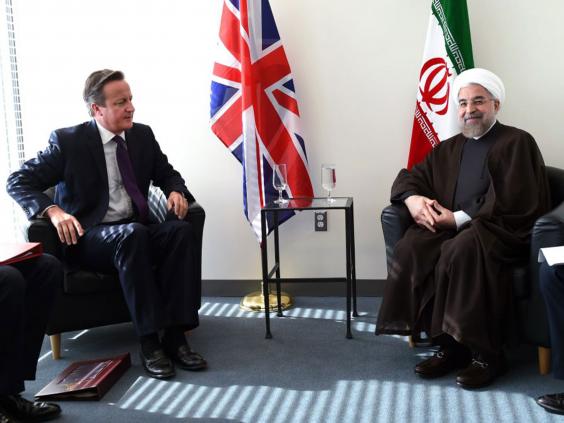 "Over the past few weeks I have had lengthy negotiations with the Iranian team about the steps that Iran must take to demonstrate that its nuclear programme now and going into the future is exclusively for peaceful purposes," Mr Kerry said. "We have not yet reached the finish line but make no mistake we have the opportunity to try to get this right."
The difficulties of the negotiations were brought into focus by Iran's Supreme Leader Ayatollah Ali Khamenei, who denounced US "bullying" in the negotiations yesterday and repeated Tehran's denial that it was seeking to develop a nuclear weapon.
Mr Kerry was in London last night to meet European partners to discuss the "sticking points" in the deal, although he had said that the group were "not rushing" a pact.
France has been pushing for more stringent restrictions on Iran and yesterday French Foreign Minister Laurent Fabius reiterated that they want a "robust" agreement".
Reuse content