Iran has stopped pilgrims from travelling to Mecca, as tensions builds between Tehran and Saudi Arabia, state media has reported.
Officials have suspended all Umrah trips - which are both lucrative for Saudi Arabia and important to practising Muslims - after two male Iranians were sexual allegedly assaulted as they travelled through Jeddah airport in March.
Iranians angered by the alleged abuse rallied outside the Saudi Arabian embassy in Tehran on Saturday in an unauthorised protest.
Hossein Nooshabadi, a spokesman for the Culture Ministry, told reporters that the pilgrimages would not be allowed until the Saudi government "applies a strong attitude" to the case.
He also said "capital punishment" should apply to the case, but did not elaborate.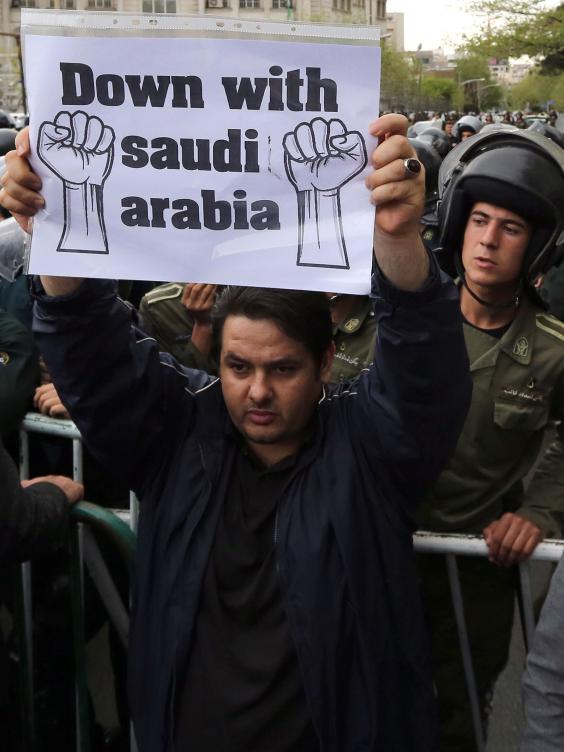 As public anger grows, President Hassan Rouhani has ordered an investigation into the incident and Iran's Foreign Ministry has summoned a Saudi diplomat to discuss the situation.
The details of what happened at the airport remain unclear as details have not been publicly disclosed and Saudi officials have not publicly commented on the dispute.
In a jarring development, a senior representative of Iran's body which deals with hajj affairs has downplayed the case, and said the pilgrims were not in fact abused, the semi-official Fars news agency reported.
"In the incident, no abuse has happened and the two policemen who attempted abuse were identified and detained by Saudi police," Ali Ghaziasgar was quoted as saying.
Umrah is a pilgrimage to Mecca which can be undertaken at any time of the year. It is therefore considered a lesser journey in comparison to the hajj, which takes place after Ramadan and is required of every able-bodied Muslim at least once in a lifetime.
The ban excludes Hajj, the Guardian reported.
As many as 500,000 Iranians visit Saudi Arabia each year for the Umrah pilgrimage to Mecca and Medina, which are the holiest sites in Islam, while a further 100,000 travel to Saudi Arabia for the hajj.
This year, the hajj will take place in September.
The tensions come after aviation authorities in Saudi Arabia turned away an Iranian plane carrying pilgrims earlier this month, because it apparently did not have permission to use the country's airspace, the official Saudi Press Agency reported.
Relations between Shia Iran and Sunni Saudia Rabia  have soured over the latter's airstrikes in Yemen, which have targeted the Houthi rebels. Western countries including the US Western countries and Sunni Arab nations involved in the Saudi-led coalition have accused Iran of supporting the Houthis militarily, something both the rebels and the Islamic Republic deny.
Additional reporting by AP
Reuse content