Even as Iran released ten US sailors largely without incident after their vessels slipped into Iranian waters, a new potential controversy was busily brewing after state television broadcast video footage of the sailors being detained and apologising.
"It was a mistake. That was our fault, and we apologise for our mistake," the unidentified sailor sais in a clip, which was posted online hours after the sailors were released from Iranian detention.
Asked in the video if GPS confirmed that the American boats had entered Iranian waters, the man said: "I believe so."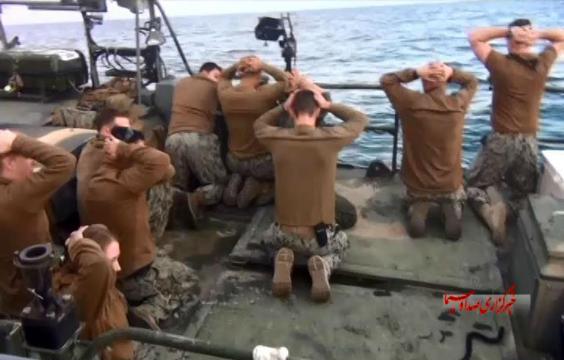 "It was a misunderstanding," he sais, according to the Associated Press. "We did not mean to go into Iranian territorial water."
The brief detention of the sailors, nine men and one woman, appeared to have been defused largely without incident, apparently after the intervention of Secretary of State John Kerry. 
America's top diplomat had developed a close personal relationship with Iran's foreign minister, Mohammed Javad Zarif in the three years of negotiations over Iran's nuclear programme. He reportedly spoke with him five times by telephone and Mr Kerry credited the quick resolution to the "critical role diplomacy plays in keeping our country secure and strong." 
US Defense Secretary Ash Carter thanked Mr Kerry after the sailors' release and couched the incident in humanitarian terms, noting that "the US Navy routinely provides assistance to foreign sailors in distress."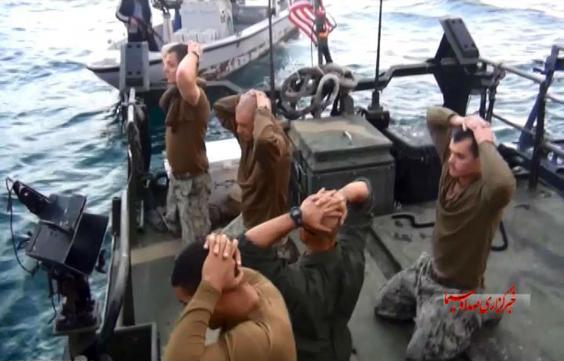 The speedy release of the sailors appeared to undermine a number of claims by leading Republicans that President Obama and his foreign policy were somehow responsible for the sailors being taken.
On Wednesday, opponents of Mr Obama were already seizing on the footage, that showed the US sailors on their vessels and answering the questions put to them by the Iranians.
The same Iranian state outlet had previously released footage that appeared to show when the 10 sailors were detained aboard their Riverine boats.
That video showed the sailors in camouflage trousers and beige shirts kneeling with their backs to the camera. 
Video: One of #US sailors says Iranians behavior with them was "fantastic" & they had no problem. #Iran pic.twitter.com/vgVlrkzdvh

— Abas Aslani (@abasinfo) January 13, 2016
It shows them with their hands clasped together on their heads. Some sailors appear to look around anxiously. Other images posted in Iranian media appear to show weapons confiscated by the Iranian officials, including assault rifles and light machine guns, along with belts of ammunition.
Still another shows an Iranian official going through documents apparently on board one of the American boats.
Iranian media had also published images of the American sailors looking much more relaxed while apparently in Iranian detention late on Tuesday. Additional images released today showed the sailors as they ate in a group.
 On Wednesday night, CNN said US military officials believed the apology was "staged".
A US official said on Tuesday it was believed that one of the American boats had suffered mechanical issues and drifted with the other into Iranian waters. However, a spokesman for the Navy's Fifth Fleet told ABC News that an ongoing investigation will determine what led the boats to enter Iranian waters off of Farsi Island. 
A statement by the Iranian military described the purported American incursion as "illegal" but also "inadvertent and unintentional."