Britain entered its third Iraq war in 23 years at 7.32am yesterday morning, with Tornado GR4 jets armed with bombs and missiles taking off from a base in Cyprus – the start of a combat mission that is expected to last for months and one that could end up with troops being deployed on the ground.
The two warplanes from RAF Akrotiri were tasked, according to defence officials, with hunting down Islamic State (Isis) commanders and convoys carrying fighters and weapons. The US and its allies had destroyed the vast bulk of the insurgent bases and structures in the hundreds of air raids that have already been carried out, leaving few to be hit,
In the event the fighter-bombers, carrying Brimstone missiles, Paveway IV and Storm Shadow bunker-busting bombs, returned to the base late yesterday afternoon without carrying out any strikes. The Ministry of Defence stated: "Although on this occasion no targets were identified requiring immediate air attack, the intelligence gathered will be invaluable to the Iraqi authorities and their coalition partners.
Furthermore... with no effective defence against air strikes, the terrorists are forced to be much more cautious, keeping their forces dispersed and movement inhibited. They also know that should they concentrate to deliver an attack against Iraqi or Kurdish troops, aircraft are likely to arrive very soon afterwards."
Operations are expected to intensify in the coming weeks with flights in support of peshmerga and Iraqi government forces as they try to wrest back ground from Isis. One scenario being considered by the military planners is for the UK and other European states to concentrate on Iraq for the time being, allowing America, with a supporting Arab coalition, to switch more of their focus to Syria.
Belgium, Denmark and Holland are all committing aircraft to the campaign, while the French have already carried out air strikes. A vote in the House of Commons on Friday authorised military action, by an overwhelming margin, but restricted it to Iraq and although both David Cameron and François Hollande have stated that they are prepared to extend attacks to Syria, such a step remains politically sensitive in both the countries.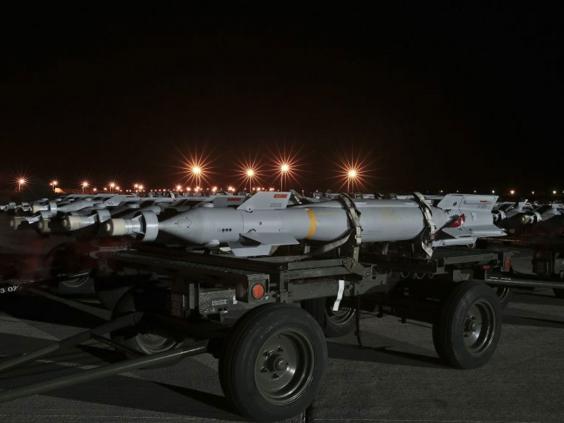 David Cameron lost a Commons vote last autumn to join the US in carrying out air raids on Bashar al-Assad's regime after the chemical attack on al-Ghouta near Damascus. Past and present military commanders who were cautious about that venture, some of them also bitterly critical of Tony Blair's decision to join George W Bush in the 2003 Iraq invasion, were broadly supportive of the current mission.
They warned, however, that air strikes alone would not be enough to ensure lasting gains – and land forces would be needed.
"The obvious differences between the 2003 war and the current one is that, this time, Britain is answering the request of an Iraqi government against a terrorist threat and not carrying out an invasion based on a manufactured dossier on supposed weapons of mass destruction. Indeed, much of the problem we are facing now with Islamist terrorism is due to Tony Blair's actions at the time," Major General Julian Thompson, a former commander in the Royal Marines, told The Independent on Sunday.
"But I agree with the view that an air campaign by itself will not be enough. I think we should have forward air controllers to ensure that targeting is done properly and to try to avoid civilian casualties, and there is also a case for putting special forces on the ground. We should also do our bit to train Iraqi and peshmerga troops who will have to carry out the land operation."
The American-led strikes continued yesterday in Iraq and Syria, with Isis fighters laying siege to the Kurdish town of Kobani in Syria, close to the Turkish border, coming under attack. The jihadist group was targeted for the first time in Homs province, a strategic and symbolic arena in Syria's bloody civil war, and also the town of Manbij, east of Aleppo, while there was further bombing of Raqqa, the capital of the "caliphate". The targets destroyed, according the US military, included an airfield, garrison and training camp; a command centre and armoured vehicles.
General Martin Dempsey, head of the US military, insisted that the attacks were inflicting serious damage on Isis, but acknowledged that air power alone was not enough to ensure victory and recapture territory in Syria and Iraq. "Ideally, for the kind of issues we are confronting, the only truly effective force that will actually be able to eject Isis from within its own population is a force comprised of Iraqis and Kurds and moderate Syrian opposition," he said.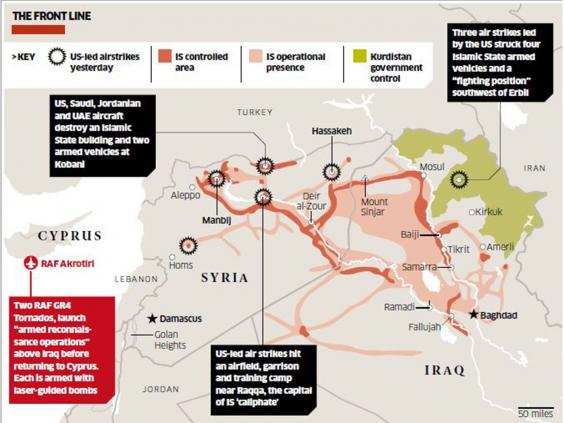 But the air strikes and, in particular those carried out on Jabhat al-Nusra, a jihadist group affiliated to al-Qaeda which had been in conflict with Isis in the past, led to protests taking place in rebel-held parts of Syria involving even some from the "moderate opposition" that General Dempsey wants to see in the anti-Islamic State alliance.
The Obama administration stressed that attacks on Khorasan, a group specialising in bomb-making, was carried out to prevent an imminent attempt to blow up Western airliners. But in the shifting alliances between the rebel khatibas (battalions), moderate groups have worked alongside al-Nusra. One group, Harakat Hazm, allied to the Free Syrian Army whose members are being trained in CIA-organised camps in Jordan, said in a statement: "The only beneficiary of external intervention in Syria is the Assad regime, especially in the absence of any true strategy to bring him down."
The number of civilian fatalities from the bombing so far reportedly varies between 10 and two dozen, according to differing accounts. Activists warned that IS and al-Nusra were exploiting the deaths, injuries and destruction to whip up anti-Western sentiments. In one demonstration at the village of Taqad in Aleppo province, residents chanted: "No war against rebels: the biggest criminal is Assad". At another village, in Idlib province, banners were raised saying: " Nusra represents me" and " Stop shelling civilians".
"They are putting out videos on the internet saying 'this is a war against Muslims'. People are confused and unhappy. They used to be bombed by Assad's planes, now they are getting bombed by Western planes," said Omar Abu Yasin, a lawyer in Idlib province who had been imprisoned both by the regime and Isis. "All these air raids were carried out without any consultation with the opposition, there is a lot of unhappiness about this. If the West are here to help us, they should speak to the resistance."
But Robert Emerson, a security analyst, was of the view that information passed on to some of the supposedly moderate groups would have been leaked. "You see how close a few of them are to al-Nusra. Security could easily have been compromised.
"What's happening also shows the lack of humint [human intelligence] on the ground; another reason why you need special forces, some from Arab countries but also Western – to be the eyes and ears as well as carry out covert sabotage ops."
Reuse content