Islamic State (Isis) is proclaiming victory in Ramadi over mosque loudspeakers after a day of heavy fighting as the government rushes reinforcements into the city to prevent its worst defeat this year.
Isis forces stormed the government-held enclave in central Ramadi, the capital of Anbar province, early on 15 May. The government still holds an operations centre on the edge of the city and important bases nearby, but its failure to defend Ramadi is a sign that Isis has become a permanent feature of the political and military landscape of Iraq.
In pictures: Fight for Tikrit
In pictures: Fight for Tikrit
1/16 Fight for Tikrit

Shiite fighters pose in front of a mural depicting the emblem of the Islamic State group outside one of the presidential palaces in Tikrit, on April 1, 2015

Getty Images

2/16 Fight for Tikrit

Iraqi Prime Minister Haider al-Abadi tours the city of Tikrit after it was retaken by the security forces in Baghdad, Iraq, on April 1 2015

AP

3/16 Fight for Tikrit

An Iraqi flag waves over the Tigris River om April 1 2015

AP

4/16 Fight for Tikrit

Iraqi security forces playing football in Tikrit after their country declared a 'magnificent victory' over the Islamic State group in the city on April 1 2015

Reuters

5/16 Fight for Tikrit

A member of the security forces holds Iraq's national flag in front of a painted Isis emblem

Getty Images

6/16 Fight for Tikrit

Iraqi security forces arrest a member of the Islamic State in Tikrit on April 1, 2015

Reuters

7/16 Fight for Tikrit

A member from the Iraqi security forces beats an Isis insurgent, who was captured in Tikrit

Reuters

8/16 Fight for Tikrit

Shiite fighters from the Popular Mobilisation units celebrate in front of the the provincial council building inside the northern Iraqi city of Tikrit on March 31, 2015

Getty Images

9/16 Fight for Tikrit

Iraqi soldiers stand on a damaged tank during fighting against IS militants near Tikrit

Corbis

10/16 Fight for Tikrit

Fighters of Iraqi Shiite militias who volunteered to support the Iraqi forces make their way towards Daquq town near Tikrit

Corbis

11/16 Fight for Tikrit

Iraqi security forces and Shia fighters chant slogans as they gather at Udhaim dam, north of Baghdad, where they have been massing in preparation for an attack on Isis along the Tigris River

Reuters

12/16 Fight for Tikrit

Pro-government volunteer Shia fighters in Awaynat near Tikrit

AFP/Getty

13/16 Fight for Tikrit

Iraqi government forces and allied militias firing weaponry from a position in the northern part of Diyala

AFP

14/16 Fight for Tikrit

A volunteer in the Iraqi Shiite Badr Army militia taking up position outside Tikrit

Corbis

15/16 Fight for Tikrit

Volunteers of the Iraqi Shiite Badr Army militia patrol an area at eastern Tikrit city

Corbis

16/16 Fight for Tikrit

Members of the Iraqi security forces coming from the city of Samarra drive towards al-Dawr south of Tikrit to launch an assault against the Islamic State

AFP/Getty
The Isis assault came early on Friday as it used armoured bulldozers to clear away concrete obstructions and then sent at least six suicide bombers driving vehicles packed with explosives to attack the defenders. An army major was reported as saying that Isis had cut the only remaining supply line for troops still in the city, making it difficult to reinforce them. Some 130,000 remaining inhabitants of Ramadi, an overwhelmingly Sunni city, have fled the fighting, though they have previously had difficulty in entering Baghdad where they are suspected of being Isis sympathisers.
Unless the government can counterattack swiftly and regain control of lost positions, the defeat in Ramadi will be a devastating blow to the Baghdad government. It shows that Isis can gain military successes despite its offensive being expected and with defending troops supported by US air strikes. Isis's run of victories last year was broken during the winter by its failure to capture the Syrian Kurdish city of Kobani despite suffering heavy losses. Some military specialists believed that the same thing would happen at Ramadi.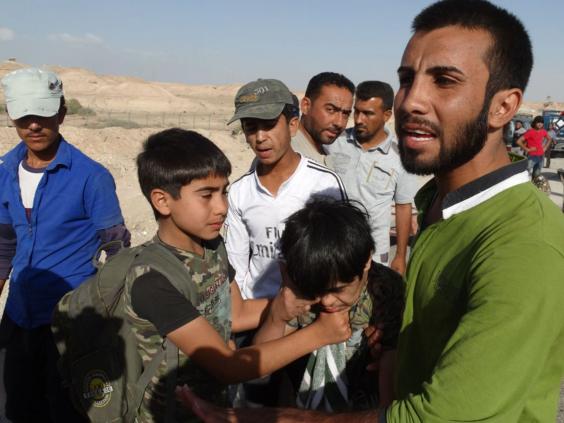 The fall of Ramadi, one of the few remaining government strongholds in Anbar province covering a third of Iraq, shows that hopes of the Iraqi army and Shia militia forces reversing Isis's gains of last year were premature and may never be realised. The biggest success of the government was the recapture of Tikrit, Saddam Hussein's home town, but Isis committed only about 500 fighters to defend the city. It has remained a ghost town ever since, ruled by Shia militias and local police, but with none of its original Sunni inhabitants daring to return.
The government had announced that it was going to follow up success in Tikrit by an offensive in Anbar. This faltered and was interrupted by an Isis counterattack in Ramadi and at Baiji oil refinery, a 36sq km complex, most of which is now held by Isis. A crucial weakness of the government is that it has not been able to rebuild the army since the defeats of last year and has only a limited number of elite troops, numbering at most 15,000 men and maybe as few as 5,000, to meet Isis offensives. These units are moved round like fire brigades to cope with successive military crises but are not strong enough to win decisive victories or to hold positions after the battle is over.