Since the beginning of Operation Protective Edge, Israeli authorities claim 548 rockets have been fired at Israel.
No deaths have been recorded, due in a great part to the Iron Dome defence system, which has intercepted 118 missiles and exploded them in the sky.
There are seven batteries deployed around the country, which defence forces claim have had a 90 per cent success rate taking out enemy rockets.
Such is Iron Dome's effectiveness that on hearing air raid sirens sound, some Israelis have been known to wait to watch the explosions in the sky rather than taking cover.
Each battery uses firing control radar, to identify incoming targets, and a portable missile launcher.
It takes only hours to relocate the weaponry to where it is needed.
According to military database IHS Jane's, the warhead is believed to carry 11 kilograms of high explosives and has a range of between 2½ miles and 43 miles.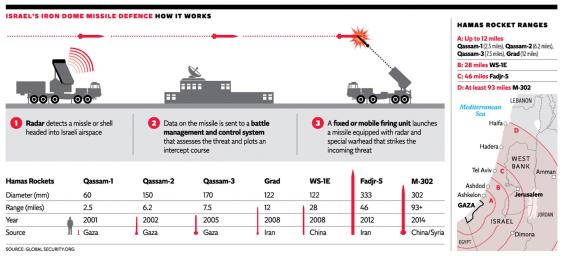 Iron Dome can intercept multiple rockets simultaneously and is designed to work in all weather conditions.
Each interception costs between £30,000 and £60,000.
The system was designed to avoid injury by detonating rockets as far from the ground as possible but there have been errors.
After a glitch resulted in a rocket killing three people in a house in Kiryat Malachi, southern Israel, manufacturers said the system was updated.
Iron Dome was put in place in 2011 to intercept rockets fired by Hamas and other groups.
Development started in 2007, after Hezbollah targeted Israeli border towns with missiles during the 2006 Lebanon War.
After a series of test flights in 2008 and 2009, the first deployment of a battery was in southern Israel in 2011.
Israel's defence technology company, Rafael, started the initial development but Iron Dome has since been partly funded by the US.
Officials at the Pentagon originally favoured a cheaper, laser-based alternative proposed by American defence contractor Northrop Grumman, but Barack Obama got Congress to approve $205 million (£120 million) funding in 2010.
"This is a programme that has been critical in terms of providing security and safety for Israeli families," the President said. "It is a program that has been tested and has prevented missile strikes inside of Israel."
In 2014, the US reportedly provided another $235 million (£137 million) for research, development and the production of more batteries.
Reuse content