The road to the northern city of Tripoli has been blocked for almost a week. A huge portrait of a young man in military fatigues, Ibrahim Moghait, peers down at those trying to make their way north. The barricade was erected by his family in a desperate attempt to pressure the Lebanese government to get their son back. He is one of almost 30 soldiers and policemen kidnapped by militants belonging to Islamic State (IS) and al-Qaeda affiliate Jabhat al-Nusra (JN). "We don't care what it takes. We just want him to come home," said his father Samir Moghait, outside the protest tent.
The security personnel were kidnapped when militants overran the Lebanese-Syrian border town of Arsal early in August. After five days of fighting, and the death of 17 Lebanese soldiers, militants retreated into the mountains above the town. But they took almost 30 hostages with them.
Last week, the first Lebanese soldier was beheaded by IS. Last night, a second soldier was reportedly beheaded. In a video posted online shortly after the first killing, nine soldiers begged for their lives and asked their families to protest to secure the release of Islamists held in Lebanon's jails. Ibrahim Moghait's family says it was the first time they heard news of him in 27 days. His family subsequently blocked the road to Tripoli. Protests have been held throughout the country over the past week, with the families issuing ultimatums and stating that ministers should take their sons' place, but with little result. Lebanon has said it will not meet the demands.
On Thursday, the cabinet put a military option on the table, saying it had given the Lebanese army free rein to deal with the situation. The government has also said it will appeal to friendly states that hold sway over the militants to assist in negotiations. JN released four soldiers and a policeman last weekend. A delegation from Qatar met representatives from JN on Friday – Qatar was a key player in freeing US hostage Theo Padnos from JN militants a few weeks ago.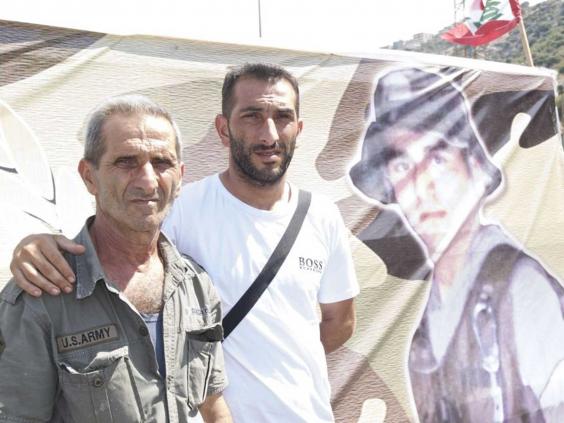 On Friday, the group also released a video, titled "Who Will Pay the Price?", in which hostages attacked the militant group Hezbollah over its role in Syria, where it is fighting alongside Syrian president Bashar al-Assad. But negotiations with IS have, so far, led only to the retrieval of the severed body of sergeant Ali al-Sayyed, the soldier they beheaded.
During the soldier's funeral, on Wednesday, his family released a statement saying al-Sayyed had been betrayed by his country. The funeral procession passed by the road blockade erected by Ibrahim Moghait's family. "Of course I looked at that coffin and thought 'Will my son be next?' " said his father, Samir. Friends and family described Mr Moghait, who has served in the army for 14 years, as a God-fearing man who prays daily. The 32-year-old soldier is, they said, a committed family man, father to two young girls and with a third child on the way.
The families argue that the Islamists IS is asking for should be freed. Many have been held in custody since 2007, the last time the Lebanese army engaged in a firefight with Islamists, in the northern Palestinian camp of Nahr al-Bared. Hundreds are still awaiting trial. "Many have been held without trial for more than five years," said Nizam, 33, Ibrahim's brother. He argued that they had been wrongly arrested and that those released had reintegrated into the community, including in his own town. "Release the prisoners," he pleaded.
According to Hilal Khashan, political science professor at the American University of Beirut, the government will have to acquiesce eventually. "Once all the rhetoric is consumed they will have to face reality," he said, dismissing the feasibility of a military solution. Professor Khashan predicts that non-Lebanese prisoners will be released first, under the stipulation that they will return to their country of origin. "Although I don't condone it," he added, "it doesn't seem that they have any other options."
A surprise visit to the protesters on the Tripoli road by Lebanon's justice minister Ashraf Rifi yesterday indicates the professor might be right. Family members said they were promised in private that their loved ones would be released, and alluded to the militants' demands being met to achieve this. "I feel better, more relaxed," said Samir Moghait as the minister's motorcade took off. "But the only thing I trust in is God, not the government."