Standing alone at the end of a dirt track on top of a mountain, the 18-year-old Yazidi woman is wearing a broad smile. It's because it took us so long to get here. For a whole week my phone calls and entreaties to her relatives were batted back with the reply that "the Americans don't want her to say anything"; the American Consulate in Irbil, in turn, wouldn't even confirm or deny her existence.
Then came a two-hour drive to an area of northern Iraq so remote that even my local driver got lost, and after that came the thunder and lightning and heavy rain; if it hadn't been for directions from half a dozen friendly villagers, and her guiding us in with her mobile phone, we would never have made it. "Isis will never find you here," I joke, getting out of the car to shake her hand. "That is the point," she says.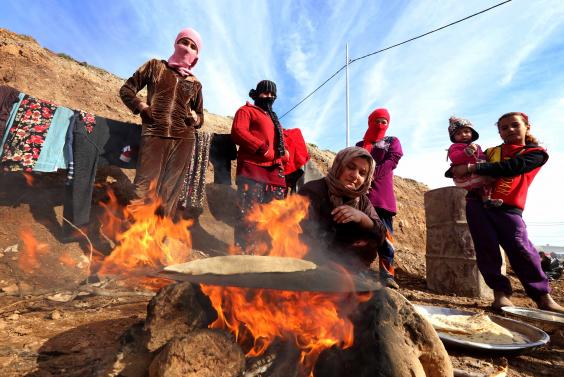 Jalila is one of the luckiest Yazidi women alive. When the men from Isis (like many of Isis's enemies, she prefers to call them Da'esh, an irreverent play on their Arabic acronym) swooped into her village in Sinjar last August, she was one of the thousands of women and girls taken away to be sold into domestic or sexual slavery. In May, however, she happened to be in a house in Deir Ezzor in eastern Syria when American soldiers arrived in Black Hawk helicopters, killing a Tunisian Isis member called Abu Sayyaf and capturing his young Iraqi wife.
It was the first successful raid on Isis territory by US special forces, and only the second time they'd set foot on Syrian soil since the conflict began; a previous attempt to free American hostages who had been seized by Isis was botched and they returned, empty-handed. This time, however, the raid was billed as a success.
Abu Sayyaf was said by the US to have been a senior member of the terrorist group who had helped it rake in millions of dollars by directing its oil, gas and financial operations. Soon afterwards it emerged that he had previously been involved in the abduction and mistreatment of the American hostage Kayla Mueller, who was subsequently killed. And Jalila, who was as surprised as anyone else by the soldiers' sudden arrival, hitched a ride back to Iraq.
She leads me and my translator past some curious children to an unfinished, largely windowless building which she shares with some other refugees, most of them children. It's nothing more than a slab of concrete wrapped in plastic sheeting, but its view over a tree-dappled valley is breathtaking. While her older sister makes tea, we sit on cushions and pick at a plate of local fruit. Graceful and entirely at ease with herself, Jalila thinks before answering my questions – and only speaks when she has something to say. Hers is a tale of extraordinary fortitude and real courage. Shortly after she was taken, she says, she was separated from her family and sold as a slave in Iraq's second city, Mosul, which had recently fallen into the hands of Isis.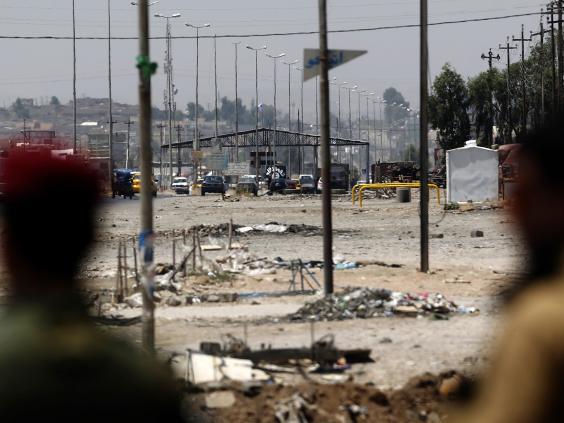 Almost immediately, she began to make trouble. It was when the jihadis stopped taking her on visits to see her family and told her that some of them were dead that the arguments began. "You say you are doing this for God," she says she told them. "But you are only doing it for sex and to abuse girls." Like many other Yazidi women, Jalila pretended to be married to avoid unwanted attention, but they quickly discovered she was lying.
Eventually, tiring of her stubbornness, her "owners" swapped her for another Yazidi girl - and Jalila was sent instead to Abu Sayyaf's house, a pleasant, multi-story apartment in a residential block, just a week before the American raid. Once again, she marked herself out as a troublemaker. She remembers Abu Sayyaf as being a short and medium built, with curly black hair and a scar on his forehead.
"He was a big boss for Isis in Syria", she says. Jalila was assigned to serve his wife, known as Umm Sayyaf, who spent most of her time on the upper floors receiving a succession of female guests. But Umm Sayyaf took an instant dislike to Jalila, whose attitude fell short of expectations. "She told me, 'Cook!' but I told them I can't cook."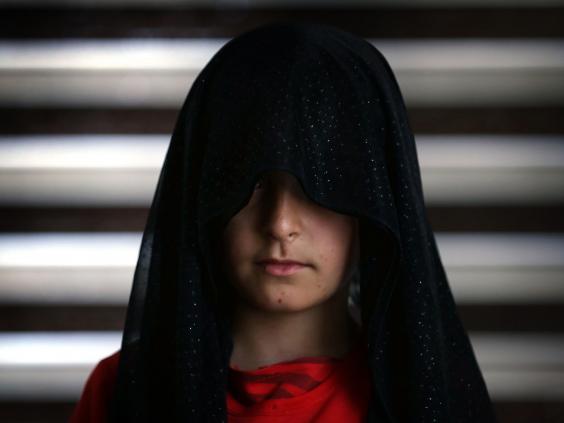 Too late, Umm Sayyaf realised that she vastly preferred the previous girl, and began doing her best to get Jalila into trouble – trying to provoke her and complaining about her behaviour to her husband. On one occasion Abu Sayyaf was called upon to slap her across the face. On another, Jalila says, Umm Sayyaf handed her a gun – presumably unloaded – and told her to "make a problem, so we can get rid of you". Jalila couldn't even master the safety catch, but the ploy seemed to work; after that, she says, she was treated with suspicion, and regularly frisked and subjected to room searches by her new owners.
The outlines of Jalila's ordeal would already have been familiar to the American authorities. In the week before I met her I'd travelled to different refugee camps in northern Iraq to speak to the two young teenagers who had been held with Ms Mueller in another of Abu Sayyaf's houses in northern Syria between August and October 2014, and who had also been debriefed by the American authorities.
Abu Sayyaf, the older of these two girls said, "was so bad". He spoke to Ms Mueller in French, she says; American officials say Abu Sayyaf was a Tunisian citizen who had travelled to Iraq around the time of the US invasion. But his wife was every bit as cruel. Like Jalila, the two girls had been assigned to cooking and cleaning. The younger girl, who was 14, told me that when she didn't understand one of Umm Sayyaf's instructions, Abu Sayyaf came and beat her with a block of wood. Both girls said it had been Umm Sayyaf who had come to take Ms Mueller away to be raped by a man she referred to as Abu Khaled – an important Isis visitor who both have since independently identified as the organisation's leader, Abu Bakr al-Baghdadi. "Get up, Abu Khaled is coming and he wants you," the younger girl remembers hearing.
Seven months later and at another home in Deir Ezzor, Umm Sayyaf's callous disregard for her latest domestic slave was about to backfire badly. A week after she arrived, and shortly after midnight, Jalila was alone in her locked room when she heard a barrage of noise. It was pitch dark, and the power had been cut; everything happened so fast that she could barely process what was happening. The first thing she remembers is Abu Sayyaf and his wife running into her room in a panic. They had no idea that this was a special forces raid – they had presumed it was an air strike – and their plan was to head for the lower floors and then slip away from the building, taking her with them. "We have to get out," she remembers Umm Sayyaf saying.
But moments later several heavily armed commandos wearing military vests appeared. Abu Sayyaf tried to shoot them with his pistol, the soldiers fired several rounds and Abu Sayyaf slumped to the floor. Thinking quickly, Jalila piped up that she was Yazidi. "Do you want to come with us?" the soldiers asked. "Sure," replied Jalila.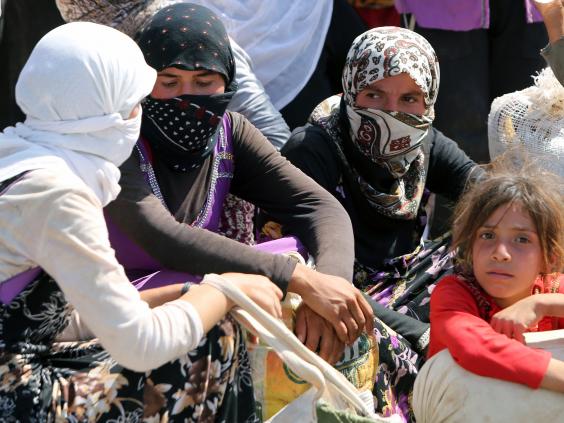 In the immediate aftermath of the Delta Force raid, a Pentagon official told The New York Times that Abu Sayyaf had tried to use the women and children in the building as "human shields", but Jalila says she didn't see any of that. She guesses that there were about 50 soldiers in the raiding party; they were carrying what looked like American-made M16s, and had small lights on their helmets.
There were other Isis fighters in the building, including an associate of Abu Sayyaf's called Abu Tamim, who was also shot dead along with his wife, her sister and her sister's husband. (The younger girl who had been held with Ms Mueller the previous autumn had also met Abu Tamim; he was Syrian, she thinks, and was working directly for Abu Sayyaf).
American officials had also briefed journalists that about a dozen Isis fighters were killed, but Jalila saw only four bodies – although she says there may well have been more. The man who spoke to Jalila during the raid was Kurdish, and was probably a translator; there was also a woman who spoke Arabic.
Umm Sayyaf did not react at all to the killing of her husband, according to Jalila, and instead attempted subterfuge. "I am also Yazidi," she said to the troops, but when the soldiers asked Jalila she denied it. "That's Umm Sayyaf," she protested.
Iraq crisis: Yazidi nightmare on Mount Sinjar
Iraq crisis: Yazidi nightmare on Mount Sinjar
1/15 Iraq crisis

Displaced people from the minority Yazidi sect, fleeing violence from forces loyal to the Isis in Sinjar town, walk towards the Syrian border, on the outskirts of Sinjar mountain, near the Syrian border town of Elierbeh of Al-Hasakah Governorate

2/15 Iraq crisis

Displaced people from the minority Yazidi sect, fleeing violence from forces loyal to the Isis in Sinjar town, walk towards the Syrian border, on the outskirts of Sinjar mountain, near the Syrian border town of Elierbeh of Al-Hasakah Governorate

3/15 Iraq crisis

Displaced Iraqis from the Yazidi community settle at a camp at Derike, Syria. In the camps here, Iraqi refugees have new heroes: Syrian Kurdish fighters who battled militants to carve an escape route to tens of thousands trapped on a mountaintop

4/15 Iraq crisis

A pilot based at RAF Marham entering a Tornado GR4 prior to taking off for the reconnaissance mission over Iraq. Several RAF Tornado jets set off from RAF Marham in Norfolk this afternoon to travel to a "pre-position", from where they will fly to northern Iraq to provide improved surveillance of the situation on the ground. The jets, fitted with Litening III targeting and surveillance pods, will be able to fly over the crisis area to provide intelligence and help with the delivery of humanitarian aid

5/15 Iraq crisis

A British Royal Air Force (RAF) Tornado GR4 aircraft equipped with the Litening III pod from RAF Marham, eastern England, on their arrival at RAF Akrotiri Cyprus for their reconnaissance mission over Iraq

6/15 Iraq crisis

Aid inside a Royal Air Force (RAF) Hercules C130 J aircraft before being airdropped to civilians in Iraq

7/15 Iraq crisis

A Royal Air Force (RAF) Hercules C130 J military transport plane at RAF Akrotiri in Cyprus. Britain made a third round of airdrops of supplies to aid refugees stranded on a mountain in northern Iraq, officials said, as Tornado fighters arrived at an RAF base in Cyprus preparing to provide surveillance support for the humanitarian effort

8/15 Iraq crisis

Royal Air Force (RAF) Tornado GR4 aircraft, flown in from Britain, stand on the tarmac at RAF Akrotiri in Cyprus

9/15 Iraq crisis

A displaced man helps a woman, both from the minority Yazidi sect fleeing violence from forces loyal to the Isis in Sinjar town, as they make their way towards the Syrian border, on the outskirts of Sinjar mountain, near the Syrian border town of Elierbeh of Al-Hasakah Governorate

10/15 Iraq crisis

Iraqis including Turkmen, Shabaks, Kurds, Yezidis and Christians, fleeing from assaults of army groups led by Isis, take shelter at Bahirka Camp in Arbil

11/15 Iraq crisis

Displaced Iraqis from the Yazidi community look for clothes to wear among items provided by a charity organization at the Nowruz camp in Derike, Syria

12/15 Iraq crisis

Displaced Iraqis from the Yazidi community gather for food at the Nowruz camp in Derike, Syria

13/15 Iraq crisis

Displaced Iraqis from the Yazidi community gather for food at the Nowruz camp in Derike, Syria

14/15 Iraq crisis

Syrian Kurdish Peshmerga fighters take a sick Iraqi Yazidi woman to the clinic at Nowruz camp in Derike, Syria

15/15 Iraq crisis

Sick displaced Iraqis from the Yazidi community wait for treatment at a clinic at Nowruz camp in Derike, Syria
But Jalila's ordeal was not yet over. Abu Sayyaf's home was surrounded by a tall fence, in which the arriving commandos had blown a hole. As they made their way back out, with Jalila holding the hand of the Kurdish interpreter, she saw jihadis shooting from a building across the road, and the Americans laid down a wall of covering fire. "I was holding one of their hands, and we were behind a soldier who was shooting," she says.
Umm Sayyaf was with them too, held firmly by another soldier. Blindfolded and with her hands tied, she had been gagged to stop her from making any noise. They walked for what seemed a long time – maybe as much as half an hour – until they arrived at a place where two helicopters were waiting to collect them.
The helicopter flight lasted about two hours, and was followed by a debriefing of Jalila by the American authorities, details of which she declined to reveal. "I don't know who they are personally, but they saved my life, so I have to appreciate that," she said. "I am grateful to America." She was seen by a doctor, and spent more than a week with the American military before being returned to live with an older sister elsewhere in northern Iraq.
During her debriefing some Americans showed her pictures of Ms Mueller, but she herself had never met the American hostage. The Americans also asked Jalila whether she had met al-Baghdadi, who was likely to have been the intended target of the raid, but she wasn't able to help them with that either.
In August Umm Sayyaf was returned to the custody of the Kurdish regional government in Iraq, where she awaits what is likely to be a very public trial. The US authorities have said publicly that they suspect her of "playing an important role" in Isis terrorist activities and she "may have been complicit in what appears to have been the enslavement of a young Yazidi woman".
"I hope she will never be freed," Jalila says, when I ask her what should happen to Umm Sayyaf now. "I hope she will always be in jail."
As she walks us back to our car I notice that some of the plastic sheeting covering her concrete shell of a home is embossed with the logo, "US Aid; from the American people." They were given to her sister, she says, long before her rescue. The Americans "helped me when I was with them, but not any more." But she's fine with that. She didn't ask to be rescued, after all, and now just wants to be left alone. The Americans offered her a visa, but she declined; she will stay and wait for her family, no matter how long it takes.
Her own experience as an Isis captive was traumatic, but before I leave she makes me promise not to write about it. In any case, she says, it was nothing unusual. "Everyone has a bad time with Da'esh; everybody knows how bad they are."
She also doesn't want me to publish her real name. "My life might be in danger," she says, not to mention that of her family. Fourteen of her relatives are still with Isis, including her father and mother, three sisters, one brother and her brother's children. She has no idea whether they are dead or alive. Compared with everything else that's happened to her and her family, the arrival of 50 gun-toting Delta Force commandos in her bedroom was a walk in the park. "I wasn't afraid," she says. "I knew that either I would be safe, or be killed. Even if I got killed, it was better than being held by them."
'Hunting Season', James Harkin's book about Isis's campaign of kidnapping foreign hostages, is published in November by Hachette in the US and Little, Brown in the UK
Reuse content