Turkey's demands for a buffer zone and a no-fly zone to be set up in Syria as the price for it joining the war against Isis were "not on the front burner" in the strategy being drawn up, a senior US diplomat stressed yesterday.
Barack Obama's deputy national security adviser also rebuffed Ankara's demand for extending the campaign against the Islamist extremists to the Damascus regime, declaring that the immediate removal of Bashar al-Assad without a replacement administration could lead to "as much bad as good".
Turning to the fate of Kobani, under attack from Isis, Tony Blinken acknowledged that the US "may not be able to help" save it from the jihadists who, he said, now control 40 per cent of the town. "I don't know what's going to happen because, in the absence of any ground forces there, it is going to be difficult just through air power to prevent Isis taking over the town … Air power is not a silver bullet, it can't by itself take terrain away from Isis."
Turkish troops and tanks are positioned within striking distance of Kobani, but Ankara has so far refused to intervene and also stopped Syrian Kurds from crossing the border to help defend the town. Turkish Kurds protesting against the inaction have clashed repeatedly with security forces, leaving 31 people, including two police officers, dead.
Failure to go to the aid of Kobani could lead to "another Srebrenica", the UN envoy for Syria, Staffan de Mistura, has warned: "We would like to appeal to the Turkish authorities … to allow the flow of volunteers, at least, and their own equipment to enter the city and contribute to a self-defence action.
"If Kobani falls, thousands of people are likely to be massacred. Do you remember Srebrenica? We do. We never forgot and probably we never forgave ourselves. When there is an imminent threat to civilians, we cannot, we should not, be silent."
Turkey, which has faced a long Kurdish insurgency, has been accused of being prepared to let Isis wipe out autonomous Kurdish areas in Syria. Ankara denies the charge and its embassy in London has issued a statement reiterating its position that safe havens for refugees in Syria and the enforcement of a no-fly zone are of paramount necessity. "Once the strategy is agreed upon, Turkey is ready to discuss the execution of any joint effort," it ended.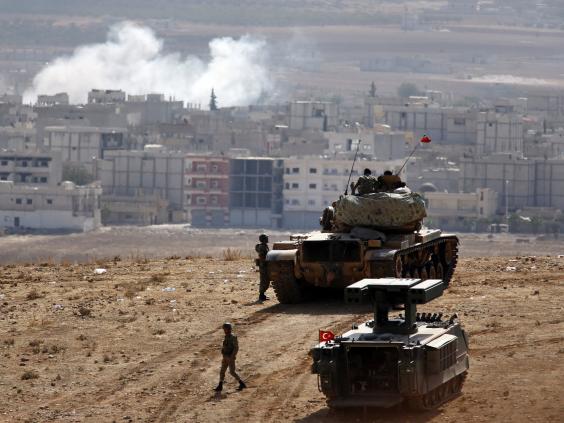 France would "support the idea of a buffer zone", the Foreign Minister Laurent Fabius declared. But Mr Blinken, speaking on a visit to London, said: "This is not a new idea; it is something which will be discussed [but] it is not on the front burner." On the no-fly zone, Mr Blinken said: "The mission of the coalition is against Isis and Isis fortunately doesn't have an air force. The wolf at the door is Isis."
Mr Blinken denied that the West has failed in its attempts to organise a force of "moderate" fighters in Syria. "We have had to learn the terrain: we have had three years of relationship with the opposition. There are some grounds for optimism, but this takes time." He stressed that just removing the regime without an alternative would mean that chances "are pretty high that there may be as many bad things as good things".
Mr Blinken said that Syrian institutions must be preserved in the transition from regime to democracy and there was a need to "learn from the mistakes made in Iraq" where Paul Bremer, sent to head the post-Saddam administration of Iraq, disbanded the army and the police under a de-Baathification programme, with disastrous consequences.
Reuse content