Kobani continues to burn. Civilians go hungry, trapped between air strikes, mortar shelling and street battles.
The desperate situation shows no sign of improving, as Isis has held the eastern third of the city, where its black flag still flies. "The air strikes destroy everything 200 metres around where they hit. Mortars from Isis are coming all the time – sometimes the bombs are near us. It's fate – sometimes we live, other times we may die," Mustafa Bortan, 37, told The Independent from his home in the south of the city.
The father of five took his family to safety in Turkey before crossing back to support the Kurdish fighters defending his besieged town. Now, faced with a lack of supplies, he says food is growing increasingly limited and the residents are forced to drink rain water.
"For some people, it's been two days without eating anything. Before, from the Turkish side, the border was open and we could get food, but now we can't," he said. "Today I managed to visit my friends and they had canned meat to share. There's no bread."
Isis have also gained the strategic Mistanur hill which overlooks the city, after a fierce fight with the YPG (the People's Protection Units), the Syrian franchise of the Kurdistan Workers Party (PKK). Still keeping vigil from the Turkish side of the border with Syria are Turkish and Kurdish relatives of those still inside Kobani, stoically watching and listening to the crackle of gunfire and the booms of the strikes.
Memet Ozdemir, 45, keeps trying to reach his uncle, still trapped inside. "I try to call and try to call, but I can't get an answer," he said.
In Suruc too, YPG losses are felt acutely. Today nine YPG fighters, including two women, were buried in Suruc. Local reports said most had died from sniper shots to the head. More of the dead are expected to be buried today.
Ambulance drivers say they are being made to wait for hours before being able to pick up the wounded from the border, an accusation repeated by Mustafa Bortan. "A wall collapsed when their house was bombed and they were crushed – we didn't think they were going to die, but they had to wait at the border for hours and hours because the Turkish soldiers wouldn't let them through. Four of them died waiting at the border," he said.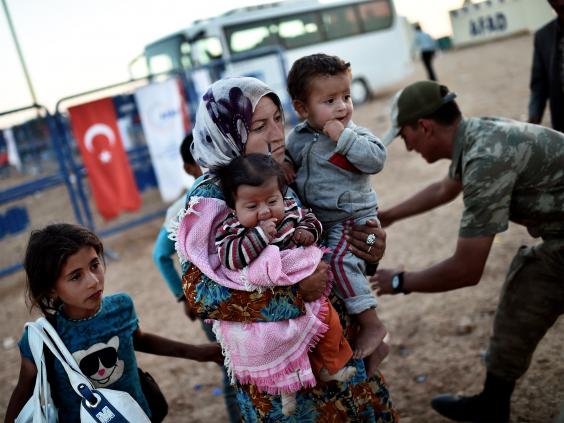 Large crowds of mourners gathered to bury the dead, waving PKK flags. Anti-Turkish government sentiment ran high as they chanted: "If Kobani falls, it will be the grave of Erdogan."
Support for the US, however, is strong, with many local Kurds referring to Obama as "Father Obama". The US said there had been five air strikes in the south and west of Kobani today, destroying an Isis base and two vehicles, and hitting two groups of Isis fighters.
However, YPG sources say Isis fighters are becoming increasingly wise to the strikes and have started to set fire to houses near their bases in order to create a smokescreen. The Syrian Observatory of Human Rights reported the strikes had been successful in pushing Isis fighters back from some parts of Kobani. 
But civilians are still fleeing the city, although many have waited for days to escape, hoping the situation would improve. Edule Isman said she waited for 10 days before deciding that it was time to come to Turkey. Cradling her infant son on her hip, the 28-year-old arrived at the municipality-run camp in Suruc. "I hoped everything would have been OK. We waited in the minefield on a patch that we knew was safe, because we knew that Isis couldn't get us there," she said.
Reuse content