Turkey has announced it will allow Iraqi Kurdish fighters to cross its border into Syria to join the battle to save Kobani against Isis militants.
Turkey's admission that it will "give support" to the Kurds in their fight against Isis (also known as Islamic State) has been seen as something as a policy reversal for the government in Ankara after blocking the Kurdish fighters from travelling into Syria for so long.
The announcement comes a day after the US dropped ammunition, weapons and medical supplies to Kurdish fighters in Kobani, which is a move that was expected to anger Turkey as its government had said it would oppose any US arms transfers across to the Kurdish fighters in Syria.
The move suggests Turkey could be softening its stance on the issue of helping the Syrian Kurds, however president Recep Tayyip Erdogan was quoted on Saturday as saying that Ankara would never arm the People's Protection Units (YPG) through its political wing, the Democratic Union Party (PYD), whose forces are fighting in Kobani.
Turkey sees both the YPG and the PYD groups as part of the Kurdistan Workers Party (PKK) which is a designated terror group by the US and Nato and which has been running an armed campaign for 30 years in Turkey for Kurdish autonomy.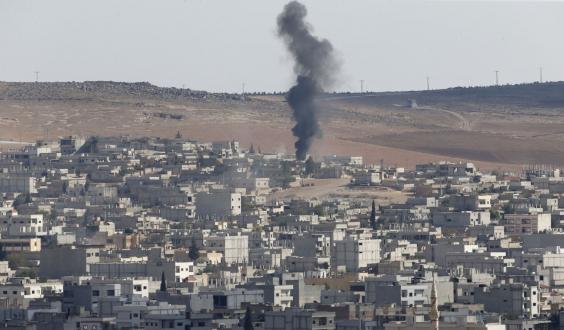 "There has been talk of arming the PYD to establish a front here against [Isis]. For us, the PYD is the same as the PKK – it's a terrorist organisation," local media reported the president as saying on Saturday.
Mevlut Cavusoglu, Turkey's foreign minister, did not give any details as to when, where or how Turkey would begin to allow Kurdish fighters into Syria, and gave no indication whether this had already happened or was yet to take place.
Additional reporting by Reuters
Reuse content