Isis supporters and their opponents have been left fighting for victory over an imaginary battle in a place that does not exist after being duped on Twitter.
An Iraqi man living in London deliberately invented the town of "Shichwa" and claimed the Sunni extremist group had been driven out by Shia militias known as the Popular Mobilisation Committees.
Ahmad al-Mahmoud, 39, said that after 48 hours with no news from his homeland, he and his friend decided to create some and see how the numerous supporters of various parties in the conflict reacted on social media.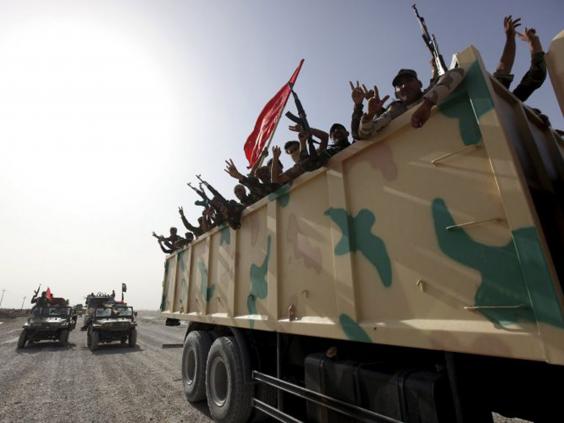 "We thought we could see if they are going to fall for it and how desperate they are for a victory," he added.
So they put out false reports on Twitter, claiming Shichwa was north of the very real city of Karbala, and backed it up with digitally altered grabs from international television stations.
Mr Mahmoud told The Independent he had no idea how far the "news" would travel, having deliberately chosen the name of Shichwa because it is the name for a type of butter churn in Iraq.
"It started off as a joke because people who know Iraqi slang would know what it means," he added.
"But a lot of Isis supporters are from around the world and they thought it was a real battle."
Battles rage around Shichwa North West Karbala …. Took CNN three days to Notice !!! Amazing S**t #معركة_الشجوة pic.twitter.com/IlAEX14cSO

— العراق للإحصاء (@IraqSurveys) June 5, 2015
One of Mr Mahmoud's doctored screen grabs
As Mr Mahmoud's "breaking news" gained traction with re-tweets, other Iraqis joined in the fun by faking pictures that both Isis and militia supporters believed were real.
"Someone even made a map and put it up – I don't even know the guy," he said.
"Someone else Photoshopped an image saying it was the council headquarters.
"That gave it a reality – there was a picture, map and a story and it kept going."
While Iraqis and militia supporters were the first to pick up the false reports, a doctored screen grab apparently showing CNN pundits discussing "what the US should do about Shichwa", grabbed the attention of Isis forums.
"Some of the Iraqis joked about it but some supporters took the sarcasm to be real," Mr Mahmoud said.
#معركة_الشجوه هجوم عنيف على #تل_الزبد و #تل_الخاثر ايضا وخسارتهما ربما تتسبب في سقوط الارجواني عفوا #الرمادي pic.twitter.com/Yv8gp2vWkp

— أبوبكر الأزدي (@hassadovic) June 5, 2015
A helpful fake map  spotted by The Daily Beast showing Shichwa next to Tel Khather (Yogurt Hill) and Tel al-Zibid (Butter Hill)
Soon, Isis supporters were accusing each other of "treason" by reporting the alleged military defeat and claiming they still held the imaginary territory.
Some Saudis and Syrians accused the group of deserting Sunni Muslims in Shichwa, despite the fact Mr Mahmoud never gave any details of its supposed residents, and there were calls for the Saudi Arabian army to be sent to the border in case fighting spilled over.
Meanwhile, pro-government Iraqis and militia supporters were happily spreading claims of Shia fighters' "glorious advance" into the town.
The Popular Mobilization Committees really are fighting Isis in Iraq, where the government allowed the arrival of Iranian-backed fighters in desperate efforts to stem the extremists' advance after the fall of Ramadi last month.
The refusal by the US, UK and other former coalition partners in the Iraq War to put "boots on the ground" once more in the country has left Baghdad appealing for help from other allies to bolster its flagging army's ranks.
As the squabbling continued on Twitter, Mr Mahmoud said he decided his experiment was "getting out of control" and put an end to it by sending out messages confirming the Battle of Shichwa was a hoax.
بعض غنائم معركة الشجوة !!! #معركة_الشجوة pic.twitter.com/s6totdeytP

— العراق للإحصاء (@IraqSurveys) June 5, 2015
Mr Mahmoud posted this joke picture about the 'spoils of the battle in Shichwa'
"I was surprised how far it went," he added. "Each side tried to play it for their own benefit…it showed that people are more prone to interpret things based on what they believe rather than the actual facts."
He has posted a joke picture of the "spoils of war", showing stacks of butter, cheese and yoghurt.
Shichwa is a kind of leather pouch used by Iraqis to churn milk into butter.
Mr Mahmoud said the allusion to "churnalism" – the term for recycling inadequately checked news – was a "happy coincidence".
@qWBK66hhu @FIIIIII2015 @jeyadaltamimi @IraqSurveys شركات الألبان قديماً pic.twitter.com/jumVr0hlqe

— الأمين العام (@Alotaibi741) June 2, 2015
The picture above shows a real  Shichwa
The designer, who first moved to the UK during the 1990s, last visited Iraq in 2007 and has lived in Dubai and other parts of the Middle East for his work in construction.
He describes himself as "critical of the Iraqi government" but hates Isis, which he called an "an extreme, fanatical organisation".
Mr Mahmoud cautioned that fighting the Islamists, who have seized swathes of Iraq and Syria for their so-called Islamic State, with militias is "not the way forward".
"They have their own set of crimes against Sunnis that play into the hands of Isis," he added.
The Battle of Shichwa  now appears to be over, and Mr Mahmoud said that many of the tweets disappeared as news of the ruse spread and embarrassed people tried to cover up the fact they were duped.
"The majority of people had a laugh and a joke," he added.
"No one was really angry, apart from possibly some Isis and militia supporters, but who cares about them?"
Reuse content