The Israeli army has fired artillery shells into southern Lebanon in retaliation for a cross-border rocket attack this morning.
In a rare flare-up of violence between the two countries, Israel's defence minister Moshe Yaalon said the Lebanese army was to be held responsible for any fire emerging from its territories.
Authorities said five rockets targeted northern Israel, with two striking the ground near the town of Kiryat Shmona. Police spokesman Micky Rosenfeld told reporters there were no casualties or damage to buildings.
Soon afterwards the Israeli military responded, launching artillery fire towards the source of the rockets. The Lebanese state news agency said more than 20 shells landed in the mountainous border region of Rachaya.
"We will not allow incidents such as those of this morning to pass quietly," Mr Yaalon said in a statement. "I would not recommend to anyone to test our patience and our determination to protect the security of the people of Israel."
Israeli Prime Minister Benjamin Netanyahu commended the military for responding "quickly and forcefully" to the rocket attack. He accused the government of Lebanon of "not lifting a finger" to stop the "war crimes" committed in its territory by Hezbollah guerrillas.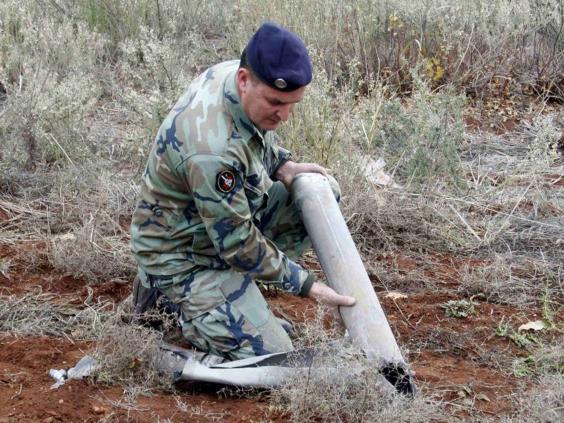 The border between the two countries has remained largely quiet since a month-long conflict in 2006 between Israel and Lebanon-based Hezbollah guerrillas. There have nonetheless been sporadic outbursts of violence, including an incident earlier this month when a Lebanese army sniper killed an Israeli soldier.
The 2006 war broke out after Iranian-backed guerrillas crossed into Israel and captured two soldiers. Given the years of enmity between the two countries, even the smallest incident raises the risk of sparking a wider conflagration.
While no one has yet claimed responsibility for Sunday's rocket attack, former Israeli military intelligence officer Aviv Oreg said such incidents could be expected given the large number of "lone wolves" operating in Lebanon beyond government control.
"At this stage, both Hezbollah and Israel have no interest in heating up the front and getting into a violent confrontation," he said. "Hezbollah is deeply involved in the Syrian civil war and it is not focused on this front."
Additional reporting by the Associated Press
Video: Saudi Arabia give Lebanon $3bn in aid