With less than 48 hours to go until an election that he appears on course to lose, Israeli Prime Minister Benjamin Netanyahu suggested today that there was an international conspiracy to topple him, talked up security fears over Iran and played on anti-Arab sentiment in an effort to galvanise wavering supporters.
In a sign of the increasingly high stakes before Israeli voters go to the polls on Tuesday – and with serving soldiers already beginning to cast their votes – Mr Netanyahu turned his fire on the opposition Zionist Union, which is on course to win four more seats than his own Likud party, according to a new poll. "I turn to the public out of concern that we will not be able to form the government because of the enormous support to them from foreign associations which are giving them tens of millions of dollars," the Prime Minister told Israel Radio, referring to the Zionist Union leaders Isaac Herzog and Tzipi Livni.
"This support is provided because those giving it know that if elected they will accept the dictates of the international community."
Mr Netanyahu added: "People and foreign advisers and associations are going to hundreds of thousands of households; they go to the Arab sector so that it will go out and vote more. There is a world-embracing effort to replace the Likud government that I head with a left government… What we are seeing is only the tip of the iceberg.''
Israel's next PM: Herzog's rival candidates
Israel's next PM: Herzog's rival candidates
1/4 Benjamin Netanyahu

Seeking a fourth term, the 65-year-old has made security a main issue. His policy of settlement-building on occupied land has put him at loggerheads with many of Israel's traditional allies. But he is still seen as the person most likely to cobble together a coalition on the right.

AFP/Getty Images

2/4 Tzipi Livni

Sacked by Mr Netanyahu in December after cabinet infighting, Ms Livni, a centrist who served as Justice Minister and chief peace negotiator, seemed destined for the political wilderness until she struck the partnership deal with Isaac Herzog. A leading advocate of a two-state solution with the Palestinians, the 56-year-old has pledged to seek ways to resume peace talks.

AFP/Getty Images

3/4 Yair Lapid

Mr Lapid, 51, was the rising star of Israeli politics in the 2013 election. His centrist Yesh Atid party came second behind Mr Netanyahu's Likud. As a result, Mr Netanyahu appointed him Finance Minister. Fired amid the government squabbling in December, Mr Lapid is a potential kingmaker, predicted to win 12 seats.

AFP/Getty Images

4/4 Ayman Odeh

The Arab Israeli lawyer heads the Joint Arab List and is gaining momentum. It is the first time Israel's four Arab parties have united and they are predicted to win around 13 seats. Mr Odeh, 40, from Haifa, advocates an Arab-Jewish "alliance of the disadvantaged". He has said his party would not join any government.

AFP/Getty Images
Friday's poll for Channel Ten television put Likud on 20 seats, the lowest number forecast for it since Mr Netanyahu called an early election in the hope of securing a firmer footing for his Likud-led right-of-centre coalition. Over the past few days Mr Netanyahu has changed tactics and instead of shying away from interviews has gone from studio to studio to attempt to get his message across.
The suggestion that there is a conspiracy against him seems a sign of desperation from Mr Netanyahu, who only three months ago was expected to coast to victory. "He is using every tool possible to save himself and get a better result," Hebrew University political scientist Gideon Rahat said.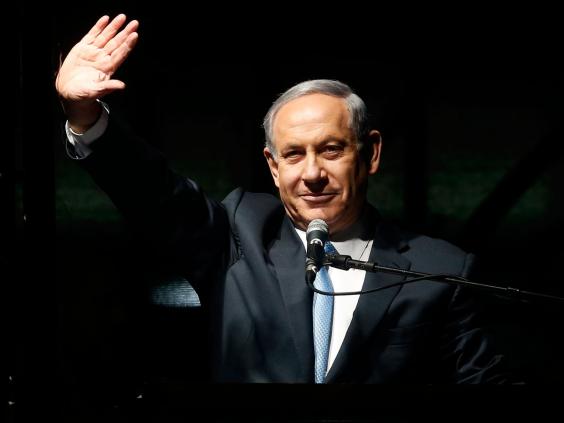 While Mr Netanyahu was deliberately vague about the forces arrayed against him, he seemed to be referring in part to a new group, V15, that has been campaigning nationwide for his defeat. V15 is linked to One Voice, a US group supporting a two-state solution to the Israeli-Palestinian conflict which has in the past received State Department funding.
In an interview with The Times of Israel and in other interviews over the weekend, Mr Netanyahu repeatedly used the word "they", without being more specific, when speaking of those pushing for his removal from power. At one point he spoke of "the international left" to refer to those anxious to impose terms on Israel if he is defeated.
Critics of Mr Netanyahu say his complaints about foreign funders intervening in the election against him are disingenuous, since the American Jewish casino magnate Sheldon Adelson sponsors, at great cost, the free paper Yisrael Hayom, Israel's most widely circulated newspaper and which delivers strongly pro-Netanyahu coverage.
Mr Netanyahu's last-minute strategy shift is aimed at persuading supporters of other right-wing parties, including Kulanu and Jewish Home, to vote for Likud instead. During one interview on Sunday he promised to appoint the Kulanu leader, Moshe Kahlon, as his finance minister regardless of how many seats Kulanu wins. Mr Kahlon rebuffed this, saying Mr Netanyahu's promises could not be trusted.
The Prime Minister is also trying to galvanise voters by highlighting how dangerous it will be for Israel if his opponents win. "There are tremendous threats from every direction and you need a strong prime minister," he said.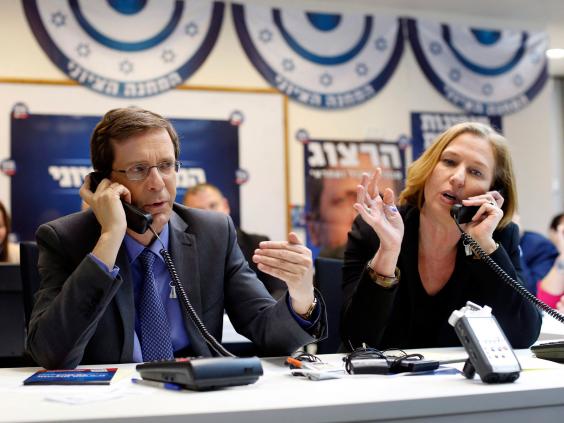 He charged that Mr Herzog and Ms Livni, leaders of two distinct parties within the Zionist Union who have agreed to serve two years each as prime minister if they win, would withdraw from the West Bank back to borders that existed before the 1967 war and agree to a division of Jerusalem with the Palestinian President, Mahmoud Abbas.
Deploying a widely used nickname for Mr Herzog that is a combination of the French and Hebrew words for "doll", he added: "Tzipi and Boujie won't stand up to the pressure for even five minutes – they are not capable of doing so and they don't want to do so. They think they can buy the sympathy of the world through concessions including those that will endanger [Israel]."
Mr Netanyahu added that the two would "surrender" Israeli security in the face of an international agreement with Iran over its nuclear programme, which Israel has previously threatened to disable by air attack. "They cannot stand up to the international pressure," he said.
Unless his supporters and backers of other right-wing parties voted for him tomorrow, he warned, they would find themselves with a new government backed by the Arabs who make up one-fifth of Israeli voters.
"I am definitely worried by the possibility that even though a majority of citizens want me as prime minister, the vote will be split or people will stay at home and then we will get Boujie and Tzipi as a left-wing government supported by the Arab list," he said.
Reuse content