The sprawling and crowded Mahane Yehuda market is known for its spices, salty fish, halva, and right-wing politics.
Some of the shops near downtown west Jerusalem are decorated with pictures of Menachem Begin, the fiery underground fighter – or terrorist, depending on your vantage point – the founding leader of the right-wing Likud party now headed by the Prime Minister, Benjamin Netanyahu.
Mahane Yehuda has traditionally been a no-go zone for dovish politicians and a place where rightists, including Mr Netanyahu, have gone to feel popular and to bask in a warm reception.
But in the run-up to Tuesday's elections, it is clear that not all the raucous vendors there are in favour of Mr Netanyahu, despite his visit last week.
Israel's next PM: Herzog's rival candidates
Israel's next PM: Herzog's rival candidates
1/4 Benjamin Netanyahu

Seeking a fourth term, the 65-year-old has made security a main issue. His policy of settlement-building on occupied land has put him at loggerheads with many of Israel's traditional allies. But he is still seen as the person most likely to cobble together a coalition on the right.

AFP/Getty Images

2/4 Tzipi Livni

Sacked by Mr Netanyahu in December after cabinet infighting, Ms Livni, a centrist who served as Justice Minister and chief peace negotiator, seemed destined for the political wilderness until she struck the partnership deal with Isaac Herzog. A leading advocate of a two-state solution with the Palestinians, the 56-year-old has pledged to seek ways to resume peace talks.

AFP/Getty Images

3/4 Yair Lapid

Mr Lapid, 51, was the rising star of Israeli politics in the 2013 election. His centrist Yesh Atid party came second behind Mr Netanyahu's Likud. As a result, Mr Netanyahu appointed him Finance Minister. Fired amid the government squabbling in December, Mr Lapid is a potential kingmaker, predicted to win 12 seats.

AFP/Getty Images

4/4 Ayman Odeh

The Arab Israeli lawyer heads the Joint Arab List and is gaining momentum. It is the first time Israel's four Arab parties have united and they are predicted to win around 13 seats. Mr Odeh, 40, from Haifa, advocates an Arab-Jewish "alliance of the disadvantaged". He has said his party would not join any government.

AFP/Getty Images
The national mood of "Bibi-fatigue" after six years in which he has dominated Israel is easy to sense in the market. Likud is trailing its challenger, the centre-left Zionist Union, by four seats in the most recent polls.
People such as Akiva Eli, 50, a father of seven who runs a fruit stall, are part of the reason Mr Netanyahu should be nervous.
"Security isn't everything," Mr Eli says. "You need other things, you need money, you need to help the poor. Netanyahu doesn't solve the problems of the common people. There are people with seven kids who don't have food, who don't have money to pay the electric bill."
Nearby, 67-year-old Moshe Shachar sells cheeses and stuffed grape leaves under a picture of his father, Yitzhak, an immigrant from Syria, taken with Mr Begin, who served as Prime Minister from 1977 to 1983.
Mr Begin was a father figure to lower-income Jews of Middle Eastern backgrounds who found themselves marginalised by the country's European Jewish elite.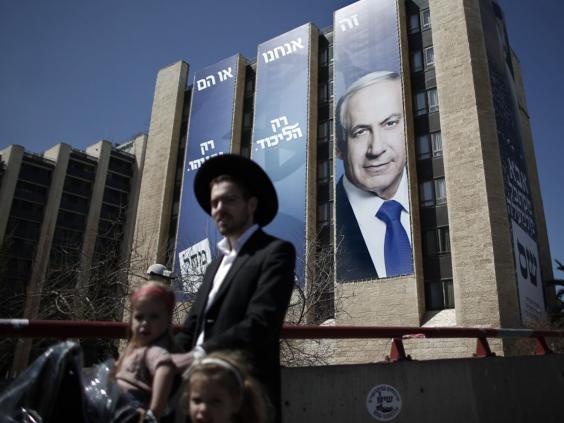 Mr Shachar faults Mr Netanyahu for lacking Mr Begin's common touch. "Bibi deviated from Begin's path. Begin cared about the people, he was one of the people, he remained a simple man," says Mr Shachar. "Bibi should retire and go home. There are too many poor people in Israel, there are Holocaust survivors whom nobody helps. Netanyahu doesn't help, he's selfish."
By contrast, Avraham Levy, 62, a fruit shop owner, is proud to be voting for Mr Netanyahu. "Although he's not as good as Begin was, he's continuing in his path. I support him wholeheartedly. There is no one better. And I trust him on security."
Then, a shopper interjects: "Begin had stature and integrity. Bibi has neither."
Mr Levy, unruffled, praised Mr Netanyahu for travelling to Washington to sway American public opinion against a possible deal over Iran's nuclear programme. "It was excellent he went to America and opened the American mind. Obama wants to make an agreement at our expense so he'll go down in history."
Mr Levy fears that, if elected, the Zionist Union leader, Isaac Herzog, will reach a new agreement with the Palestinians and this "will endanger our security". It is unfair to blame Mr Netanyahu for Israel's socioeconomic woes, Mr Levy said. "The problem is that we have to spend so much on defence."
Mr Levy, who has met Mr Netanyahu several times during his visits to the market, paused after being asked whether Mr Netanyahu would win. "He might not win. They are ahead. All of the media and Obama are against him.
"It's a hard situation, but I think that the people aren't stupid. There is no alternative to him."
Reuse content