Israel has been accused of coercing thousands of Eritrean and Sudanese migrants to leave the country at grave personal risk, a report by Human Rights Watch says.
In a report issued on Tuesday, the international rights organisation said Israeli authorities have coerced almost 7,000 Eritrean and Sudanese to return to their homes, where they may face serious abuse.
The report says that some returning Sudanese have faced torture, arbitrary detention, and treason charges at the hands of the anti-Israel Sudanese government, while returning Eritreans also risk harassment.
For the past several years Israel has been placing thousands of Eritrean and Sudanese migrants in hardscrabble detention centers in the Negev desert. Citing statements by senior Israeli officials including former Israeli Interior Minister Eli Yishai, Human Rights Watch says the aim of the policy is to make life so intolerable that the migrants leave Israel on their own volition.
"Destroying people's hope of finding protection by forcing them into a corner and then claiming they are voluntarily leaving Israel is transparently abusive," said report author Gerry Simpson. "Eritreans and Sudanese in Israel are left with the choice of living in fear of spending the rest of their days locked up in desert detention centers or of risking detention and abuse back home."
Since 2006 some 50,000 Eritreans and Sudanese have entered Israel illegally via the Sinai desert, causing great consternation in the mainly poor Israeli neighborhoods where they have settled. Neighbourhood residents say the migrants engage in petty crime and help turn the areas into slums - claims that have placed great pressure on officials to act to limit the number of migrants in the country.
Like many economically advanced countries in Europe and elsewhere facing their own migrant influxes, Israel offers poor African migrants relatively good opportunities to improve their economic standing. Many are now employed in menial jobs in the hotel and restaurant industries in Tel Aviv and the Red Sea resort city of Eilat.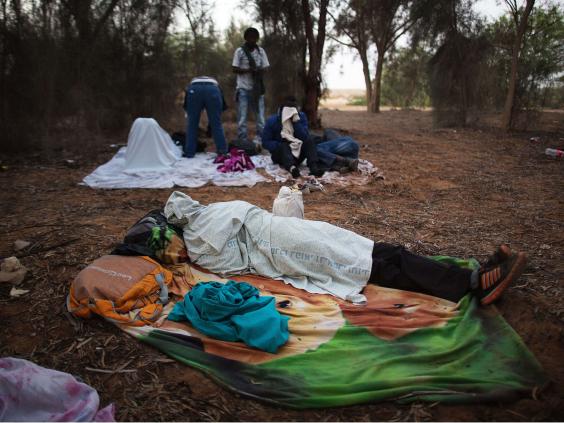 Prime Minister Benjamin Netanyahu has dubbed the migrants "infiltrators" and some Israeli politicians have called them a threat to the country's Jewish fabric. But Israeli rights groups have urged a more sympathetic approach to asylum requests.
To coax the detainees and other migrants to leave, Israel offers to pay their airfare and offers other stipends. It says those who accept the funds and repatriation do so freely.
The report said about 6,750 Sudanese and Eritreans left Israel from January 2013 through July 1 this year.
Israeli figures from August show the number has risen since to about 8,000, said Gerry Simpson, senior HRW researcher and author of the report. He accused Israel of "mass refoulement" – forcing people entitled to refugee protection under international law to risk their lives through repatriation.
Simpson said HRW saw Israel's policy as amounting to "coercive measures" and part of a policy of "unlawful forced return, torture and other serious harm, affecting thousands of Eritreans and Sudanese".
Israeli Interior Ministry spokeswoman Sabine Haddad said Israel was dealing with the challenge of the migrants in a legal and appropriate way.
"The growth in the voluntary repatriation of the migrants by three times from 2013 to 2014 proves that the policy is working," she said.
Reuse content