An Israeli police officer has been caught on camera pushing a Palestinian man out of his wheelchair.
Amateur video shows the soldier urging the disabled man to move away from the scene, where a young girl's body appears to be lying on the ground.
As the man in the wheelchair refuses, the officer proceeds to tip his chair backwards, forcing him to the floor.
Members of the shocked crowd then rush to the Palestinian man's aid, before another officer is seen pointing his gun in a man's face and a stun grenade is thrown towards those looking on.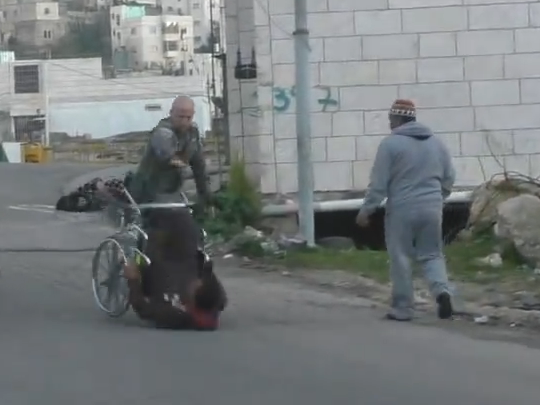 The incident occurred after the young girl pictured lying in the road was shot, having allegedly stabbed an Israeli soldier.
In the full-length video, officers leave her at the side of the road as they wait for an ambulance to arrive.
According to Issa Amro, the director of the Youth Against Settlements group, those gathered at the scene were hoping to give the girl first aid.
Speaking to The Telegraph, Mr Amro said: "The people wanted to save her life and bring a Palestinian ambulance.
The Israeli–Palestinian conflict intensifies
The Israeli–Palestinian conflict intensifies
1/10

Medics evacuate a wounded man from the scene of an attack in Jerusalem. A Palestinian rammed a vehicle into a bus stop then got out and started stabbing people before he was shot dead

AP

2/10

Israeli ZAKA emergency response members carry the body of an Israeli at the scene of a shooting attack in Jerusalem. A pair of Palestinian men boarded a bus in Jerusalem and began shooting and stabbing passengers, while another assailant rammed a car into a bus station before stabbing bystanders, in near-simultaneous attacks that escalated a month long wave of violence

AP

3/10

Getty Images

4/10

Palestinians throw molotov cocktail during clashes with Israeli troops near Ramallah, West Bank. Recent days have seen a series of stabbing attacks in Israel and the West Bank that have wounded several Israelis

AP

5/10

Women cry during the funeral of Palestinian teenager Ahmad Sharaka, 13, who was shot dead by Israeli forces during clashes at a checkpoint near Ramallah, at the family house in the Palestinian West Bank refugee camp of Jalazoun, Ramallah

AP

6/10

A wounded Palestinian boy and his father hold hands at a hospital after their house was brought down by an Israeli air strike in Gaza

Reuters

7/10

Palestinians look on after a protester is shot by Israelis soldiers during clashes at the Howara checkpoint near the West Bank city of Nablus

EPA

8/10

A lawyer wearing his official robes kicks a tear gas canister back toward Israeli soldiers during a demonstration by scores of Palestinian lawyers called for by the Palestinian Bar Association in solidarity with protesters at the Al-Aqsa mosque compound in Jerusalem's Old City, near Ramallah, West Bank

AP

9/10

Undercover Israeli soldiers detain a Palestinian in Ramallah

Reuters

10/10

Palestinian youth burn tyres during clashes with Israeli soldiers close to the Jewish settlement of Bet El, in the West Bank city of Ramallah, after Israel barred Palestinians from Jerusalem's Old City as tensions mounted following attacks that killed two Israelis and wounded a child
"The border police prevented all of them from reaching her and giving her any treatment. The man in the wheelchair was trying to reach the girl on the ground and he was pushed over."
He also revealed that the disabled man, named Majid al-Fahouri, was not badly hurt after the incident.
The girl, who was taken to hospital in Jerusalem to treat serious injuries, was named as Yasmin A-Tamimi.
Israeli police spokesman Micky Rosenfeld said the video was being investigated by the Ministry of Justice.