"He wanted to be a martyr, that was his wish and he was phoning to say goodbye, we would not be hearing from him again, he said. It was such a hard call for a father to take, I begged him to come back home, but he would not listen" Ramadan al-Hallouj recalled his last poignant conversation with is 25-year-old son, Khalid.
Mr Hallouj and his wife, from Tripoli, had already lost two sons, Hamza and Walid, in Libya's revolution; they had sent Khalid to study abroad to get him away from troubles back home. Now they faced losing him in another war, in another land. A few days later an announcement of his death came via Facebook, followed by a phone call from a Saudi fighter asking what the family wanted done with his dead comrade's phone, money and gun.
Mr Hallouj is slowly reconciling himself to the death of Khalid in a gun battle in February in Aleppo. He fervently wishes, he says, that other young men from his country, fighting in Syria and Iraq, return home safe. But instead Libya, which sent one of the earliest and largest foreign contingents against Bashar al-Assad's regime, is set to send a second wave with the jihad spreading to Iraq and the declaration of a caliphate by the group Isis, which now calls itself the Islamic State.
Some had returned from Syria to join the Islamist factions in Libya, shocking some in the ranks with their ferocity. There are whispers that Salwa Bugaighis, one of the country's most renowned human rights activists who was murdered last week, may have been one of their victims, one reason being the sheer savagery of the attack.
Now some are planning to make the journey back. Wais Abdullah al-Majabra is one of them. He came back after two years in Syria, disillusioned by the infighting among the rebels, but now holds that they need urgent help facing a war on two fronts. "I went to Syria, like so many others, because it was our duty to help our brothers there. We had our own revolution against Gaddafi; we were free, and we had military skills we could pass on in the fight against Assad, another dictator," he said, speaking in Sabrata, an ancient Roman town which is now under the sway of Islamists.
"Now they are facing so many enemies; Assad, the Iraqi rafzi (a pejorative term for Shias), the Americans, the Iranians… We should go and help them again." The 27-year-old account clerk's military skills were hastily and roughly acquired, but the Libyan volunteers were a significant boost as violently suppressed protests turned into an armed uprising.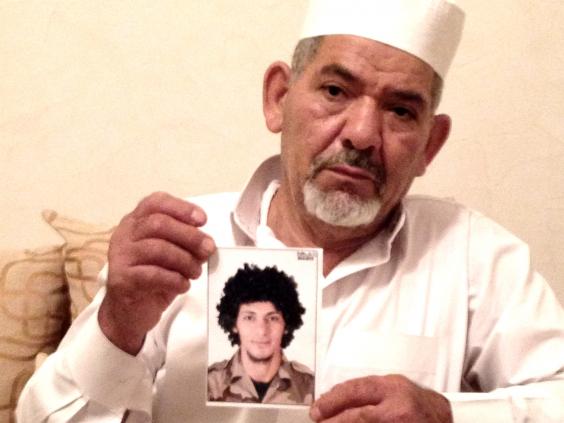 Abd-al Mehdi al-Harati, a rebel commander in the rebellion against Muammar Gaddafi during the uprising, went to Syria to lead the Liwa al-Umma brigade whose 6,000 members were mainly Syrian, but also included large numbers of Libyans, Sudanese, Palestinians, Egyptians and Yemenis. He has returned to Libya to become the mayor of Tripoli.
Mr Harati, a former teacher of Arabic from Dublin, was deputy in the Tripoli Brigade to Abdelhakim Belhaj, the former Libyan insurgent leader who is suing the British government over its role in his rendition to the Gaddafi regime. Mr Belhaj has also been involved with the Syrian rebels.
Mr Majabra will be travelling, he said, with four companions, two of whom have already served in Syria; both men, contacted by The Independent, confirmed they will be making the journey. "We want to go to Syria, but if we are told to go to Iraq by an Emir, then we will – it is now part of the same struggle," said one of them, Abdulrahim.
Mr Majabra had been briefly involved with Liwa al-Umma, but gravitated to Jabhat al-Nusra, a hardline group affiliated to al-Qa'ida. One of the reasons he left Syria was the fighting which had broken out between a number of rebel groups, including Jabhat al-Nusra and Isis.
"Maybe all the enemies getting together, like America, Iran and other rafzis is a good sign: the believers can fight them instead of each other," he held.
But should Libyan families, many of whom have endured so much in the turbulence of the last years, have to see their sons die in Syria and Iraq? "There are sacrifices which have to be made."
All Mr Hallouj hopes for now is closure. "I sent Khalid off to Moscow on a language course to get away from the troubles here in Libya. Now we are told he is buried in Aleppo. I just want someone to find out if that is the case, so we can put it behind us."
But it is doubtful the country would be able to put the Syrian experience behind it so easily. The coastal city of Misrata, a centre of resistance to the Gaddafi regime, was a transit point for the jihad in the early days. That is no longer the case, but the authorities acknowledge that routes are wide open from elsewhere in the country.
"The West sees the jihadists returning from Syria as a great threat, but at least the Western countries can track them. The Libyan government simply doesn't know how many are going, what groups they are with, and how many are back," pointed out Ibrahim Safar, a member of the Misrata Council. "This will mean a big problem for Libya in the future – to add to all our other ones."
Reuse content