A man and child have been pulled alive from beneath a large pile of rubble following an air strike in Syria, according to a video posted online.
Footage being shared widely on social media shows the pair being rescued after what is said to have been an attack by forces loyal to President Bashar al-Assad in Saqba, near Damascus.
Miraculous: Man and child pulled alive from rubble after being buried following an air strike on #Saqba, Syria today. pic.twitter.com/H51MYD2CCc

— Sakir Khader (@sakirkhader) August 30, 2015
According to Israeli daily newspaper Haaretz, the London-based Syrian Observatory for Human Rights said 15 civilians - including six children - were killed in raids on the rebel-heavy area of Eastern Ghouta.
The paper said five people died in the air strikes on the area where the man and child were rescued.
More than 220,000 people have been killed in Syria since the civil war began in 2011 - with an estimated nine million displaced.
Factions fighting forces loyal to the leader control parts of the Syrian capital and large parts of the city's suburbs. Earlier this year, Isis fighters entered the Palestinian refugee camp of Yarmouk, east of Qadam, and control large parts of it.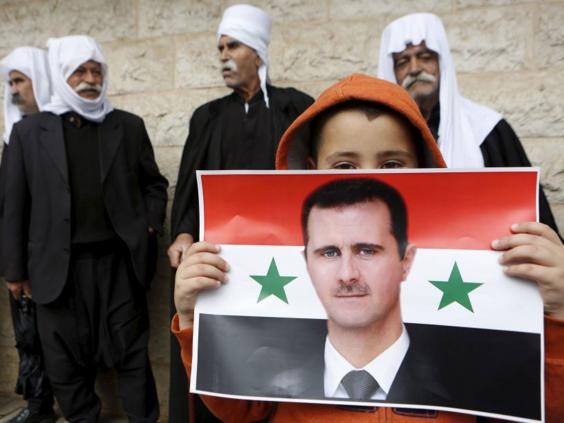 Parts of Damascus have frequently been shelled during the conflict with separate strikes on Sunday on the upmarket neighborhood of Abu Rummaneh, which houses hotels and several embassies.
Stephen O'Brien, the UN's most senior humanitarian official,  has said he is "appalled" by the total disrespect for civilian life "on both sides" and "reports of air strikes causing scores of civilian deaths".
It came after a group of defectors described the horrors they witnessed at the hands of Assad's forces.
A doctor, a pathologist, a judge and a chemical weapons official from within the regime spoke of the atrocities they witnessed.
One defector, identified as 44-year-old Dr Mohamad F, a coroner at the University Hospital in Aleppo, said: "I have suffered, but it's nothing compared to the pain other prisoners have gone through. I have seen policemen rape women and children in front of other detainees."
Isis has emerged as one of the most powerful forces in the battle to overthrow the Assad regime, having seized about one-third of Syria and neighbouring Iraq over the past year.
Reuse content