Islamic State militants have become infamous for their use of online videos as they wage a physical war across the Middle East alongside a propaganda drive that attempts to stoke fear and intimidation far beyond the borders of Syria and Iraq.
Yet Isis are not the only ones in this battle with access to a camera, and a group of Syrian refugees have spent the last few months waging a "comedy war" against the Islamic militants with their own set of videos.
Maen Watfe, Youssef Helali, Mohammed Damlakhy and Aya Brown produce their videos in the Turkish city of Gaziantep, having fled their hometown of Aleppo during the fighting.
The group, known as Daya Altaseh, told The Independent via Facebook: "We are fighting back, but in our own way.
"We want to raise awareness in people and let them start to see the reality of Isis."
In an interview with the Guardian, 27-year-old Maen Watfe said that the Western media gives into Isis's propaganda machine, portraying the militants as "strong and intimidating".
"The entire world seems to be terrified of Isis, so we want to laugh at them, expose their hypocrisy and show that their interpretation of Islam does not represent the overwhelming majority of Muslims."
The group revealed that they had to move house and keep their addresses secret after being sent death threats in relation to their anti-Isis videos. The group told The Independent they had been threatened by Isis men in Turkey.
One video shows a genie appearing to a pro-Bashar al-Assad person. He tells the genie, "I feel very bad. I support the rule of President Bashar al-Assad and I have killed hundreds of thousands of people. We have killed a lot of Syrians.
"But I have one problem. I want to be able to kill Syrians without feeling guilty."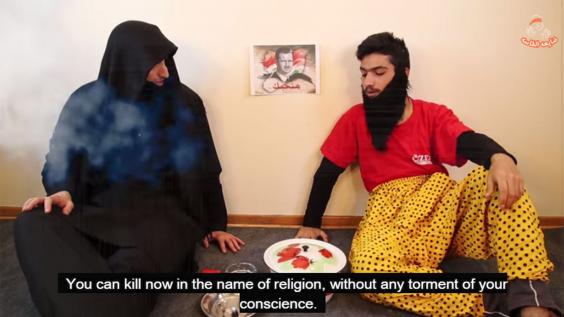 The genie says he has a solution, claps his hands, and the man is changed into Isis uniform. "You can now kill in the name of religion, without any torment of your conscience," the genie says. He then replaces an image of Assad with the Isis leader Abu Bakr al-Baghdadi and hands the man a bomb, telling the new militant, "Take this, in case anything should happen to you. This is a Valentine's gift."
Another video shows a man in a dark room with a knife being held up to this throat. He looks into the camera and says, "I will die, so slowly." The masked man holding the knife then says, "You will die, so slowly." The near-similar chants of the two men then merge with the Madonna song, "Hung Up".
Isis seized around a third of both Syria and Iraq last summer. However, it is now on the retreat in the latter, with Iraqi forces coming close to recapturing Saddam Hussein's hometown of Tikrit this week. Furthermore, in both Iraq and Syria, a US-led coalition continues to launch air strikes against Isis targets.
Reuse content