A 13-year-old Palestinian girl who attempted to stab an Israeli security guard has been shot dead in the West Bank.
Police claimed the teenager, named as Ruqayya Abu Eid, was "intending to die" when she travelled to the Anatot settlement near her family home on Saturday morning.
Luba Samri, a spokesperson for Israeli police, said she approached a gate leading to the settlement and ran at a security guard with a knife after he stopped her and asked for identification.
13 y/o Palestinian attempted to stab security guard at entrance to Israeli town in West Bank, shot & killed. pic.twitter.com/RCU9vrIDQi

— Israel Reporter (@IsraelBreaking) January 23, 2016
Initial investigations suggested the teenager "had fought with her family and left her home with a knife and intending to die", she added.
Ruqayya's father arrived at the scene searching for his daughter to find her dead on the ground. He was arrested and taken for questioning.
But the girl's mother, Reeda Abu Eid, contradicted the police account.
She said there had been no trouble before her daughter left the family home, a tent in the Palestinian village of Anata.
"Her father works in a farm and Ruqayya used to go to him," she added. 
"I didn't see her when she left so I expected she had gone to her father. Ruqayya is a small girl, how could she stab someone?"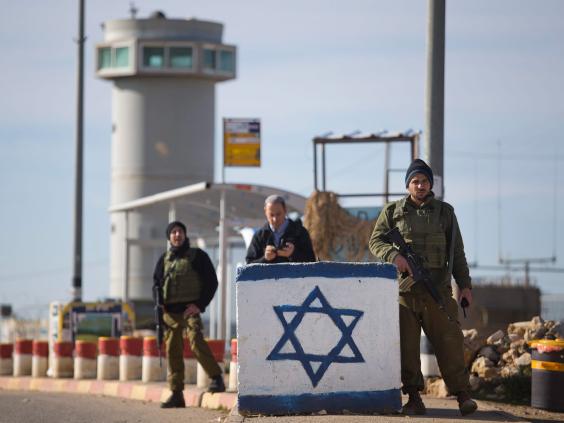 Photos from the scene appeared to show a knife on the ground near Ruqayya's body, which was covered by a plastic sheet as forensics officers continued their investigations.
It was the latest in a series of Palestinian attacks and deaths in a surge of violence that started last October.
Since the start of that month, 27 Israelis have died in stabbings, shootings and car rammings, while at least 155 Palestinians have been killed by security forces, including 95 said to be attempting or carrying out attacks.
Many of the Palestinian assailants have been teenagers. On Sunday, an Israeli mother of six was stabbed to death at her home in a West Bank settlement and a 15-year-old Palestinian was arrested for the attack. 
The following day, Israeli troops shot and wounded a 17-year-old Palestinian who had stabbed a pregnant Israeli woman in another settlement.
The Israeli–Palestinian conflict intensifies
The Israeli–Palestinian conflict intensifies
1/10

Medics evacuate a wounded man from the scene of an attack in Jerusalem. A Palestinian rammed a vehicle into a bus stop then got out and started stabbing people before he was shot dead

AP

2/10

Israeli ZAKA emergency response members carry the body of an Israeli at the scene of a shooting attack in Jerusalem. A pair of Palestinian men boarded a bus in Jerusalem and began shooting and stabbing passengers, while another assailant rammed a car into a bus station before stabbing bystanders, in near-simultaneous attacks that escalated a month long wave of violence

AP

3/10

Getty Images

4/10

Palestinians throw molotov cocktail during clashes with Israeli troops near Ramallah, West Bank. Recent days have seen a series of stabbing attacks in Israel and the West Bank that have wounded several Israelis

AP

5/10

Women cry during the funeral of Palestinian teenager Ahmad Sharaka, 13, who was shot dead by Israeli forces during clashes at a checkpoint near Ramallah, at the family house in the Palestinian West Bank refugee camp of Jalazoun, Ramallah

AP

6/10

A wounded Palestinian boy and his father hold hands at a hospital after their house was brought down by an Israeli air strike in Gaza

Reuters

7/10

Palestinians look on after a protester is shot by Israelis soldiers during clashes at the Howara checkpoint near the West Bank city of Nablus

EPA

8/10

A lawyer wearing his official robes kicks a tear gas canister back toward Israeli soldiers during a demonstration by scores of Palestinian lawyers called for by the Palestinian Bar Association in solidarity with protesters at the Al-Aqsa mosque compound in Jerusalem's Old City, near Ramallah, West Bank

AP

9/10

Undercover Israeli soldiers detain a Palestinian in Ramallah

Reuters

10/10

Palestinian youth burn tyres during clashes with Israeli soldiers close to the Jewish settlement of Bet El, in the West Bank city of Ramallah, after Israel barred Palestinians from Jerusalem's Old City as tensions mounted following attacks that killed two Israelis and wounded a child
The bloodshed comes amid frustration over the collapse of Israeli-Palestinian peace talks and the growth of Jewish settlements on land Palestinians seek for an independent state, although Israeli politicians have blamed "incitement" by Palestinian politicians.
Israeli settlements in the Occupied Palestinian Territories are considered illegal under international law and the United Nations found construction was the "root cause" of escalating violence in a report last year.
A spokesperson for the UN Special Committee to Investigate Israeli Practices said there was also a perception of a "climate of impunity relating to the activities of the settlers".
Palestinian labourers have been banned from entering the settlements, where an estimated 11,000 Palestinians work, as road closures, movement restrictions, raids and arrests continue in the ongoing security crackdown.
Additional reporting by Reuters
Reuse content