Russia has started preparing its fighter jets to return home from an air base in Syria, according to its defence ministry.
The move comes a day after Vladimir Putin ordered Russia's military to withdraw its forces, timing his move to coincide with the resumption of Syria peace talks in Geneva – and the fifth annviersary of the beginning of the country's civil war.
The ministry says Russian personnel are currently loading equipment and material on cargo planes and getting ready for the withdrawal, which marks an end to Russia's five-and-a-half-month air campaign. 
The ministry did not indicate when the first planes are scheduled to leave. 
Overnight, Mr Putin and US President Barack Obama shared a "frank and business-like" exchange on the phone about Russia's decision.
In a statement about the phone call, the White House said Mr Obama told Mr Putin he welcomed the "much-needed reduction in violence" since the cease-fire took effect late last month. But the US president also noted the Syrian regime's continued "offensive actions" threaten to break the deal and could undermine plans for a United Nations-led political process.
"The President underscored that a political transition is required to end the violence in Syria," the White House said.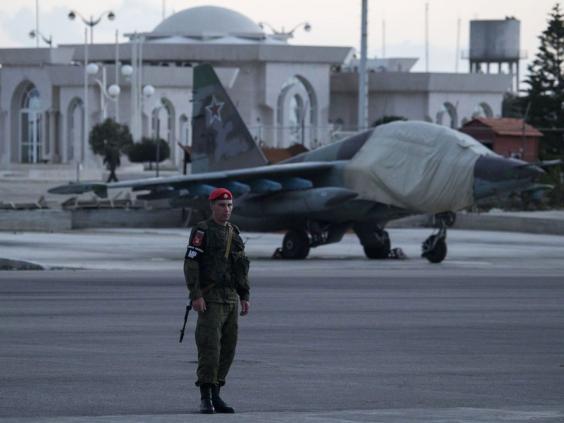 In a claim given a wary welcome by the Syrian opposition, Mr Putin yesterday said that the campaign in support of President Bashar al-Assad had "achieved its aims", and ordered his Foreign Minister to "intensify" Moscow's role in peace talks that have resumed in Geneva.
Announcing his decision in a televised meeting with ministers at the Kremlin, Mr Putin said he had ordered the withdrawal of "the main part of our military contingent" but said a Russian airbase and naval facility in the country would continue to operate. 
In pictures: Russian air strikes in Syria
In pictures: Russian air strikes in Syria
1/10

Volunteers from Syria Civil Defence, also known as the White Helmets, help civilians after Russia carried out its first airstrikes in Syria

2/10

The aftermath of Russian airstrike in Talbiseh, Syria

3/10

Smoke billows from buildings in Talbiseh, in Homs province, western Syria, after airstrikes by Russian warplanes

AP

4/10

Russian Air Forces carry out an air strike in the ISIS controlled Al-Raqqah Governorate. Russia's KAB-500s bombs completely destroy the Liwa al-Haqq command unit

5/10

Caspian Flotilla of the Russian Navy firing Kalibr cruise missiles against remote Isis targets in Syria

6/10

Caspian Flotilla of the Russian Navy firing Kalibr cruise missiles against remote Isis targets in Syria, a thousand kilometres away. The targets include ammunition factories, ammunition and fuel depots, command centres, and training camps

7/10

Russia claimed it hit eight Isis targets, including a "terrorist HQ and co-ordination centre" that was completely destroyed

8/10

A release from the Russian defence ministry purportedly showing targets in Syria being hit

9/10

A video grab taken from the footage made available on the Russian Defence Ministry's official website, purporting to show an airstrike in Syria

10/10

Russia launched air strikes in war-torn Syria, its first military engagement outside the former Soviet Union since the occupation of Afghanistan in 1979. Russian warplanes carried out strikes in three Syrian provinces along with regime aircraft as Putin seeks to steal US President Barack Obama's thunder by pushing a rival plan to defeat Isis militants in Syria
The Russian presidential spokesman, Dmitry Peskov, said that Mr Assad had agreed to the decision following a telephone conversation with Mr Putin. Syria's state news agency quoted the Syrian President as saying that the collaboration between Russian and Syrian forces has secured "victories against terrorism and returned security to the country". 
While its intervention was officially launched to combat terrorist groups, Russia has been widely accused of using a relentless air campaign to target more moderate rebel groups as well as hundreds of civilian targets including schools and hospitals.