Steven Joel Sotloff, an American journalist, is the second hostage to be beheaded by Isis militants within just a few weeks.
The US President Barack Obama has paid tribute to Mr Sotloff and said the country is grieving with those who knew and loved Steven.
Throughout his career, Mr Obama said the 31-year-old "travelled across the Middle East risking his life to tell the story of Muslim men and women demanding justice and dignity".
Mr Sotloff, from Miami, was kidnapped near Aleppo in August 2013 while trying to cross the Syrian border from Turkey.
His family was made aware of his disappearance at the time but chose not to go public following threats to his life from Isis.
As a freelance journalist, Mr Sotloff has worked for publications including TIME, the National Interest, Media Line, Foreign Policy and the Christian Science Monitor, where he reported from Egypt, Libya, Turkey and Syria.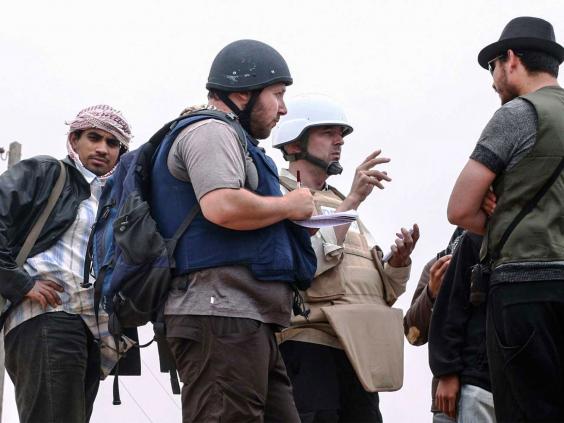 On his Twitter bio, the 31-year-old described himself as a "stand-up philosopher from Miami" and his tweets about foreign affairs were often punctuated by posts about the Miami Heat basketball team.
Israel's Foreign Ministry confirmed today that US-born Mr Sotloff also held Israeli citizenship. Mr Sotloff attended a Jewish school in Miami before going on to study journalism at the University of Central Florida, where he wrote for the university magazine in 2004.
In pictures: Steven Sotloff
In pictures: Steven Sotloff
1/7 Steven Sotloff

Steven Sotloff inside Al-Fateh Mosque in Manama, Bahrain, in 2010

EPA

2/7 Steven Sotloff

Journalist Steven Sotloff, left, pictured in Libya in 2011

Getty Images

3/7 Steven Sotloff

Steven Sotloff pictured in 2010 near Lulu Roundabout in Manama, which later became the iconic center for the 2011 pro-reform protests in Bahrain

EPA

4/7 Steven Sotloff

Journalist Steven Sotloff pictured in Egypt

5/7 Steven Sotloff

Media gather outside Steven Sotloff's family home in Pinecrest, Florida

AP

6/7 Steven Sotloff

Shirley Sotloff during a recent appeal to the captors of her son

AP

7/7 Steven Sotloff

Pinecrest police officers are positioned at the home of Arthur B. Sotloff and Shirley Sotloff, the parents of American freelance journalist Steven Sotloff, in Pinecrest, Florida
Emerson Lotzia, a former roommate of Mr Sotloff, told the Central Florida Future that reporting in the Middle East "was what he loved to do and you weren't going to stop him".
"Steve said it was scary over there. It was dangerous. It wasn't safe to be over there. He knew it. He kept going back."
His portfolio included dispatches from Egypt after Mohamed Morsi was toppled from power, where he spoke with members of the Muslim Brotherhood despite fears for his safety.
Video: Steven Sotloff death discussed

Mr Sotloff also wrote from Aleppo, in Syria about the disillusionment felt by residents there in the Free Syrian Army.  
His career saw appearances on CNN and Fox News before he was taken.
Laura Kasinof, the Yemen-based correspondent for The New York Times, remembered him as a "brave" man who loved the Middle East and who "always hung out with Yemenis more than foreigners."
Fellow writer Ann Marlowe echoed this sentiment, writing on Twitter that he "spoke good Arabic [and] deeply loved [the] Islamic world."
James Denton, publisher and editor of the Washington-based journal World Affairs, where Mr Sotloff also freelanced, told Reuters: "He struck me as a very, very decent guy ... he wasn't chasing headlines, he wasn't hyping a pitch. He wanted to get the story, he wanted to peel away the layers."
In a statement, Foreign Policy magazine said it was saddened by news of Mr Sotloff's death and called him a "brave and talented journalist" whose reporting "showed a deep concern for the civilians caught in the middle of a brutal war."
His mother Shirley Sotloff had issued a video last week urging Abu Bakr al-Baghdadi, the leader of Isis, to spare her son's life. In her plea, she praised her son as "an honourable man [who has] has always tried to help the weak".
Reuse content