A Syrian government air strike on a town near Damascus has killed at least 80 people and wounded 200 others at a marketplace, in one of the deadliest raids of the four-year civil war.
At least 10 rockets were launched during the airstrike on Douma, around 15km (10 miles) from the capital, according to the British-based Syrian Observatory for Human Rights. 
The raid struck the market during rush hour, as hundreds of people were out shopping on the first day of the Syrian working week, the Associated Press reported.
"This is an official massacre that was carried out deliberately," said Rami Abdulrahman, who runs the Observatory.
He warned that the death toll is expected to rise, as many of those wounded are in critical condition.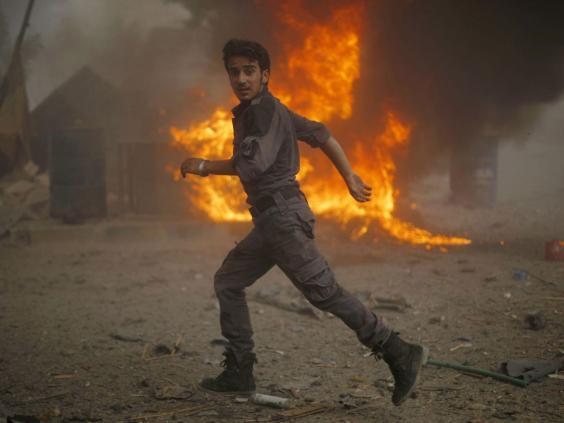 The air strikes were targeting the headquarters of the rebel group Islam Army, which enjoys strong support in the town, a Syrian military source told Reuters.
The Syrian Civil Defence, a rescue service which works in rebel-held areas, released the names of 60 people who have died in the attack, but said on its Facebook page that "tens are waiting to be identified."
A video published by the group appears to show dozens of bodies lined up on the ground, while a photo shows workers wrapping the bodies in white shrouds. 
Separate footage features rescuers carrying bodies in a street covered in vegetable and debris.
Mazen al-Shami, an activist based in Douma, told the Associated Press that: "the situation is catastrophic", and said that many of those wounded are being rushed to medical facilities in other areas as ambulances are overwhelmed, and clinics are full.
The Islam Army, which is one of the most powerful insurgent factions operating near Damascus, attacked government positions in Harasta, some 5km from Douma, on Saturday. A video released online by the group showed its leader Zahran Alloush taking part in the attack.
The top 10 most dangerous countries in the world
One of the largest suburbs of Damascus, Douma has been under rebel control since the beginning of the civil war in 2011.
Meanwhile on Lebanese border to the west of Damascus, the Syrian army, which is back by the Lebanese Hezbollah, was reportedly fighting with insurgents in the town of Zabadani, the Observatory said.
The battle ensued after a ceasefire between the opponents in Zabadani and two villages in the northwest collapsed on Saturday when talks into establishing a longer cessation of violence failed.
The conflict has since claimed more than 250,000 lives and displaced up to a third of Syria's pre-war population.
Additional reporting by Reuters
Reuse content