Peter Theo Curtis, the American writer and journalist released this week by an al-Qa'ida-related group in Syria, emerged from his Massachusetts home early today and expressed wonderment at the work that had been going on during his captivity to have him safely released.
"I have learned bit by bit that there have been hundreds of people, brave determined and big-hearted people all over the world working for my release... I had no idea that so much effort was being expended on my behalf and now having found out I am overwhelmed by emotion," Mr Curtis said, standing outside his mother's home, where he had arrived late on Tuesday after flying to the United States from Israel.
Mr Curtis, who has published two non-fiction books under the name Theo Padnos, had disappeared in late 2012 after being seized by the Nusra Front. He was handed over on Sunday in the Golan Heights at Syria's border with Israel after negotiations brokered by Qatar. "I suddenly remember how good the American people [are], what kindness they have in their hearts," Mr Curtis, 45, said.
Dressed in a T-shirt, jeans and sandals, he then pleaded for patience from his fellow journalists saying he was not yet ready to offer any further details of his ordeal before returning inside the family house in Cambridge, which is next to Boston. "I have to bond with my mother and my family right now," he said. Mr Curtis's release appeared to have been accelerated in the wake of the execution of another US journalist, James Foley, last week, by Isis militants.
The mother of another American who is still in the hands of Isis, Steven Sotloff, 31, made a direct, recorded video appeal to the head of the group to let him go, addressing him as the 'caliph'.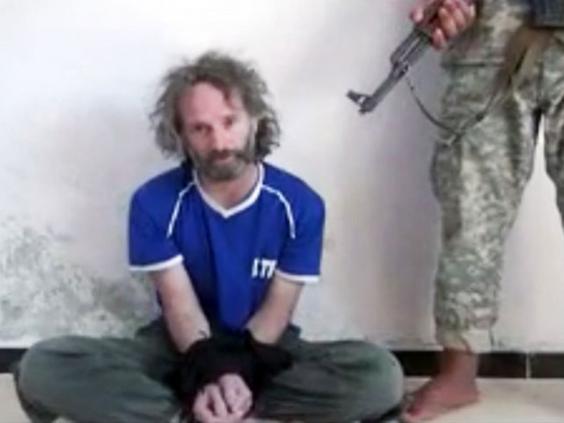 "I am sending this message to you, Abu Bakr al-Baghdadi al-Quraishi al-Hussaini, the caliph of the Islamic State," Shirley Sotloff said. "My son, Steven, is in your hands. You, the caliph, can grant amnesty. I ask you please to release my child. I ask you to use your authority to spare his life."
It was only last summer that the family of Mr Curtis learnt he was still alive. The news came after another captive, an American photographer, escaped from a cell where they were being held together in the Syrian city of Aleppo. In January, the hostage-takers released a first photograph of the journalist.
Mr Curtis's mother subsequently travelled to Turkey to meet with an intermediary in hopes of engineering the release of her son, but without success.