A small Iranian passenger plane has crashed near the country's capital Tehran, killing 39 people and injuring nine, including small children, according to state media.
The flight crashed near Mehrabad airport, west of Tehran, in a residential area after its engine failed, the state-run IRNA news agency reported.
State media originally reported all 48 people on board had been killed , including eight members of crew, but a senior Iranian transportation official has told state media that nine people survived with injuries.
The aircraft was being operated by Sepahan Air and flying to Tabas, in eastern Iran.
Footage of the aftermath obtained by Sky News shows people walking around the crash site, which appears to be in the middle of a main road, while military personnel try to secure the area.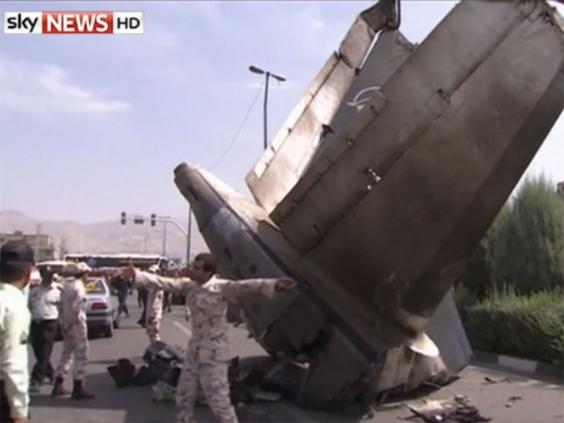 Cars surround what remains of the plane, which appears to be the tail of the aircraft sticking directly out of the ground, with broken pieces of the aircraft scattered around it.
The plane took off at 9.20am local time and crashed shortly afterwards.
The Iran-140 jet that crashed is typically used for domestic flights, and the footage confirmed the plane was operated by Sepahan Air.
"Initial reports indicate that 48 people aboard the plane have been killed, including seven children," IRNA reported.
Iran has suffered a series of plane crashes, blamed on its ageing aircraft and poor maintenance record, and the country is reportedly still flying planes bought before the Islamic revolution in 1979, while many planes are thought to be fitted with unofficial parts.
There have been more than 200 accidents involving Iranian planes in the past 25 years, leading to more than 2,000 deaths, the BBC reports.
The last major crash was in January 2011, when 77 people were killed in an Iran Boeing 727 crashed during an emergency landing made because of a snowstorm.
Additional reporting by AP