To Dutch security services, the 19-year-old known only as Aicha is a potential threat to the Netherlands, hardened by months spent with jihadi groups on the Syrian battlefield.
But to her mother, Monique, she is just a normal teenage girl seduced by a charismatic Islamist fighter.
Yesterday, a Dutch judge started weighing these two views after Monique had embarked on a dangerous journey to the Syrian-Turkish border to retrieve her daughter, only for Aicha to be detained as soon as she returned to the Netherlands.
The prosecution successfully called for Aicha's detention on the grounds that she committed serious crimes, with the case highlighting the struggles European security services face as increasing numbers of young people travel to Syria to join radical groups.
Anti-Isis demonstrations across Europe
Anti-Isis demonstrations across Europe
1/10 Anti-Isis protests in Ankara, Turkey

A person holds a flag as police uses tear gas and water cannon in Ankara against demonstrators who protest against attacks launched by Islamic State insurgents targeting the Syrian city of Kobani and lack of action by the government

2/10 Anti-Isis protests in Diyarbaki, Turkey

Protesters clashing with riot police during a demonstration against Isis in Diyarbakir, southeast of Turkey

3/10 Anti-Isis protests in Diyarbaki, Turkey

Kurdish protesters in the southeastern city of Diyarbakir

Getty Images

4/10 Anti-Isis protests in Diyarbaki, Turkey

Kurdish protesters clash with Turkish riot policemen in the city of Diyarbakir

Getty Images

5/10 Anti-Isis protests in Brussels, Belgium

Riot police block Kurdish protesters as they gather in front of the entrance of the European Parliament in Brussels

AP

6/10 Anti-Isis protests in Berlin, Germany

Demonstrators, including one holding a sign that reads: "Save the Kurds of Kobane from IS," and many of them members of Berlin's large Kurdish community, march to protest against the ongoing violence by militias of the Isis in Iraq and Syria in Berlin

7/10 Anti-Isis protests in Hamburg, Germany

Kurds protest against Isis militants advancing through the Syrian border city of Kobani, in Hamburg, Germany

8/10 Anti-Isis protests in London, UK

Kurdish protesters gather at Heathrow Airport as anti-Isis demonstrations take place across Europe

Lisa Campbell

9/10 Anti-Isis protests in Paris, France

Kurds living in France demonstrate in Paris

10/10 Anti-Isis protests in Marseille, France

Kurdish people hold flag in Marseille during a protest against the threat of a "Syrian Kurdish population's genocide" by Isis militants and to support the population of the Syrian Kurdish town of Ain al-Arab, known as Kobani
About 3,000 Europeans are believed to be fighting in Syria's chaotic civil war, which is now dominated by different Islamist factions battling both the regime of Syrian President Bashar al-Assad and fighting to establish an Islamic state across the Middle East. Monique was stunned when she found out that her "blonde, blue-eyed girl who liked going out and playing piano" was among them.
Aicha disappeared in February after falling in love with a Dutch former soldier she met over the internet. After giving up his military training, Omar Yilmaz travelled to Syria to fight with jihadi groups, and Aicha reportedly went to the Middle East to marry him after converting to Islam.
"She saw him as a sort of Robin Hood," the BBC quoted Monique as saying. Mr Yilmaz told the BBC this week that the brief marriage was not successful and they went their separate ways.
For Monique, the last communication had been a text message in April in which Aicha told her that "sometimes you got to do what you got to do". Desperately worried for her daughter's safety, the 49-year-old from Maastricht decided to travel to the Turkish-Syria border to try to get her daughter back.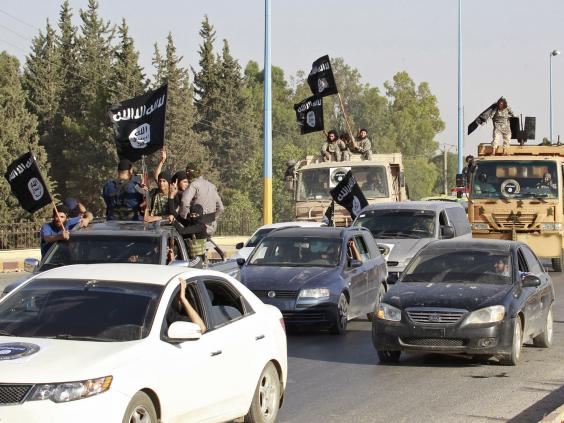 Reports in Dutch media earlier this week suggested that Monique had donned a veil and crossed clandestinely into the Syrian city of Raqqa, eventually finding Aicha and bringing her into Turkey, before returning home to the Netherlands on Wednesday.
However, there was some confusion over the sequence of events after Roger Bos, Maastricht's chief public prosecutor, denied that Monique had entered Syria. The mother's quest to the edge of a dangerous battle zone shows the anguish of the parents who are left behind, wondering if they will ever see their children alive again.
Last year, The Independent spoke to Dimitri Bontinck, a former Belgian soldier who spent weeks travelling between rebel camps across Syria in search of his son, Jejoen. Mr Bontinck endured torture and interrogation at the hands of Islamists, and was eventually reunited with his son. Jejoen was also detained on his return home, and is among dozens of Belgians currently on trial for his alleged links to the radical group, Sharia4Belgium.
His father has now started helping other parents track down children sucked into the Syrian civil war. He is also campaigning for a more lenient approach to young people returning home, saying that locking them up prevents reintegration into society.
But while in Britain and Belgium politicians are considering radical measures like stripping returning fighters of their passports, other countries like Denmark do not lock up fighters but provide psychological counselling and help finding new jobs.
Reuse content