Thousands of mourners attended the funeral yesterday of a senior Palestinian official whose death after being grabbed in the neck by an Israeli border policeman has already become a symbol in Palestinian eyes of the evils of Israeli occupation.
An autopsy on Ziad Abu Ein, 55, has only added to Israeli-Palestinian tensions, with Israeli participants highlighting that Abu Ein had a pre-existing heart condition, but with the Palestinian pathologist determining that he died from being struck during the protest event at Turmus Aya on Wednesday.
Whatever the reality, the mourners viewed Abu Ein's death as the latest Israeli crime following last summer's devastating war in the Gaza Strip. "This was a criminal action," said Rabia Asi, 38, a Palestinian Authority employee. "This is the occupation for you. It rapes your land and kills a struggler while he's going to plant olive trees on confiscated land."
The Palestinian President Mahmoud Abbas and Prime Minister Rami Hamdallah looked on as a bagpipe band accompanied Abu Ein's coffin, which was wrapped in a black, red, green and white Palestinian flag.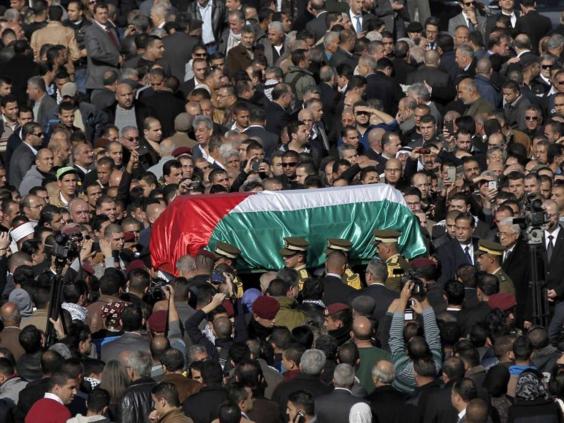 After prayers over the coffin, the procession moved to a cemetery in nearby al-Bireh to the sound of shots fired into the air by mourners. Abu Ein was a popular figure among Palestinians, respected as someone who spent his time in the villages and refugee camps rather than in an office or in luxury hotels. His job was to head a Palestinian Authority commission combating Israeli settlement in the occupied West Bank and his rank was equivalent to that of minister. Having been sentenced to life imprisonment for a bombing that killed two Israeli teenagers as a young man in 1979, he was released in 1985 in a prisoner swap. However, associates say, Abu Ein ended his life as an advocate of non-violent resistance against the occupation and spent much of his time promoting that idea.
"He was not an armed fighter; he was educating for non-violence," said Issa Amr, a Palestinian non-violent activist in Hebron, who said Abu Ein came to that flashpoint city three times in the last month, including once to open a kindergarten on Shuhada Street – a Palestinian area where the army has in recent years restricted Arabs.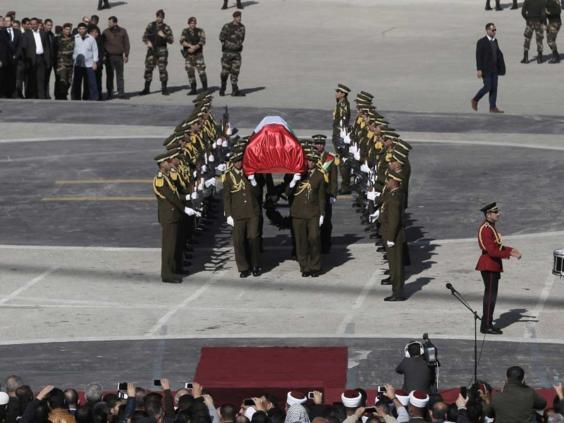 "He said he would help with all his energies to press the army to open Shuhada Street and evacuate the settlers from Hebron," Mr Amr said.
"He wasn't afraid of the soldiers. He faced them as equals and that's what they didn't like: they want Palestinians who obey," Mr Amr added.
"He always said to the soldiers and settlers, 'You are illegal here, go home.'" The espousal of non-violence came because Abu Ein concluded that violence was not working in ending occupation and enabled the army to wreak destruction, Mr Amr said.
Qaher Majad Faraj, a 24-year-old restaurant worker who attended the funeral, said Abu Ein's death proves non-violence is not the way. "It is nonsense to talk about non-violence. The Israelis don't understand any language but the language of might."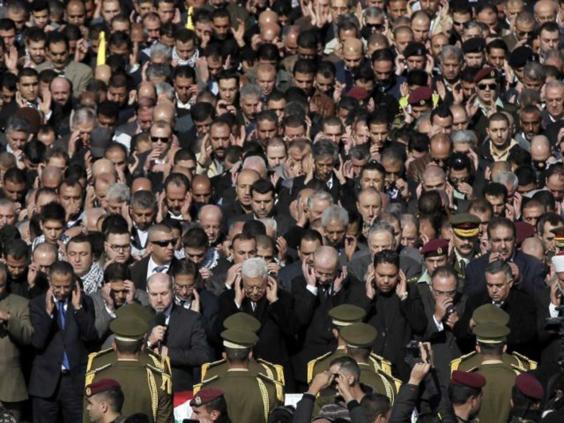 He said it is time for the Palestinian Authority to end its security co-operation with Israel that has been instrumental in thwarting attacks on Israeli targets. "The authority should not interfere in the national arena," he said. "If I want to do an operation against Israel they should not stop me or arrest me.''
The Palestinian leadership is to meet tonight to decide on the future of the security co-operation and the timing of when to join the International Criminal Court as a full member, something that could enable war crimes prosecutions against Israelis. "We are studying, seriously studying, ending all forms of co-operation, including the security co-operation with Israel," Azzam al-Ahmad, a senior leader in Mr Abbas's Fatah movement, told The Independent. "We are in a state of open confrontation with Israel."
Hoping to head off any escalation, Israel reinforced troops in the West Bank and the Defence Minister Moshe Yaalon said he regretted the death of Abu Ein.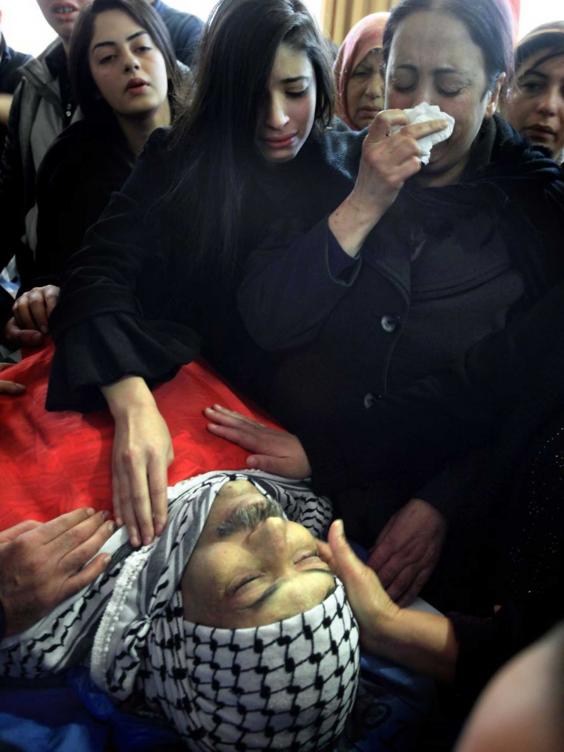 The death ignites further tensions during a time when Israeli-Palestinian ties are particularly fraught. This is due to Muslim perceptions of an Israeli threat to al-Aqsa mosque, Islam's third-holiest site, a wave of Palestinian violence against Israelis that culminated in an attack on a Jerusalem synagogue, and the breakdown of the peace process and current Palestinian efforts to secure a UN security resolution on ending Israel's hold on occupied territories.
However, it is thought that a diplomatic escalation with Israel or an escalation on the ground in the West Bank may not be seen as desirable right now by Mr Abbas, since he is putting all his efforts into trying to gain UN Security Council passage of a resolution to end the occupation within two years and establish a Palestinian state. If he is viewed as escalating the violence that could impact on international support for the diplomatic drive.
But those considerations are not shared by Mr Farraj, the young restaurant worker. "Abu Mazen [Abbas] should declare an uprising at all levels,'' he said. "He is 79 and on the edge of his grave and he should do this now."
Reuse content