British aircraft have been readied for flights over Syria in the war against Isis. Armed Reaper drones which have been moved from Afghanistan are going to be used in missions in the heartland of the Islamist extremists, The Independent has learnt.
Last week, the Government announced the redeployment of the Reapers for operations in Iraq, where the RAF is already in action as part of a US-led coalition.
However, senior Whitehall sources have disclosed that they would be operating in Syria as well, initially for surveillance, but also in an attack capacity with Hellfire missiles if authorisation is given.
British air strikes against Isis came after a Commons vote authorising military engagement in Iraq, with David Cameron stressing that he would seek a second mandate from MPs if it was deemed necessary to extend the fight to Syria. But the Government maintains that no such permission is necessary to carry out reconnaissance flights or even armed action – the latter if it is a matter of national security, such as the rescue of British hostages being held by Isis.
Britain at War: Opinions on the ground
Britain at War: Opinions on the ground
1/8 CAROLINE LUCAS Green Party MP for Brighton Pavillion

"Whatever we decide people will die. Be it directly at the hands of ISIL, whose barbarity seems to know no limits. Or when they are hit by bombs dropped by the US, France or the UK."

Teri Pengilley

2/8 DR ANDREW WHITE Chaplain of St George's Anglican Church in Baghdad

"Isis is an evil, evil force – the only way to control these bigots is to further put at risk Iraqi people."

Susannah Ireland

3/8 DR NAFEEZ AHMED Executive director of the Institute for Policy Research & Development

"We might win some short term battles but we will create more grievances that will empower the IS cause in the long run."

4/8 DAVID DAVIS Former shadow Home Secretary

"The moral case is clear, the practical case is not - what do we do when we stop bombing?"

Getty

5/8 GENERAL JAMES CONWAY Retired US Marine

"I don't think President Obama's plan has a snowball's chance in hell of succeeding."

AFP

6/8 NADIM ZAHAWI Baghdad born Conservative MP

"We need to learn that we can't do nation-building, it has to be up to the local community to decide who they want to govern themselves."

Susannah Ireland

7/8 RICHARD WILLIAMS Former commanding officer of the SAS

"Friday's debate lacked any meaningful reference to the political solution that must be considered in Iraq if these bombs are to mean anything."

8/8 CHRIS DOYLE Director of Council for Arab-British Understanding

"The bigger issue is to actually help Syria, but if you just want to defeat IS then you lose sight of that overall goal."
The RAF has flown 37 missions and conducted 10 successful strikes over Iraq since Parliament authorised action, the Defence Secretary, Michael Fallon, told MPs yesterday. The unmanned Reaper drones will be based in Kuwait after their move from Kandahar, The Independent understands. They will be controlled via satellite link from RAF Waddington in Lincolnshire.
The decision to fly over Syrian territory is certain to lead to charges of "mission creep" and opposition in some quarters of Parliament. Several Labour and Liberal Democrat MPs who voted for the Iraq operation indicated that they would object to moving it on to Syria.
Some of the MPs have questioned the validity of military action in Syria under international law, pointing out that the Iraqi government has asked for help from the US-led coalition, but Syria's President, Bashar al-Assad, has not. There would also be apprehension that the drones may be followed by fighter-bombers whose pilots would be vulnerable to the air defences of the regime as well as missiles acquired by Isis fighters.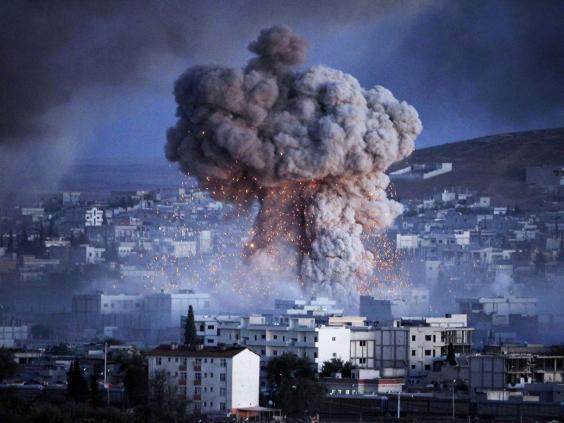 But there is growing consensus among ministers and military commanders that meaningful action against the extremists must include the ability to strike at their bases inside Syria and assistance to "moderate" rebel groups fighting Isis.
The Assad regime has offered only token criticism of Western action and its forces have made no attempt to intercept the flights by the Americans and Arab allies over its territories.
Officials acknowledge that there has been an element of confusion over British military policy in the Isis mission. The Foreign Secretary, Philip Hammond, declared recently that the UK would not consider carrying out air strikes in Syria. He was forced to backtrack after this was denied swiftly by Downing Street. Mr Hammond also said no rescue attempt could be carried out for British hostages because the Government had no idea where they were held.
Officials in the security field do not want to publicise any preparations being made to free the kidnapped prisoners.
A Whitehall official said: "The Reapers would be very useful for intel on Isis in Syria for ourselves and our allies; that would be their primary purpose. Their use in combat would obviously depend on parliamentary approval – unless we have a need for them to secure the wellbeing of British subjects or prevent a humanitarian crisis."
The Reapers have carried out more than 4,800 sorties in Afghanistan since 2008. Amnesty International has suggested that their use by the US and UK may, in some cases, constitute war crimes.