Hundreds of US marines have arrived in Syria armed with heavy artillery in preparation for an assault on Isis' de-facto capital of Raqqa.
A spokesperson for US Central Command told The Independent a Marine Corps artillery unit would provide "greater agility to enable and expedite our Syrian partnered forces defeat of Isis in Raqqa".
"The strategy adopted by the Coalition remains the same – we will continue to work by, with and through partnered forces to defeat Isis in Iraq and Syria," he added.
"Our partners in Syria face an entrenched foe and like the Iraqis, will require additional support."
Col John Dorrian, a spokesperson for Operation Inherent Resolve, said the artillery unit and additional Army Rangers had arrived in recent days but would not have a frontline role.
"We are talking about an additional 400 or so forces in total, and they will be there for a temporary period," he told Reuters.
The deployment bolsters around 500 special forces troops who are already on the ground to train and support the Syrian Democratic Forces (SDF), who have driven Isis out of swathes of territory in northern Syria.
With backing from US-led coalition air strikes, the Kurdish-led alliance has been fighting to isolate Raqqa city for months, blocking another main road out of the stronghold this week.
The 11th Marine Expeditionary Unit has arrived in the region armed with 155mm howitzers ready to be positioned for the offensive.
The move mirrors tactics ahead of the assault on Mosul in neighbouring Iraq, where the US set up bases outside the city of use as logistics and heavily artillery hubs.
Progress by Iraqi forces has slowed after in the western half of the city as Isis responds with car bombs, drones, suicide attacks and ambushes after digging tunnels between houses and setting booby traps for advancing troops.
The battle could act as a blueprint for a future assault on Raqqa, where up to 4,000 Isis fighters have been reinforcing the city of 300,000 residents for three years.
The marines' deployment is believed to have been planned under Barack Obama's administration, with details of a new plan to defeat Isis yet to be made public after being sent to the White House last month.
In pictures: Mosul offensive
In pictures: Mosul offensive
1/22

Iraqi army soldiers from the 9th armoured division on a truck flash the sign of victory as they drive back from Mosul to the town of Qaraqosh (also known as Hamdaniya)

Getty

2/22

Members of Iraqi forces flash the sign of victory on their vehicle as they advance towards Hammam al-Alil area south of Mosul

Getty

3/22

A member of Iraqi security forces gestures in Hammam al-Alil, south of Mosul, Iraq

Reuters

4/22

Iraqi children, one flashing the sign of victory, greet Iraqi army's soldiers from the 9th armoured division in the area of Ali Rash, adjacent to the eastern Al-Intissar neighbourhood of Mosul

Getty

5/22

Peshmerga forces look at a tunnel used by Islamic State militants near the town of Bashiqa, east of Mosul, during an operation to attack Islamic State militants in Mosul, Iraq

Reuters

6/22

An Iraqi soldier takes a photograph with his phone as his comrade stands next to a detained man, whom the Iraqi army soldiers accused of being an Islamic State fighter, who was fleeing with his family in the Intisar disrict of eastern Mosul, Iraq

Reuters

7/22

Iranian Kurdish female members of the Freedom Party of Kurdistan (PAK) hold a position in an area near the town of Bashiqa, some 25 kilometres north east of Mosul

Getty

8/22

Iraqi families, who fled their homes in Hamam al-Alil, gather on the outskirts of their town

Getty

9/22

Displaced people walk past a checkpoint near Qayara, south of Mosul, Iraq

AP

10/22

Iraqi families who were displaced by the ongoing operation by Iraqi forces against jihadists of the Islamic State group to retake the city of Mosul, are seen gathering in an area near Qayyarah

11/22

A boy who just fled Abu Jarbuah village is seen with his family at a Kurdish Peshmerga position between two front lines near Bashiqa, east of Mosul, Iraq

Reuters

12/22

An Iraqi child eats a pomegranate upon the arrival of Iraqi forces in the village of Umm Mahahir, south of Mosul

Getty

13/22

People who just fled Abu Jarbuah village sit as they eat at a Kurdish Peshmerga position between two front lines near Bashiqa, east of Mosul, Iraq

Reuters

14/22

A couple who just fled Abu Jarbuah village are escorted by Kurdish Peshmerga soldiers

Reuters

15/22

Women carry a boy over a wall as civilians flee their houses in the village of Tob Zawa, Iraq

AP

16/22

An Iraqi soldier and a civilian ride a motorbike as smoke rises behind them, on the road between Qayyarah and Mosul

Getty

17/22

A member of Iraqi forces, wearing a skull mask, waits at a checkpoint for people fleeing the main hub city of Mosul

Getty

18/22

An Iraqi soldier sits at a checkpoint in an area near Qayyarah

Getty

19/22

Iraqi men prepare food portions for Iraqi forces deployed in areas south of Mosul

Getty

20/22

Iraqi forces celebrate upon the arrival of vehicles bringing food to them

Getty

21/22

Iraqi childen smoke cigarettes upon the arrival of Iraqi forces in the village of Umm Mahahir, south of Mosul

Getty

22/22

A member of Iraqi forces distributes drinks to children in the village of Umm Mahahir, south of Mosul

Getty
Under existing limits put in place by the Obama administration, the military can have up to 503 troops in Syria but temporary personnel like the latest deployment do not count against the cap.
The US is also preparing to send hundreds of service personnel to Kuwait to be ready to join battles against Isis if needed.
The marines' arrival risks worsening tensions with Turkey, which considers some groups in the US-backed SDF to be terrorists and is supporting Free Syrian Army factions to push them back from the Turkish border.
Despite being allies in the fight against Isis, skirmishes have broken out between the SDF and rival groups of rebels deployed by Turkey, who want to push Kurds out of the city of Manbij and back east of the Euphrates river.
The Manbij Military Council has handed territory on the frontline over to Syrian government forces in efforts to form a buffer between the two sides, while the US has deployed dozens of army troops in what the Pentagon called a "reassure and deter" mission.
Flying American flags and moving in large armoured vehicles, they have been stationed on the outskirts of Manbij to prevent clashes.
Capt Jeff Davis, a spokesman for the Pentagon, said: "It's a visible reminder, for anybody who's looking to start a fight, that the only fight that should be going on right now is with Isis."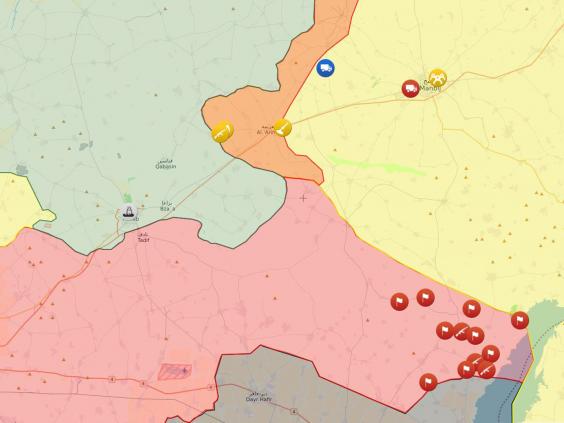 Turkey has been angered by the US' overt support for the SDF, whose main component – the Kurdish People's Protection Units (YPG) – is accused of links with the "terrorist" PKK.
Binali Yildirim, the Prime Minister, voiced his opposition to the US choosing to cooperate with the YPG in the Raqqa offensive.
"If this operation is carried out in this manner there will be a cost for Turkey-US relations, because the YPG is a terrorist organisation," he said.
Col Dorrian claimed the US was "open to a role for Turkey in the liberation of Raqqa" and would continue discussions on military and diplomatic levels.
The commander said the effort to isolate Raqqa was "going very, very well" and could be completed in a few weeks, adding: "Then the decision to move in can be made."
Talks have been held between Russian, Turkish and American commanders in an effort to avoid a full-blown proxy war in northern Syria but deep-seated ideological differences between multiple factions are expected to spark continued fighting.
Vladimir Putin's forces are supporting Syrian President Bashar al-Assad, alongside Iranian troops and Lebanon's Hezbollah militant group.
Turkey called for Assad to step down at the start of the civil war and is supporting opposition groups, but has quietened its anti-regime rhetoric with a growing focus on pushing back Kurdish groups that have set up an autonomous region stretching almost the entire length of the Syrian border.
Britain, the US and EU are also calling for "political transition" but have shifted initial support of rebel groups to specifically anti-Isis operations, focusing on the SDF.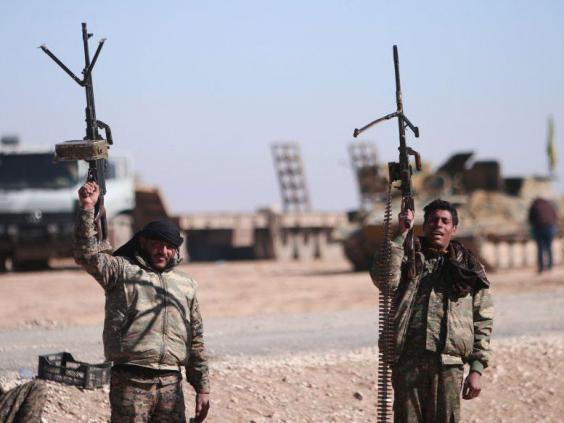 US-led coalition air strikes have hit targets around Raqqa in recent days, destroying three Isis fighting positions, two tunnels and vehicles on Tuesday.
More than a dozen civilians were reportedly killed in a bombing raid on a village east of the city, during battles between Isis and the SDF.
The UK-based Syrian Observatory for Human Rights said six children were among 14 members of the same family who died in an air strike on Thursday.
Investigations by the US-led coalition have so far confirmed at least 220 civilians killed in air strikes against Isis in Syria and Iraq, although the Airwars monitoring group puts the figure at more than 2,500.
"We have had what I would describe as a pretty relentless air campaign to destroy enemy capabilities and to kill enemy fighters in that area already," Col Dorrian said. 
"That is something that we are going to continue and intensify with this new capability."
Isis and al-Qaeda linked extremist groups have been excluded from peace talks in Geneva, which will open for a fifth round of discussions on 23 March.
Staffan de Mistura, the UN special envoy for Syria, said governance, a new constitution, elections and counter-terrorism would be the main issues on the table, but little progress was expected between warring parties.
Russia, Iran and Turkey are participating in a separate meeting in Astana, Kazakhstan, over attempts to secure a ceasefire between the regime and rebels near Damascus. 
Reuse content