The global coalition against Isis is bracing itself for a prolonged war after Iraq pleaded for "the support of the world" against an increasingly "well armed and international" force.
A conference in Paris heard that the Isis threat remained undiminished despite more than 4,000 coalition air strikes in less than a year. Foreign ministers announced no dramatic shift in policy but promised to continue a "many-sided, common strategy to eradicate" the self-proclaimed "Islamic State" of Iraq and Syria. The French Foreign Minister, Laurent Fabius, who hosted the 24-nation conference, said that the coalition "recognises that it faces a long-term battle" against a force that he described as "fake believers and true criminals".
The Iraqi Prime Minister, Haider al-Abadi, promised to plough ahead with civil and military reforms to give Sunni tribes confidence in the power structure in Baghdad and undermine the influence of Isis. He rejected US accusations that the Iraqi army was unwilling to fight, following the lightning capture last month of the town of Ramadi 70 miles west of Baghdad.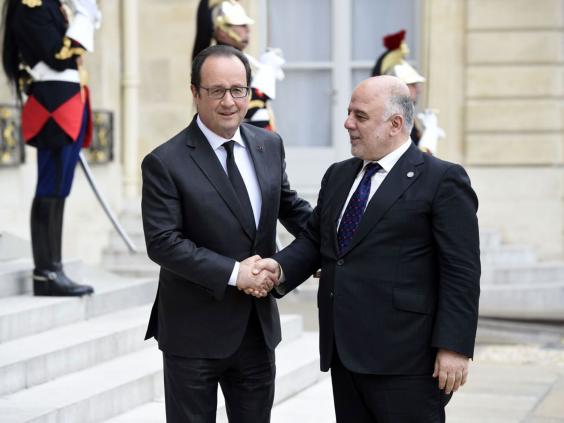 The problem was no longer Iraqi-made or under Iraq's control, he said. Isis had become a global force and needed a more effective global response – including more air strikes, better aerial intelligence and more modern weapons for the Iraqi army. Speaking to journalists before the conference began, Mr Al-Abadi said: "They have brought hundreds of new fighters, foreign fighters, well-trained, well-armed… This [Isis] is a transnational organisation. We need all the support of the world, the intelligence of the world and we are not getting it."
He added: "We need an explanation why there are so many terrorists from Saudi Arabia, the Gulf, Egypt... European countries. If it is due to the political situation in Iraq, why are Americans, French and German (fighters) in Iraq?"
Iraqi forces are willing to fight, he said, but "if you don't have enough intelligence, if you don't have enough from airplanes seeing what's happening in advance, how can you react?" The Iraqi Prime Minister submitted a plan for the reconquest of Ramadi by mobilising anti-Isis Sunni tribesmen and placing strict controls on the Shia militia in the  area. This plan was broadly approved by the conference.
The meeting was attended by ministers from European countries, Australia and Canada, but also from Turkey, Saudi Arabia, Jordan, Qatar, Bahrain and the United Arab Emirates. The US Secretary of State, John Kerry, was unable to attend because of a bicycle accident near Geneva last weekend. He followed proceedings by satellite link from his hospital bed in the US.
The Foreign Secretary Philip Hammond said Iraq needed more help in air cover and training but that the deployment of ground troops by western, or other Arab, countries would not be considered. "That would be completely the wrong thing to do," he said. "(The Iraqis) need specialist capabilities, they need training and they need financing as well. But what they do not need is foreign troops on the ground in Iraq. That would only exacerbate the situation."
Ancient monuments under Isis threat
Ancient monuments under Isis threat
1/8 Isis seizes Palmyra

The ancient oasis city of Palmyra

Getty

2/8 Isis seizes Palmyra

A partial view of the ancient ruins

Getty

3/8 Isis seizes Palmyra

The ancient Palmyra theater

Reuters

4/8 Isis seizes Palmyra

A view of the ancient Syrian city of Palmyra

Getty

5/8 Isis seizes Palmyra

The Temple of Bel

Reuters

6/8 Isis seizes Palmyra

Palmyra's famous graves

AP

7/8 Isis seizes Palmyra

The ancient castle

Getty

8/8 Isis seizes Palmyra

A sculpture depicting a rich family from the ancient Syrian oasis city of Palmyra, displayed at the city's museum

Getty
French newspapers reported, however, that the meeting would discuss – but not admit to discussing – the possible use of special forces from one or more of the Arab nations. Such a move would be likely to anger Iran, which is a de facto member of the coalition against Isis but was not represented.
The coalition committed in a statement to its efforts to "weaken and ultimately eradicate Islamic State which is a threat to the entire international community". The ministers condemned the group's "sectarian strategy of murder and destruction, its atrocities and its crimes, some of which amount to war crimes and crimes against humanity".