Iraqi security forces and militias fought their way into Saddam Hussein's home city of Tikrit today, advancing simultaneously from the north and south as their biggest counter-offensive so far against Isis jihadists approached its climax.
Army and Shia militia fighters captured part of Tikrit's northern Qadisiya district, the provincial governor said, while in the south of the city a security officer said another force made a rapid push towards the centre. There were explosions and heavy gunfire as attack helicopters fired missiles and ground troops laid down heavy machine gunfire only a few miles from the centre of Tikit, where black smoke could be seen rising overhead.
Fighters from the so-called Islamic State were said to be commandeering civilian vehicles as they attempted to flee the city.
"The forces entered Tikrit general hospital," an official at Iraq's main military operation command centre said. "There is heavy fighting going on near the presidential palaces, next to the hospital complex."
Isis fighters who stormed into Tikrit last June during a lightning offensive through northern and central Iraq have used the complex of palaces built in Tikrit under Saddam, the executed former president, as their headquarters.
In pictures: Fight for Tikrit
In pictures: Fight for Tikrit
1/16 Fight for Tikrit

Shiite fighters pose in front of a mural depicting the emblem of the Islamic State group outside one of the presidential palaces in Tikrit, on April 1, 2015

Getty Images

2/16 Fight for Tikrit

Iraqi Prime Minister Haider al-Abadi tours the city of Tikrit after it was retaken by the security forces in Baghdad, Iraq, on April 1 2015

AP

3/16 Fight for Tikrit

An Iraqi flag waves over the Tigris River om April 1 2015

AP

4/16 Fight for Tikrit

Iraqi security forces playing football in Tikrit after their country declared a 'magnificent victory' over the Islamic State group in the city on April 1 2015

Reuters

5/16 Fight for Tikrit

A member of the security forces holds Iraq's national flag in front of a painted Isis emblem

Getty Images

6/16 Fight for Tikrit

Iraqi security forces arrest a member of the Islamic State in Tikrit on April 1, 2015

Reuters

7/16 Fight for Tikrit

A member from the Iraqi security forces beats an Isis insurgent, who was captured in Tikrit

Reuters

8/16 Fight for Tikrit

Shiite fighters from the Popular Mobilisation units celebrate in front of the the provincial council building inside the northern Iraqi city of Tikrit on March 31, 2015

Getty Images

9/16 Fight for Tikrit

Iraqi soldiers stand on a damaged tank during fighting against IS militants near Tikrit

Corbis

10/16 Fight for Tikrit

Fighters of Iraqi Shiite militias who volunteered to support the Iraqi forces make their way towards Daquq town near Tikrit

Corbis

11/16 Fight for Tikrit

Iraqi security forces and Shia fighters chant slogans as they gather at Udhaim dam, north of Baghdad, where they have been massing in preparation for an attack on Isis along the Tigris River

Reuters

12/16 Fight for Tikrit

Pro-government volunteer Shia fighters in Awaynat near Tikrit

AFP/Getty

13/16 Fight for Tikrit

Iraqi government forces and allied militias firing weaponry from a position in the northern part of Diyala

AFP

14/16 Fight for Tikrit

A volunteer in the Iraqi Shiite Badr Army militia taking up position outside Tikrit

Corbis

15/16 Fight for Tikrit

Volunteers of the Iraqi Shiite Badr Army militia patrol an area at eastern Tikrit city

Corbis

16/16 Fight for Tikrit

Members of the Iraqi security forces coming from the city of Samarra drive towards al-Dawr south of Tikrit to launch an assault against the Islamic State

AFP/Getty
More than 20,000 troops and Iranian-backed Shia Muslim militias known as Hashid Shaabi, supported by local Sunni Muslim tribes, launched the offensive for Tikrit 10 days ago, advancing from the east and along the east bank of the Tigris.
On Tuesday, they took the town of al-Alam on the northern edge of Tikrit, paving the way for an attack on the city itself. "The governor of Salahuddin announces the purging of half of Qadisiya district, the largest of Tikrit's neighbourhoods," a statement from governor Raed al-Jubouri's office said.
Army and militia fighters raised the national flag above a military hospital in the section of Qadisiya they had retaken from the militants, security officials said. After pausing while helicopters attacked Isis snipers and positions, the ground forces were progressing steadily, taking "one street every 30 minutes", the security official added. He said there was fierce fighting around Tikrit police headquarters just south of Qadisiya.
To the northwest, troops and Hashid Shaabi fighters were clashing with Isis militants in the city's industrial zone, he added.
If Iraq's Shia-led government successfully retakes Tikrit, it would be the first city clawed back from the Sunni insurgents and would give it momentum in the next, pivotal stage of the campaign – recapturing Mosul, the largest city in the north.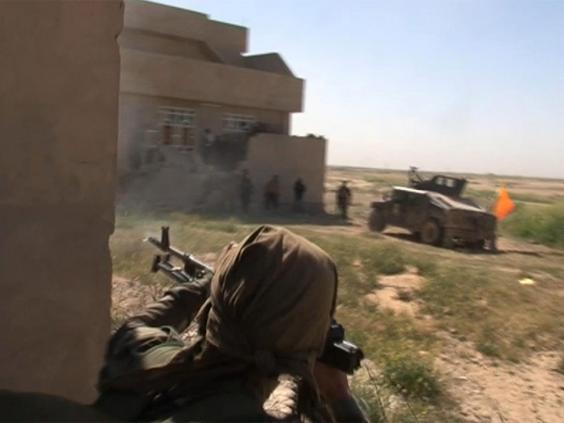 US air power has played no direct part in the assault on Tikrit but is expected to engage in the Mosul assault, which Pentagon officials have said could begin in April or May – though observers have questioned whether sufficient Iraqi forces can be readied in time. Mosul is also the biggest city held by the ultra-radical Isis, who now rule a self-declared cross-border caliphate in Sunni regions of Syria and Iraq. But over the past few months Isis has slowly lost ground in Iraq to the army, Shia militias and Kurdish peshmerga forces, backed by air strikes carried out by the US-led coalition of mainly Western and allied Arab states.
Support on the ground for the Tikrit assault has come from neighbouring Iran, which sent an elite Revolutionary Guard commander to oversee part of the battle and has also helped arm and train the Shia militias fighting alongside Iraq's regular army.
Elsewhere in Iraq, suicide car bombers in 13 vehicles attacked Iraqi army positions in Ramadi, about 55 miles west of Baghdad. A medical source said five people were killed in the attacks, but the real figure could be significantly higher. One of the car bombs exploded near a bridge in the west of the city and damaged part of the bridge, a police source said.
An Isis suicide bomber also struck a position of the Kurdistan Workers' Party (PKK) in the northern town of Sinjar. After the bombing some 70 fighters launched an attack but were driven back by coalition air strikes, according to a Kurdish security official.
In Baghdad, six people were killed when a car bomb exploded in a busy street in the mainly Shia district of Hurriya.
Reuters; AP
Reuse content