Millions of Yemeni families attempting to survive the bloody civil war that has drawn in larger Middle Eastern powers face danger from another worsening threat: disruption to the water supply in one of the world's driest countries.
Even before the fighting reached its current intensity – as forces from a Saudi-led Sunni coalition, along with troops loyal to the government, have sought to crush a rebellion by Shia Houthis that began in the north of Yemen – around 13 million people did not have regular supplies of clean drinking water.
Now a shortage of fuel needed to pump water from underground aquifers has left a further million people in Aden without drinking water for more than five days, with entire areas of the southern city reported to be cut off.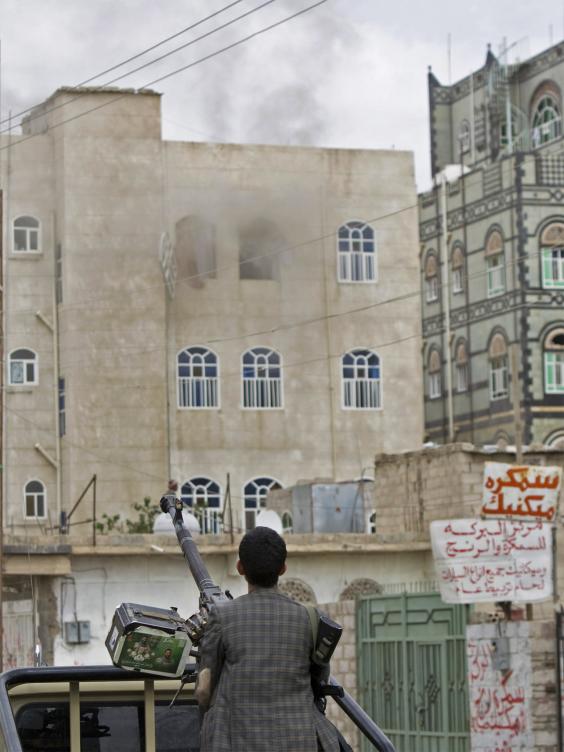 Fighting since the Saudi intervention on 25 March has cost more than 500 lives, but aid agencies working on the ground are warning that the water shortage is now pushing the country to the brink of a wider humanitarian disaster.
Grant Pritchard, Oxfam's acting country director for Yemen, said: "Before the escalation in fighting began almost two weeks ago, there were 13 million people in Yemen with no access to clean drinking water, along with 10 million with insufficient access to food and nine million lacking medical supplies.
"The situation in Yemen is deteriorating by the day. A humanitarian disaster is unfolding. Even before the increase in fighting, Yemen was home to a third of all the people in the Middle East who are in need of humanitarian assistance."
The situation in Yemen has been unstable for years, particularly so since the ousting of former president Ali Abdullah Saleh in 2012, during Yemen's version of the Arab Spring uprising. Mr Saleh is accused now of backing the rebellion by Shia Houthis that began in the north of the country and is covertly supported by Iran, the dominant Shia power in the region.

The country's internationally recognised President Abd Rabbuh Mansur Hadi was forced to flee the capital Sanaa in January after Houthi fighters took control of the city. He relocated to the port city of Aden, but was forced to flee again, to Saudi Arabia, at the end of last month as the rebels moved south. Fighting in the city has been intense between the Houthi rebels and Yemeni troops who have remained loyal to President Hadi.
Oxfam points out that the price of diesel, which is needed to power urban water pumps, is rocketing. The fuel has an official subsidy, capping the price at $0.70 a litre, but it is in increasingly short supply, and the black market price is now $2.80.
The Saudis had agreed to a pause in their bombing campaign of Houthi positions to allow for humanitarian access, but the International Committee of the Red Cross warned on Tuesday that it was unable to find a plane to transport much-needed supplies.
In pictures: Yemen water crisis
In pictures: Yemen water crisis
1/10 Yemen

A Yemeni girl sits on plastic jerry cans as she waits get water at a public tap at a slum in the capital Sanaa. In the mountains around Sanaa, farmers are drilling so many unlicensed boreholes to irrigate the thirsty crop for the stimulant plant qat, craved by the capital's residents, that the water table is falling by as much as six metres (20 feet) a year

2/10 Yemen

A Yemeni young boy pushes a wheelbarrow loaded with plastic jerry cans before filling them at a public tap at a slum in the capital Sanaa

3/10 Yemen

A Yemeni child fills a bottle with water as families from the northern city of Amran, 50 kilometres (30 miles) north of Sanaa, take refugee in the capital after fleeing their home as battles between the Yemeni army and Shiite Muslim rebels intensifies

4/10 Yemen

Yemenis gather by a water point to fill their jerry cans in Sanaa as the city suffers a water shortage

5/10 Yemen

A Yemeni woman carries on her head a jerry can after filling it at a public tap at a slum in the capital Sanaa

6/10 Yemen

A Yemeni young boy drinks water at a public tap at a slum in the capital Sanaa. Yemen, ravaged by years of factional strife and widespread poverty, is one of the world's most water-stressed countries with the lack of access to clean water having devastating implications for children

7/10 Yemen

A Yemeni refugee girl fills a container with water in a makeshift kitchen in the grounds of a public school in the port city of Aden, now being used as the living quarters for internally displaced families who had to flee their homes when Al-Qaeda militants swept into southern Abyan province

8/10 Yemen

A Yemeni young boy pushes a wheelbarrow loaded with plastic jerry cans as he arrives to fill them at a public tap at a slum in the capital Sanaa

9/10 Yemen

Yemeni young boys carry plastic jerry cans as they arrive to fill them at a public tap at a slum in the capital Sanaa

10/10 Yemen

A Yemeni young boy carries a can as he arrives to fill it at a public tap at a slum in the capital Sanaa
Experts have been predicting for years that Yemen – the poorest country in the Middle East and one of the driest – could be the first in the world to run out of drinking water.
Local skirmishes over already scarce supplies have increased, and the growing of khat, a narcotic plant widely used in the region that consumes about a third of Yemen's water supply to grow, have been largely to blame.
Michael Kugelman, a senior associate at the Woodrow Wilson International Center for Scholars in Washington, said in an article for The Wall Street Journal that only 40 per cent of homes in Sanaa are connected to the mains water supply, and as many as 4,000 people are killed each year in conflicts over water. The new fighting has made a bad situation worse as it has prevented the movement of vital supplies around the country.
Despite the pleas from agencies working in Yemen, there is no sign of the fighting abating. The Saudi-led coalition resumed air strikes on Houthi targets north of Aden, after an announcement in Washington on Tuesday in which the US said it was preparing to expedite arms supplies to Saudi Arabia and some of the other members of the coalition fighting the Houthis, including Egypt, Morocco, Jordan, Sudan, UAE, Kuwait, Qatar and Bahrain.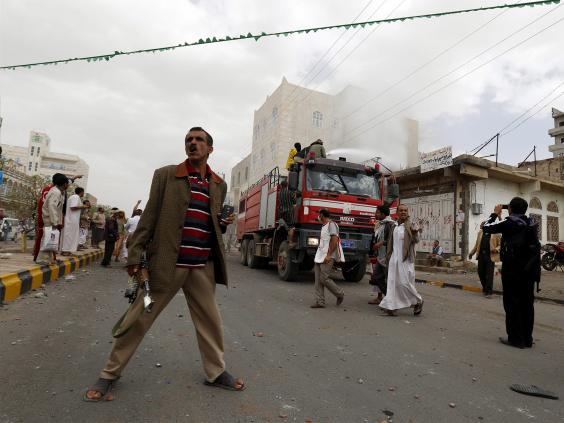 Speaking in the Saudi capital Riyadh the US deputy secretary of state Tony Blinken said arms supplies were a "strong message to the Houthis and their allies that they cannot overrun Yemen by force".
On the other side, Iran's foreign minister Mohammad Javad Zarif has travelled to Islamabad in a bid to persuade Pakistani officials to reject a Saudi request to join the coalition.
Pakistani action would, in effect, leave Iran surrounded by countries taking the opposite side in the Yemeni conflict, and leave its major regional opponent Saudi Arabia with a broad coalition acting against its interests in Yemen. Tehran has dispatched two warships to the Gulf of Aden.
Demonstrations have been held in Yemeni cities opposed to the Houthis. In Taez, Houthi fighters were accused of opening fire on protesters on Tuesday, killing eight people. Houthi commanders have diverted troops from Sanaa in a bid to take the city, but have now spent three days attempting, and failing, to take the city from hostile local militias.
According to the Al Arabiya network, other Houthi units have taken the Red Sea port of al-Mukha, which allows access to the Bab-el-Mandeb strait, vital to oil shipments.
Al-Qaeda is also active in Yemen. Its local offshoot AQAP was reported to have offered 20kg of gold to anyone who killed or captured former president Mr Saleh.
Reuse content