At least 30 people died and more than 50 were killed by a suicide bomber driving a vehicle full of explosives near a police academy in the heart of Yemen's capital, Sanaa, security officials have said.
The bomb was detonated as cadets were waiting to enroll at the academy, according to officials.
Witnesses reported seeing dead bodies and the wounded lying on the pavement while firefighters worked to extinguish a blaze caused by the blast.
Photographs showed a burnt out car, motorbike and wreckage from the vehicle.
One eyewitness told the Associated Press: "We were all gathering and ... (the bomber) exploded right next to all of the police college classmates. It went off among all of them, and they flew through the air."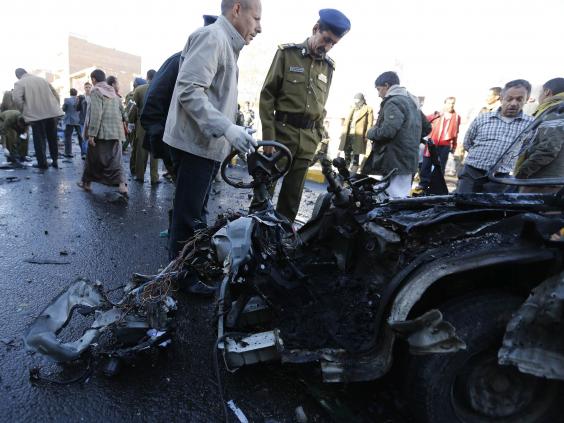 No-one has immediately claimed responsibility for the attack. However, militants in al-Qaeda in the Arabian Peninsula (AQAP) have carried out similar attacks in the past.
Yemen has been unstable following protests in 2011 which eventually led to President Saleh standing down from power.
An al-Qaeda suicide bomber killed at least 24 people on 31 December in an attack on Houthis as they commemorated the birth of the Prophet Mohamed.
Additional reporting by agencies