Civilian deaths and injuries from explosive weapons are soaring across the world as governments and terror groups rain down bombs and missiles on populated areas with impunity.
A study collating thousands of attacks last year in 58 countries has found a 15 per cent increase in the number of civilians killed or maimed by a class of larger-scale weaponry that includes car bombs, mortars and drone-launched missiles.
Campaigners at Action on Armed Violence (AOAV) said the rise of more than 4,000 in the number of non-combatant victims to 31,076 highlighted a growing and indiscriminate use of explosive weapons by states and terrorists in breaches of human rights going unnoticed in the Western world.
An overwhelming majority – 82 per cent – of those killed or hurt by the weapons were civilians rather than combatants, an increase of 4 per cent in a single year and the second consecutive year in which the figure has increased. The rate of attrition from explosive weapons rises dramatically when they are used in towns or cities, where civilians account for 93 per cent of casualties, compared with 36 per cent in unpopulated areas.
The figures, published today, will increase the pressure on states, including Britain, to review their own policies on the use of "explosive weaponry" and speak out against the tide of death and injury in places such as Syria, Nigeria and Afghanistan. The UN Secretary-General Ban Ki-moon has repeatedly called for leading nations to act on what he has described as a "critical" issue with "profound humanitarian consequences".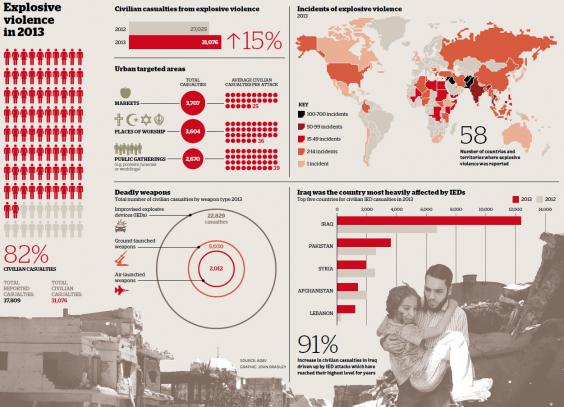 Click HERE for full-size version of graphic
In contrast to small arms, explosive weapons cause death and injury across a wide detonation area, spraying blast, heat and shrapnel far beyond any intended target. They cover a huge array of munitions ranging from artillery shells and air-dropped bombs to rockets, ballistic missiles and Improvised Explosive Devices (IEDs) used by terror groups and suicide attackers.
AOAV, which carried out the study and is part of an international coalition of charities calling for action on the issue, said the use of the weapons in populated areas in particular has become so widespread the world is in danger of forgetting the right of civilians to be protected from them.
The FCO rejected calls for the creation of a distinct classification to cover the effects of "explosive weapons" in international law.
Reuse content