Donald Trump's envoy to the United Nations is moving to block the appointment of the former Palestinian Prime Minister to lead a mission to Libya.
Nikki Haley, the new American ambassador to the UN, said the US administration was "very disappointed" at Salam Fayyad's selection for the role.
"For too long the UN has been unfairly biased in favour of the Palestinian Authority to the detriment of our allies in Israel," Ms Haley said. 
Palestine is a non-member observer state at the UN and its independence has been recognised by 137 of the 193 member nations, but Ms Haley said the US does not recognise a Palestinian state "or support the signal" Mr Fayyad's appointment would send.
UN Secretary-General Antonio Guterres had sent a letter to the Security Council indicating his intention to appoint him as the next special representative to Libya, where a fragile unity government is struggling to end the civil war amid growing pressure to stop hundreds of thousands of refugees departing the country's shores for Europe.
Mr Fayyad, who served as the Palestinian Authority's Prime Minister from 2007 to 2013, studied in Texas and was formerly a university professor in Jordan and worked for the World Bank and International Monetary Fund.
UN diplomats told the Associated Press he is well-respected for his work in reforming the Palestinian Authority and spurring its economy, and had the support of the 14 other Security Council members for the new role.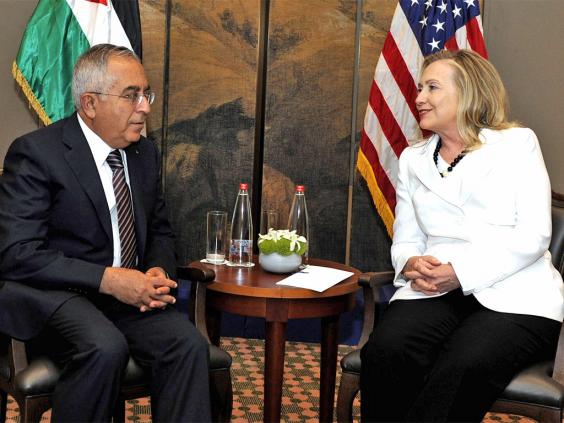 Mr Guterres' office issued a statement on Saturday morning saying the proposal for Mr Fayyad to become the Secretary-General's special representative in Libya was "solely based on his recognised personal qualities and his competence for that position".
"United Nations staff serve strictly in their personal capacity," a spokesperson added. "They do not represent any government or country.
"The Secretary-General reiterates his pledge to recruit qualified individuals, respecting regional diversity, and notes that, among others no Israeli and no Palestinian have served in a post of high responsibility at the United Nations. 
"This is a situation that the Secretary-General feels should be corrected, always based on personal merit and competencies of potential candidates for specific posts."
It was unclear whether the objection by the US, which holds huge influence within the UN and is a permanent member of the Security Council, had ended Mr Fayyad's candidacy.
World reaction to President Trump: In pictures
World reaction to President Trump: In pictures
1/29

London, England

AP

2/29

London, England

Reuters

3/29

Manila, Philippines

Getty Images

4/29

Manila, Philippines

Getty

5/29

Mosul , Iraq

Getty

6/29

Manila, Philippines

AP

7/29

New Delhi, India

Reuters

8/29

Karachi, Pakistan

EPA

9/29

Jakarta, Indonesia

Reuters

10/29

Lagos, Nigeria

AP

11/29

Kabul, Afghanistan

AP

12/29

Jerusalem. Israel

Reuters

13/29

Moscow, Russia

Reuters

14/29

Seoul, South Korea

AP

15/29

Lagos, Nigeria

AP

16/29

Peshawar, Pakistan

EPA

17/29

Jakarta, Indonesia

Reuters

18/29

Hyderabad, India

AP

19/29

Kolkata, India

AP

20/29

Sydney, Australia

Getty

21/29

Sydney, Australia

AP

22/29

Aleppo, Syria

Reuters

23/29

Mexico City, Mexico

AP

24/29

Port-of-Spain, Trinidad and Tobago

Reuters

25/29

Jerusalem, Israel

EPA

26/29

Baghdad, Iraq

Rex

27/29

Gaza Strip, Palestinian Territories

Rex

28/29

Tokyo, Japan

Rex

29/29

Mexico City, Mexico

Getty
Ms Haley claimed the Trump administration wants to see an end to the Israeli-Palestinian conflict in her letter, writing: "We encourage the two sides to come together directly on a solution."
Israel's ambassador to the UN, Danny Danon, hailed America's move to block Mr Fayyad as "the beginning of a new era at the UN, an era where the U.S. stands firmly behind Israel against any and all attempts to harm the Jewish State".
He added: "The new administration proved once again that it stands firmly alongside the state of Israel in the international arena and in the UN in particular."
It came ahead of a meeting between Mr Trump and the Israeli Prime Minister, Benjamin Netanyahu, at the White House next week.
The Israeli government has hailed the President as a "true friend" after he  appointed several pro-Israel figures to prominent posts and pledged to move the US embassy from Tel Aviv to Jerusalem, which is claimed as a capital by both Israelis and Palestinians.
But Mr Trump has sent mixed signals on the key issue of Israeli settlements in the Occupied Palestinian Territories, inviting a settler group to his inauguration but later saying the planned construction of 5,500 new housing units in the West Bank "may not be helpful" to peace.
Reuse content