The competence of the international court set up to try world leaders for crimes against humanity was questioned yesterday by lawyers for its highest-ranking African target in a damning critique of the way it carried out investigations.
Inquiries by the International Criminal Court (ICC) were amateur and unprofessional, according to the British lawyers for Kenyan President Uhuru Kenyatta, who was cleared of crimes against humanity, including rape and murder, last year. Evidence seen by The Independent on Sunday showed that a key prosecution witness was probably not at a meeting where he claimed he saw the politician handing out cash to pay criminal groups to attack political opponents.
The case against the President for co-ordinating post-election violence in 2007 that left more than 1,000 dead was dropped in December because of a lack of evidence.
The court's chief prosecutor, Fatou Bensouda, blamed Kenya for failing to hand over key documents including phone and banking records and a campaign of witness intimidation. Lawyers for the victims said the court had not been forceful enough in persuading Kenya to hand over the data.
The ICC prosecutor's office said the case was investigated in "very difficult circumstances". It said: "The government of Kenya did not co-operate with proper requests put forth by the prosecution seeking assistance in its investigation. This had a severe, adverse impact on this case and the prosecution's ability to carry out a full investigation."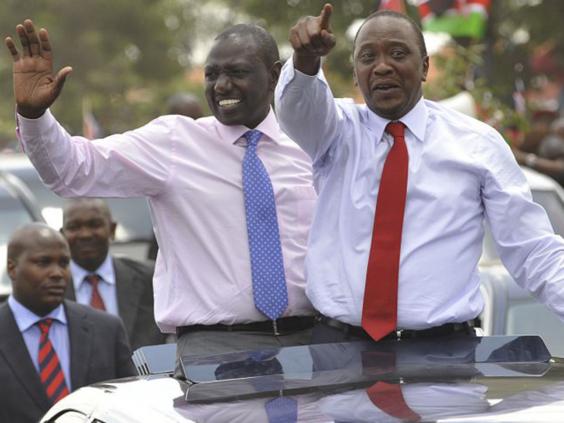 Kenyatta's team claimed that prosecution witnesses had made up their accounts for personal gain, and they fell apart under the scrutiny of the £1m-plus investigation on behalf of one of the continent's wealthiest men. "It needs a new director of investigations [for the ICC] to subject their procedures to the microscope from top to bottom and put it in a 21st-century context," said Gary Summers, part of the legal team for Kenyatta. "[It was] just very, very amateur with a lack of professionalism and a lack of rigour."
The collapse of the trial was a significant blow to the families of thousands of victims of violence that followed the disputed 2007 elections. It was also a blow to backers of the ICC and its blueprint for international justice that has been snubbed by countries including the US, China, and Russia. The court's credibility also has ramifications for Britain, which is subject to a preliminary examination over the alleged systematic abuse of detainees in Iraq from 2003 to 2008.
"I would say that this case was a very good example of how not to do things," said Mwangi S Kimenyi, a senior fellow at the Brookings Institution in Washington DC.
He criticised the prosecutor's office for failing to get enough evidence before laying charges against Kenyatta and relying on reports compiled by campaign groups.
In papers outlining her case, the prosecutor claimed that Kenyatta, then a senior politician, chaired a meeting and dished out money to pay criminal gangs to prepare for "war" against rivals who questioned the re-election in 2007 of his presidential predecessor, Mwai Kibaki.
Kenya hotel attack: Suspected al-Shabaab militants kill 48 people in Mpeketoni
Kenya hotel attack: Suspected al-Shabaab militants kill 48 people in Mpeketoni
1/10 Kenya

A woman observes the remains of the Breeze View Hotel, where residents watching World Cup soccer tournament, were attacked and killed by militants, in the town of Mpeketoni, about 100 kilometers (60 miles) from the Somali border on the coast of Kenya

2/10 Kenya

A man observes the remains of destroyed vehicles and buildings in the town of Mpeketoni, about 60 miles (100 kilometers) from the Somali border on the coast of Kenya

3/10 Kenya

Wreckages of burnt cars are seen outside the Mpeketoni police station after unidentified gunmen attacked the coastal Kenyan town of Mpeketoni

4/10 Kenya

People gather around the wreckage of a car in Mpeketoni. At least 48 people were killed when suspected Shebab militants from Somalia stormed into a Kenyan coastal town and launched a major assault on a police station, hotels and government offices

5/10 Kenya

Men look at the wreckage of two vehicles sitting on the roadside in Mpeketoni

6/10 Kenya

Women weep after seeing the bodies of their loved ones who were killed in attacks in the small coastal town of Mpeketoni near Lamu

7/10 Kenya

People gather outside a building still smouldering in Mpeketoni after some 50 heavily-armed gunmen attacked the town near the coastal island and popular tourist resort of lamu

8/10 Kenya

A destroyed house in Mpeketoni

9/10 Kenya

A man looks at the wreckage of a 14-seater mini-bus in Mpeketoni, in Lamu county along the Kenyan coast, after some 50 heavily-armed gunmen attacked the town near the coastal island and popular tourist resort of lamu

10/10 Kenya

A man stands outside a row of houses where smoke seeps through openings in Mpeketoni
The meeting was followed by violent clashes between rival tribes involving rape, beheadings and forcible circumcision.
Details of the meeting were outlined by a witness named only as OTP-12, but the case was dropped before his account could be tested in court.
The IoS has seen details of an investigation that uncovered evidence showing that the witness had probably never been there.
Lawyers tested the witness's claims by tracking the movements of the people who were supposed to have been at the meeting by analysing calls made and received from their mobile phones.
They can be located to within a distance of 500 metres by working out the nearest telecoms mast when calls or texts were made. Phones and sim cards were retrieved from 18 key players, along with the details of more than 1,100 contacts that they held. The phone-call data was thought to have been destroyed, but an expert employed by both sides found this on a back-up computer in the damp and flooded office of Africa's biggest telephone company.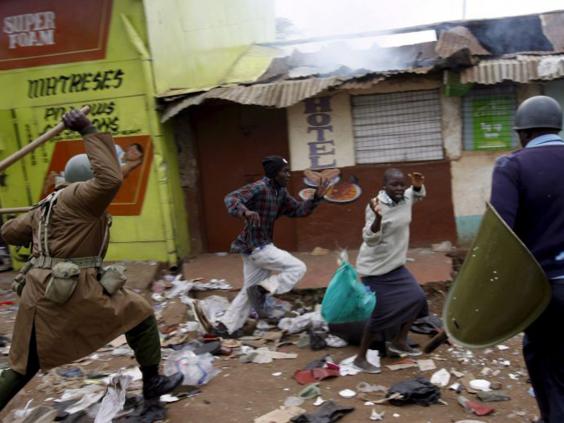 The expert harvested nearly half a million call records. "It was a whole lot of ones and zeros until we started to look at it," said Nicholas Connon of Quintel Intelligence, which examined the data.
The data was plotted on to a map showing the positions of the key players' phones on the day of the meeting at Nairobi's State House, where Kibaki was inaugurated. Witness 12 claimed that he had been there between 3pm and 8pm on the day, but the time lapse reconstruction showed his phone was up to 9.3km away during the key times – indicating he was never at the meeting.
"What the Kenyatta defence was able to do was get a lot of data to undermine prosecution witnesses," said Fergal Gaynor, counsel for the victims. "But neither the defence nor the government has ever produced a single telephone number for Kenyatta." The analysis of phone records was handed to prosecutors in September 2013, and witness 12 withdrew his claims in December. Prosecutor Ms Bensouda announced the same month that she did not have enough evidence to prosecute Mr Kenyatta, who was elected President in 2013. The case was closed a year later, and the prosecution claimed there had been a campaign to bribe the witness.
Kenyatta has painted the court as a tool of Western countries as all the 32 people indicted by the ICC since it started in 2002 have been African. Only two Congolese warlords have been convicted.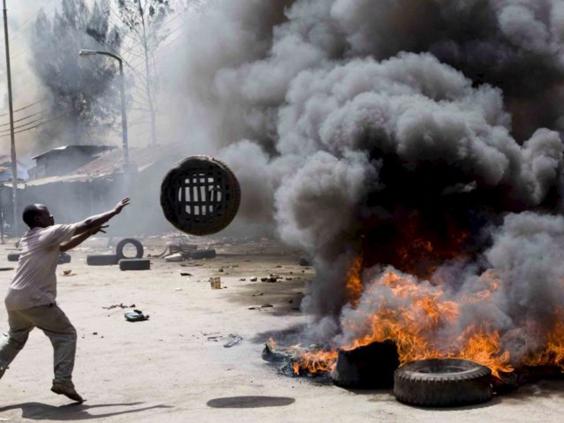 His deputy, William Ruto, and a radio presenter remain on trial. Experts have warned that if Mr Ruto is convicted – a former political opponent of Mr Kenyatta in 2007 who became his running mate in 2013 – then the result could trigger a new round of ethnic bloodletting.
"Everybody wanted to have prosecuted and convicted a senior African politician to justify their institution," said Kenyatta's lawyer, Steven Kay QC. "Because it was an African leader, as far as they were concerned, they didn't have to provide the same standards as they would do in other cases."
Dan Saxon, a law professor and former UN prosecutor for the war crimes court over the former Yugoslavia, said mistakes had been made in the case but "that does not mean that we should give up on the ICC project". He added: "The consequence would be permanent, systemic impunity for persons responsible for the gravest violations of human rights and the laws of war. No one wants a world like that."
The prosecutor's office said it "exerted all efforts to investigate this case properly", adding it had "learned important lessons and continues to adapt accordingly".
Reuse content