Ukraine's Prime Minister has accused Vladimir Putin of wanting to "restore" the Soviet Union and claimed both sides were "still in a state of war".
Speaking at a conference in Kiev, Arseniy Yatsenyuk claimed the Russian President wanted to "take the entire Ukraine", despite a cease-fire agreement existing between them.
"He [Putin] cannot cope with the idea that Ukraine would be a part of a big EU family," Mr Yatsenyuk told the assembled politicians and business leaders on Saturday. "He wants to restore the Soviet Union."
The Ukraine premier's speech came shortly after a second convoy of Russian trucks rolled into rebel-held territory in the east of the country, reportedly filled with almost 2,000 tons of humanitarian aid.
According to reports from one news agency about 250 trucks headed for the city of Luhansk, though numbers have not been officially confirmed.
Rayan Farukshin, a spokesman for Russian's customs agency said the last truck crossed the border some 2km (120 miles) east of Donetsk.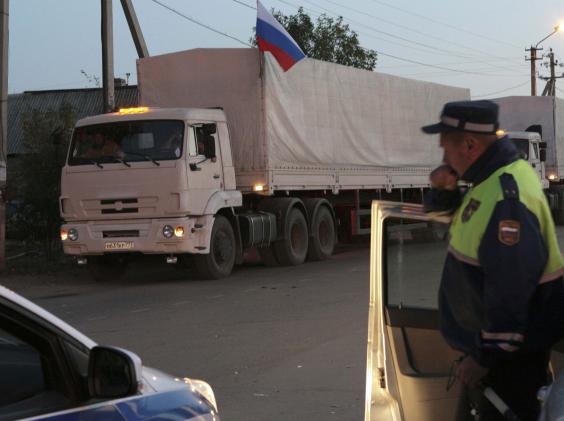 The Russian emergency ministry, which has coordinated previous humanitarian aid deliveries to Ukraine, has yet to comment.
Col Andriy Lysenko, a spokesman for the Ukrainian National Security and Defence Council, said the convoy had crossed "illegally" onto Ukrainian territory.
"Ukraine border guards and customs were not allowed to examine the cargo and vehicles," he said. "Representatives of the Red Cross don't accompany the cargo, nobody knows what's inside."
His relatively mild comments coupled with the silence of a number of senior Ukrainian officials reflect a change in mood within the Kiev government.
Prior to the first illegal convoy crossing into the Ukraine in August, officials stated it would be seen as an invasion and protested heavily against it.
Both then and on Saturday the convoy crossed the border without the oversight of the International Red Cross (ICRC), contrary to an agreement signed by both nations.
"We were not officially notified of an agreement between Moscow and Kiev to ship the cargo," said a representative from the ICRC's Moscow office.
Ukraine's President, Petro Poroshenko, has described the cease-fire deal agreed last week as a "fragile but efficient peace process".
Col Lysenko said six Ukrainian servicemen had died since the truce. He also confirmed that 12 rebel fighters had been killed by Ukrainian forces near Sea of Azov city of Mariupol, the first such admission.
Additional reporting by PA