Rumours continue to swirl about the Russian president's apparent vanishing act amid claims his long-denied girlfriend has given birth.
The Kremlin has consistently denied any relationship between 62-year-old Vladimir Putin and former Olympic gymnast Alina Kabayeva, 31.
The Russian leader, who remains the country's most popular politician, enjoying – according to a state broadcaster – an approval rating of 88 per cent, has been unusually silent in the past week, prompting a flurry of speculation over his whereabouts.
The latest theory is that Mr Putin, who formally divorced his first wife Lyudmila in 2014, had flown to Swiss Clinic Sant'Anna to witness the birth of his child, RIA news agency claimed.
Reports that Ms Kabayeva had checked into the exclusive clinic near Lugano last week could not be confirmed – and the Kremlin denied the former politician had given birth, The Daily Telegraph reported.
Ms Kabayeva, one of the most decorated gymnasts in the history of rhythmic gymnastics, became a Russian MP in 2005, holding the title of State Duma deputy from 2007 to 2014.
9 controversial Putin quotes
9 controversial Putin quotes
1/9 2004

"Anyone who doesn't regret the passing of the Soviet Union has no heart. Anyone who wants it restored has no brains."

Getty images

2/9 December 2005

"There is no such thing as a former KGB man."

Getty images

3/9 G8 Summit press conference 2008

"If you want to become an Islamic fundamentalist and be circumcised, come to Moscow. We are multiconfessional. We have very good specialists. I can recommend one for the operation. He'll make sure nothing grows back."

Getty images

4/9 2010

"Russia doesn't negotiate with terrorists. It destroys them." After the Moscow Metro bomb

Getty images

5/9 September 2013

"They say that Pyotr Ilyich Tchaikovsky was a homosexual. Truth be told, we don't love him because of that, but he was a great musician, and we all love his music. So what?" Interview with Associated Press

Getty images

6/9 March 2014

"The West's leaders seem, from what they say, entirely to have forgotten that there are some leaders in the world who want to conquer other countries."

Getty images

7/9 2014

Amazingly elaborate metaphor regarding the West and Russia "[Sometimes I think] our bear should probably just sit quietly and just eat honey instead of hunting animals, maybe then they will leave the bear in peace, but, no, they will not. What they are trying to do is chain the bear, and when they chain the bear they will take out his fangs and claws. This is how nuclear deterrence is working at the moment. If they take out the bear's fangs and claws, then the bear will not be able to do anything. It will just be a stuffed animal." Russian President's annual press conference

Getty images

8/9 2014

After Ksenia Sobchack, a well-known anti-Kremlin activist and journalist, was allowed to ask a question about Putin's government suppressing opposing political viewpoints: "Why did you give her the floor?" Russian President's annual press conference

Getty images

9/9 January 2014

"You can feel relaxed and calm [in Russia], but leave children alone, please." Directed at gay people in January 2014, before the Sochi Winter Olympics

Getty images
Both her and Mr Putin have denied long-standing rumours of a relationship between the pair, but this has not prevented widespread speculation in the Russian media – culminating in 2008 when reports claimed there were plans for the pair to marry following Mr Putin's retirement from government.
Mr Putin and Ms Kabayeva separately scotched the news article with Mr Putin claiming "there was not a single word of truth" in it.
The Russian leader's relationship is just the latest in a series of rumours speculating over his disappearance.
Another popular claim is that Mr Putin has fallen ill. The rumours were sparked after the Russian leader postponed a trip to Kazakhstan, with a Kazakh government official telling Reuters news agency: "It looks like he has fallen ill."
But these allegations have been repeatedly denied by Kremlin officials, who yesterday released pictures of the Russian leader meeting with Russian Supreme Court Chairman Vyacheslav Lebedev.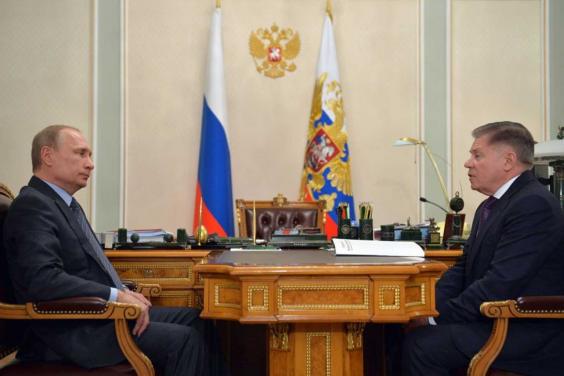 Asked by Reuters to confirm Mr Putin's good health, his personal spokesman Dmitry Peskov said: "Yes. We've already said this a hundred times. This isn't funny any more."
The spokesperson has also vehemently denied that Mr Putin was attending the bedside of his girlfriend and newborn child.
Additional reporting by Reuters
Reuse content