Lamborghini has given a new Huracan LP610-4 to the Italian State Police painted in its traditional blue and white colour.
Lamborghini's CEO, Stephan Winkelman, presented the "Polizia di Stato" in  Rome this week. The sports car is specially equipped, it has a LED light bar, four sirens, a gun holster and a police radio, along with a refrigeration system, to transport life-saving organs, proving that the police wheels won't be used only for speeding, but it will also have enough functions to guard town.
The new squad vehicle is powered by a 5.2 litre V10 engine. It'll hit 62 mph in just 3.2 seconds, goes on to 124 mph (200 kph) in 9.9 seconds, and keeps going to a 201 mph top speed. It's expected to cost around £188,000.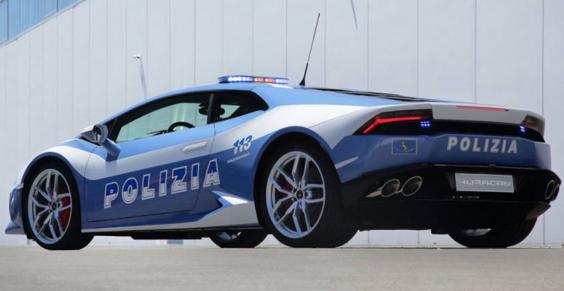 The Italian State Police follows the steps of Dubai's multi-million dollar fleet of police vehicles, which includes a Lamborghini Aventador.
Mr Wilkelman said: "We have a strong and fitting relationship with the Italian State Police. The new Lamborghini Huracan stands for Italian super sports car excellence and we are proud to provide it to the Italian State Police to carry out the specialist tasks these police cars undertake."
The Huracan model is the official successor of Gallardo, Lamborghini's most successful model ever which shifted over 14,000 units in nine years, and it will be seen patrolling the streets from the end of June.
Reuse content