Lila Perry did not want to create a scene. But that is exactly what happened.
Earlier this week, more than a hundred students walked out of class in protest over the transgender teenager's use of the women's lavatory and locker room.
"I'm hoping this dies down," Lila Perry, the 17-year-old who began identifying as a girl publicly in February, told the New York Times. "I don't want my entire senior year to be like this."
Dozens of students at Hillsboro High School, located south of St Louis, walked out of class on Monday in protest. Other students protested in support of her.
One female student said she did not want the teenager to use the women's toilets because she had not undergone an operation.
"I find it offensive because Lila has not went through any procedure to become female, putting on a dress and putting on a wig is not transgender to me," student Sophie Beel told reporters.
Ms Perry She told the newspaper she began feeling "more like a girl than a boy" when she was 13, said school officials gave her permission to use the girls' facilities as the new school year began.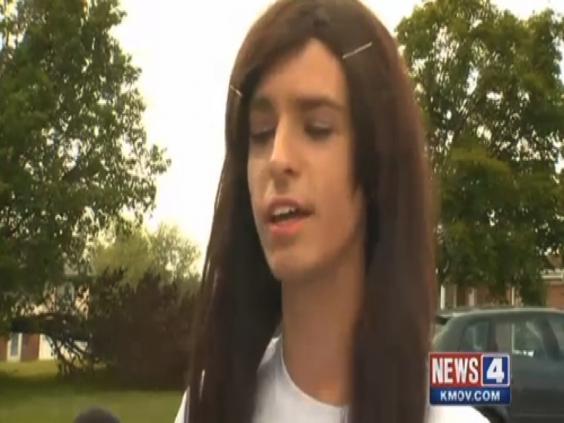 A senior local education official, Aaron Cornman, issued a statement saying the district "accepts all students no matter race, nationality/ethnicity, gender or sexual orientation".
The student protest came on the heels of a school board meeting lasty week that was attended by so many parents it had to be moved to a bigger location.
"My goal is for the district and parents to have a policy discussion," said Derrick Good, a lawyer who has two daughters in the district and wants students to use either facilities based on their biological sex or other gender-neutral facilities.
He worked with the Alliance Defending Freedom, a Christian advocacy group, to draft a "student physical privacy policy" and submit it to the district.
Thank you to the cast of #PLL it means a lot to me to have trans representation on my fav show! #FAceToFace @imarleneking

— Lila Perry (@transwitchcraft) August 12, 2015
Ms. Perry previously used a unisex faculty bathroom, the St. Louis Post-Dispatch reported.
Jeff Childs, a parent of two school age children, drove from his farm to attend the meeting. "I feel these girls have a right to their own privacy. Without the privacy they have nothing," he said.
Ms Perry said: "I think this is pure and simple bigotry I think they are using their claim they are uncomfortable, to target me a transgender woman."
She added: "It wasn't too long ago white people were saying I don't feel comfortable sharing a bathroom with a black person and history repeats itself."
Reuse content