Record numbers of sea lion pups have been rescued along the Californian coast as animal sanctuaries struggle to cope with the exceptionally high numbers.
January and February saw approximately 1,450 malnourished or dying sea lion pups washed up along the Californian coast – compared to just 68 the previous year.
Footage recorded by Sea World San Diego shows hundreds of Sea Lion pups, aged between six to eight months, being fed and cared for.
"In some instances, the pups, which are 8 to 9 months old, weigh only slightly above their birth weights," Jody Westberg, SeaWorld San Deigo's stranded animal coordinator, told The Independent.
She continued: "Since the beginning of January, we've rescued more than 440 sea lions and if the current trend continues, we'll soon set a new record for marine mammal rescues by our park in a single year."
Many of the rescued seals are suffering from from hypothermia, hypoglycemia, pneumonia, parasite infections, pox virus or other illnesses that vulnerable animals can be susceptible to when their immune systems become compromised.
"They're [arriving] extremely emaciated. They have no energy stores. They're just skin and bones, wasting away and on the brink of death," Dr Shawn Johnson, director of the veterinary science department at The Marine Mammal Center in Sausalito, told the Sacramental Bee.
Dr Johnson is part of the team attempting to save the animals, but the causes behind the sudden flux in numbers remains unknown.
Seal protection Action Group spokesman Andy Ottaway told The Independent: "We are very concerned that the die off of sea lion pups in California is likely due to climate change, with warming ocean temperatures displacing prey and causing nursing pups to starve."
It is thought that warming sea temperatures are preventing Sea Lion mothers from finding sufficient food – anchovies, mackerel, sardines and other fish – for their pups.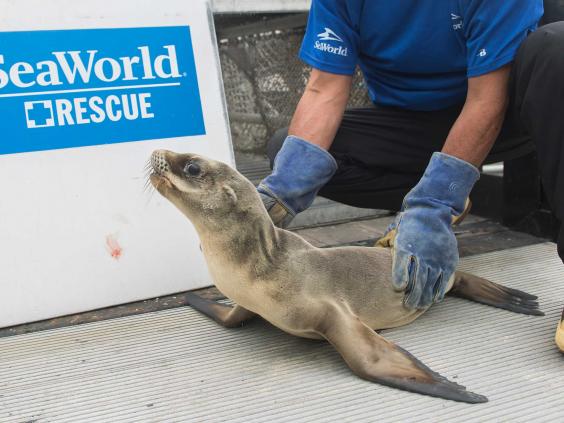 They are being forced to search further and further afield, leaving their pups alone with some – fearing abandonment – attempting to hunt themselves and others slowly dying.
Marine experts estimate that as many as ten thousand pups birthed last summer could be dying on four island in South California.
Reuse content