A man who has been completely blind for two years had his bandages removed yesterday allowing him to see his 18-month-old grandson for the first time.
In the video Winesi March, a 69-year-old farmer from a remote village in Malawi, has his bandages removed after undergoing surgery to fix his cataracts - a condition which although simple can have a devastating effect on individuals in rural developing communities.
Seeing for the first time in two years Mr March exclaims: "I can see you!" Around him his family burst into applause, before jumping up to sing and dance.
"Now I can see I can go back to my business," he said. "I want to get back to work on my farm and start cooking again and doing everything. When I saw my wife today I thought to myself. I am meeting her twice. I am born again. I never imagined how Luka [his grandson] would look."
The original video was originally intended to be livestreamed but a powercut at the hospital prevented footage being shown live.
"I am very happy, I feel humbled," said Mr March's wife Namaleta. "I never ever dreamt of this happening to our family. There wasn't much information in our area about eye care."
Speaking before the operation, Mr March described how he slowly lost the ability to work and socialise. "I am always here, and sometimes I can hear people laughing across the other side of the river. I feel like 'Let me go and see them, let me go and join them', but I fail to do that because of this situation."
His disability has had wider consequences than his inability to work. "I am scared of being attacked and there not being anyone to protect me. I feel like I'm not safe," he said.
But there is hope on the horizon. After the operation Mr March said: "I know how to dance and I will dance on that day. I will dance a lot. I will do everything possible to look for money and buy my wife a dress. I'll go for a white dress, meaning that my heart is white, I am happy."
Mr March's wife Namaleta said: "I relied on him so much, to provide for the family, but now he can't do anything. I have to do everything – finding food, making sure the children go to school. It's painful having to do both roles. I would be so excited and so relieved to get back to normal life."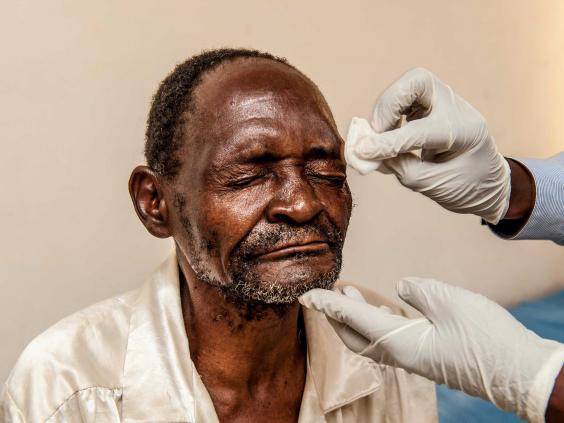 Globally, 20 million people, most of who live in developing countries, are living with cataract, a condition that causes sight to become blurred and gradually lost completely. However, cataracts are treatable with a simple operation that takes less than half an hour, and only costs £30.
A Million Miracles is an initiative run by international organisation Sightsavers, who campaign and act to prevent blindness across the globe.