Seventy years ago Jean Banchet's childhood exploded before his eyes. He spent a "half-hour of hell" cowering with his family in a makeshift shelter 100 yards from his home in Aunay-sur-Odon in the beautiful Norman hills.
"We were tossed around like pancakes by huge explosions in the fields all around us," he recalled. "Bombs fell a few yards away to the right and to the left. Eight bombs fell on the house and garden that we had just abandoned. The noise was overwhelming.
"Afterwards, there was a deep silence. I remember very clearly the silence. Then we heard a droning in the distance. Another wave of British bombers was approaching."
When Jean, aged nine, finally scrambled into the open, he saw that the next shelter belonging to his best friend André Clerc, 12, and his parents had been destroyed by a direct hit. "As soon as I saw the bomb crater where his shelter had been, I knew that I would never see him again," Mr Banchet said.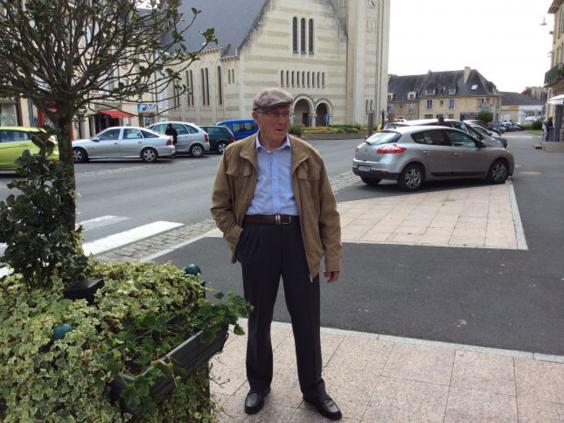 On that night, and in two days of RAF bombardments which followed, 165 of Aunay's citizens were killed. There were no German casualties. There were no Germans for miles around.
For a dozen Norman towns, this week's 70th anniversary of D-Day will revive memories not of liberation but of obliteration. On 6 June 1944, British and American heavy bombers turned away from their daily assaults on Germany to carpet-bomb Lisieux, Pont L'Evêque, Condé sur Noireau, Falaise, Flers, Vire, St Lô, Argentan and Coutances. A few days later it was the turn of Caen, Villers-Bocage and Aunay-sur-Odon.
More than 10,000 civilians, including children, women and old people, died in the RAF and USAAF raids on Norman towns in the summer of 1944. This is more than double the number of Allied soldiers who died on the five invasion beaches on 6 June (although many more  soldiers were killed in the larger battle of Normandy up to 20 August).
In Aunay-sur-Odon all that remained was the church tower. In destructive power and pinpoint accuracy, the raids were among the most effective RAF and USAAF actions of the war.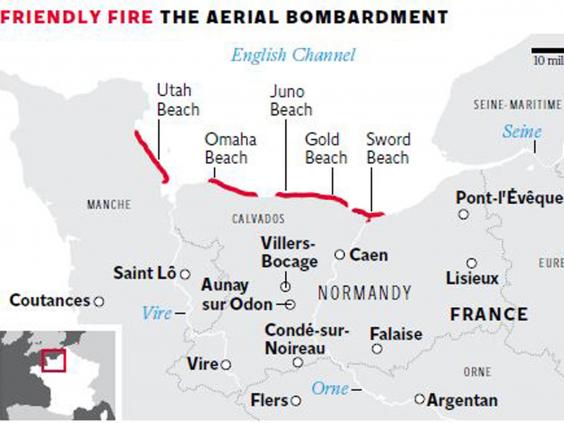 But why were Britain and the US attacking their allies? The flattening of the medieval towns of lower Normandy was equivalent to the destruction of Canterbury, Rye, Folkestone, Tunbridge Wells and almost every town in Kent. 
There was for many years a taboo – in France and in Britain – on talking about the bombing of Norman towns in June 1944. In recent years, the taboo has been breached.
Last Sunday, President François Hollande pointedly visited a Norman village that was destroyed on D-Day. On Friday, at a special service in Caen, he will become the first French leader to officially recognise the suffering of Norman civilians.
The historian  Antony Beevor has suggested that the destruction of the great medieval city of Caen, by British warships as well as aircraft, was "practically a war crime". There were German soldiers defending Caen. There were no military targets in St Lo, Lisieux, Aunay and most of the other "martyred" towns of 1944.
The raids were part of a plan to obliterate all settlements around cross-roads south of the Norman coast. The intention was to create a series of road-blocks to prevent the Germans from moving reinforcements towards the allied beachheads. The strategy – resisted by Winston Churchill but imposed by British and American military top-brass – was a stupid error. Normandy is a mesh of small roads. The Germans easily drove around the rubble.
In an article for Le Monde this week, another historian, Andrew Knapp, said that the killing of so many civilians for no clear military purpose would fall under the modern definition of a "war crime" laid down by the International Criminal Court in Rome in 1998.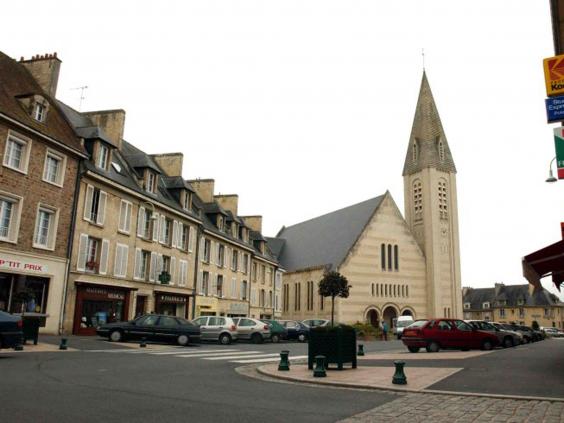 In Normandy, the destruction was long accepted as a necessary sacrifice – a painful series of amputations which helped to rescue France from Nazi tyranny. As the years have passed, awkward questions have surfaced.
Professor Jean Quellien, a respected historian at the University of Caen, said: "When Normans talk among themselves… there is a strong sense of bitterness, a belief that this was done too casually, even callously, and was, in any case, unnecessary."
The town of Aunay-sur-Odon has never celebrated on 6 June. "What would be the point?" said Councillor Isabelle Fouques-Cariou. "When the town was liberated on 8 August by British troops, there was no one here. It was just a heap of rubble."
Instead, as usual, the town will have commemorative church and cemetery services on 12 June. School children will read out the names of the civilian dead, including Mr Banchet's playmate, André Clerc.
Aunay was reconstructed from 1947 as a cheerful, modernised version of its old self. Jean Banchet returned with his family and, like his father, became one of the town's doctors. He retired 14 years ago.
"Seventy years is a long time but, to me, that night is as vivid as yesterday," he said. "As we escaped across the fields, I could see the town, my town, burning behind us. Yes, of course, people question why it happened. All the same, in all these years, I have never heard of any British visitor who was not welcomed to Aunay-sur-Odon."
Reuse content