Arnold Schwarzenegger, the former Governor of California, has blasted fellow republicans who are 'losing touch' with voters after a law in Indiana was passed which many claim legalises anti-gay discrimination.
The Terminator said he was 'incredibly concerned' over the laws passed in Indiana, which he claims 'fly in the face of equality and freedom'.
'As a Republican, I'm furious', he wrote in a column for the Washington Post, in which he heavily criticises fellow party members who 'choose politics of division'.
The piece is a response to what's become known as the Indiana Law, which many outspoken critics claim has legalised discrimination against gay and lesbian Americans in the state.
Schwarzenegger has now joined a long list of celebrity opponents, also including Democrat Hillary Clinton, Miley Cyrus, Ricky Gervais, and Tim Cook, the CEO of Apple.
Gay people aren't privileged. Privilege would be not paying taxes like churches don't. #MemoriesPizza #BoycottIndiana pic.twitter.com/ml5eEjcz2W

— Bipartisan Report (@Bipartisanism) April 3, 2015
Schwarzenegger writes: 'Now I'd like to speak to some of my fellow Republicans. I know plenty of Republicans who are sensible and driven to solve problems for America. They believe in Reagan's vision of a big tent where everyone is welcome. This message isn't for them.
'It is for Republicans who choose the politics of division over policies that improve the lives of all of us. It is for Republicans who have decided to neglect the next generation of voters. It is for Republicans who are fighting for laws that fly in the face of equality and freedom.
'If we want our party to grow and last, we must be focused on real solutions to problems Americans are facing.'
Schwarzenegger also highlights a drop in support for the Republicans since Proposition 8 – proposed legislation supported by many Republicans that would make gay marriage illegal. It's since been declared null by the federal courts, but shone the spotlight on the conservative views of many members of the party.
From the mouth of an actual Founder... We don't have to guess what they meant by religious freedom! #BoycottIndiana pic.twitter.com/kAmVY3rLo7

— Jackie (@thedahlimmama) April 1, 2015
He added: 'Maybe that's a coincidence, but there is no question that our party is losing touch with our voters, especially with the younger ones who are growing the registration rolls.
'I know what you're thinking: "You Californians are eccentric. My state is different. That's not going to happen here."
'You're wrong. All you have to do is look at the response to Indiana's law on Twitter, Facebook, Reddit, or pretty much wherever young people congregate and discuss what is important to them.
'Both sides of the Indiana debate used Twitter to voice their support, and the result couldn't be clearer. According to Zignal Labs, as of Wednesday night, #StandWithIndiana had been tweeted 5,571 times. Meanwhile,#BoycottIndiana was tweeted 430,728 times.'
#BoycottIndiana RFRA law may cost state over $256 m --- WAY TO GO @GovPenceIN & Racist Klan http://t.co/inM65a4fnL pic.twitter.com/1VZqb5c9dZ

— WarOnWomen (@WarAgainstWomen) April 1, 2015
But the law does have some support. Memories Pizza in Walkerton - a town in Indiana with eight restaurants and seven churches - describes itself a 'a Christian establishment' and the owners, the O'Connor family, have openly claimed their religious beliefs give them the right to deny service to lesbians, gays, bisexuals and transgenders.
'We're not discriminating against anyone, that's just our belief and anyone has the right to believe in anything,' Crystal O'Connor told the local ABC station, going on to say that they would refuse to cater for a gay wedding.
The restaurant was forced to close after the outcry caused by the comments, but sympathisers have now raised $500,000 for the company in a funding campaign which initially intended to raise just £25,000 to help them pay the bills while they were forced to remain closed.
Indiana's religious freedom law was signed by Governor Mike Pence last week, but changes have already been drafted after heavy opposition.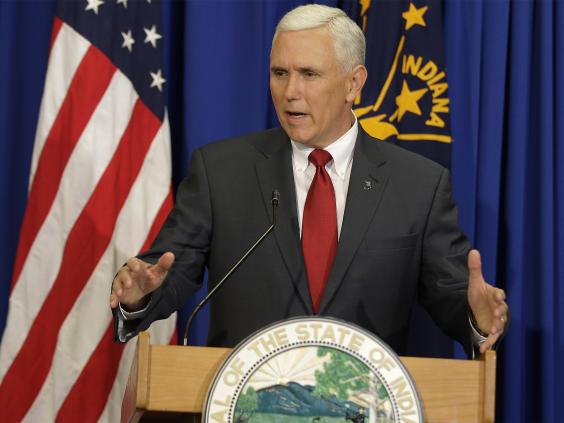 New clarifications are to be added saying that it won't give anyone the right to refuse service, employment or housing based on sexual orientation or gender identity, the Wall Street Journal reported.
It also includes language that prevents the law from providing a legal defence in a civil case over the refusal of service based on sexual orientation or gender identity. Both churches and religious organisations are exempt from these restrictions.
These changes were made at the request of Governor Pence, who was on the receiving end of a severe backlash from business leaders, out-of-state politicians and civic groups after he signed the original bill.
Mike Pence has defended the legislation, writing in the Wall Street Journal that it had been 'grossly misconstrued', adding 'I abhor discrimination'.
Arkansas has also passed the amended law, after Republican Governor Asa Hutchinson refused to sign the original, urging lawmakers to think again.
Schwarzenegger added: 'As a party, we need to take a similarly realistic look. Indiana's politicians clearly didn't expect the response the law received, but it is heartening to see that they've taken steps in the right direction, just as it is reassuring to see that Republican Gov. Asa Hutchinson of Arkansas listened to the outrage over Indiana and decided to veto a similar law. But I want to be absolutely certain that all of my fellow Republicans everywhere got the message. What happened in Indiana should be a teachable moment for us.'
Reuse content