The number of tenants in rental arrears of more than two month has fallen by 35,000, a drop of 35 per cent, in the last year.
However, the number actually facing eviction has continued to rise. In the first three months of 2014, 33,000 tenants faced potential eviction via court order, up 5.9 per cent from the last three months of 2013. On an annual basis this leaves evictions levels 10 per cent higher.
"Landlords and tenants depend closely on one another.  But communication is always vital to keep that relationship in effective working order," said Paul Jardine, director and receiver at Templeton LPA owned by LSL Property services which commissioned the research. " A good landlord or managing agent will have a working knowledge of their tenants' situation. If rent becomes late, it is vital that both parties discuss what can be done to get the tenancy back on track as soon as possible.  When rental arrears do arise, they are usually resolved in the space of a month or two  and the chances of more serious problems arising are falling even further."
Rooftop living
For those who like outside living space, this new modern property in Egypt Mews, Edinburgh has a marvellous private roof garden (pictured above), sheltered by trees but still with good city views.
The three storey, two bedroom property is in the trendy Morningside area of the city and is on witih Gilson Gray at offers over £335,000.
"The roof terrace is extraordinary not just because of the stunning way it has been set-out, but also the space itself offers an extremely private large area, which will catch the sun well into the evening," said Rob McGregor, Associate Director of Property Sales at Gilson Gray.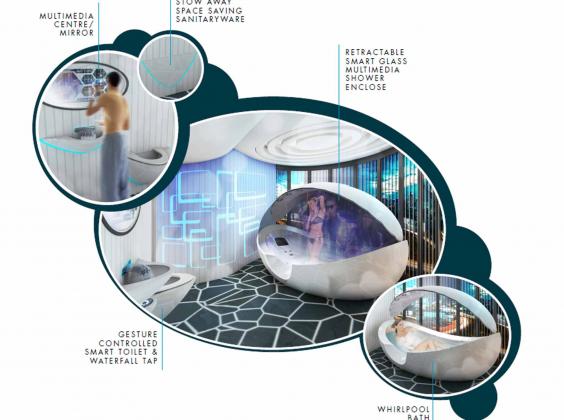 Bathrooms in the digital age
A study for www.ukBathrooms.com suggests that the average total UK homeowners spend in the bathroom is 12 hours per week. Almost a third have also spent more than £1,000+) on redecorating it in the past five years.
But looking to the future, they were asked what features they would like to see in their bathrooms in 2034.
The most popular was touch screen multimedia centres in the bathroom mirror and shower screen (78 per cent), followed by a sensor/voice-activated self-cleaning toilet- (64 per cent) and a whirlpool bath with spa features (43 per cent).
Viewings up 
Properties in Greater London and the South West are receiving the highest number of viewings in the country according to a survey of over 100 estate agents across the country carried out by Move with Us.
The average number of viewings per property in both locations is 13, up around 10 per cent year on year. This is also seven more viewings than the average for Britain which currently stands at six. Properties in the East Midlands sell after an average of just four viewings, and with an average of two offers.
Meanwhile, properties across Britain are selling ten days faster than this time last year, according to Rightmove.
The fastest selling location is Cambridge with an average of 27 days until a sale is agreed, and seven of the top ten fastest selling areas are all London boroughs, with Sutton and Lewisham both at 29 days. Warwick (33 days) and St Albans (34 days) are also in the  top ten.
Powys in Wales has the slowest selling properties, taking 113 days on average, followed by Gwynedd (112 days) and Sefton in Merseyside (106 days).