There's a little orange icon at the bottom of my computer screen and when the mouse happens to skate over it on its way to somewhere else, a blue message pops up. "Everything is good," it says. It's curiously comforting. Even I don't suppose the anti-virus-software icon's power stretches beyond the innards of the tower under my desk.
But, walking down the bank one evening, with the sky bleeding pink clouds from the sunset, the Avast message came into my head. The garden looked almost OK. I had a glass of prosecco in my hand, which must have helped to bring about this rosy view, and I'll probably never get the feeling again, but, boy, what a growing season it has been.
I have had more joy from the garden this year than I can ever before remember. That's partly because, after eight years, all the stuff we planted is now well settled. The leaves on the Magnolia tripetala are 50cm/20in long, geranium 'Brookside' has scrambled high up into the 'Buff Beauty' roses so the two of them flowered together, five feet off the ground. The crambe produced a flower spike at least five feet high and wide, a huge pyramid of tiny white flowers through which I could look to the tall spuria iris beyond. All the foxgloves have grown taller than me and the self-seeded love-in-a-mist this year came up in a heavenly mixture of blues, some almost navy.
Some sky-blue ones have seeded themselves in among a stand of spurge (this one is Euphorbia schillingii), and those two colours, the searing yellow-green of the spurge and the blue of the love-in-a-mist are well-matched. I could never have found room to plant nigella where it put itself. Self-seeding has brought about some of the best happenings in the garden this season: orange California poppies with a different spurge (Euphorbia oblongata) which also self-seeds, a double opium poppy in an outrageous shade of deep red which has put itself in front of the handsome shiny leaves of a stand of monkshood. That won't flower until later in the summer, but the opium poppies provide surprising slashes of colour like this, a kind of entr'acte between things that have finished or things that are yet to perform.
Moving round the circular path on the bank is more like swimming than anything else. I do a kind of breaststroke, arms stretched out in front, then sweeping round to the sides to part the branches of magnolia, Rubus tridel and the lush foliage of the hydrangeas that are now almost eight feet tall. Soon, this wild exuberance will tip out of control into chaos. But at the moment, I'm exulting in it. The plants evidently loved the wet spring. Some ferns are five feet high.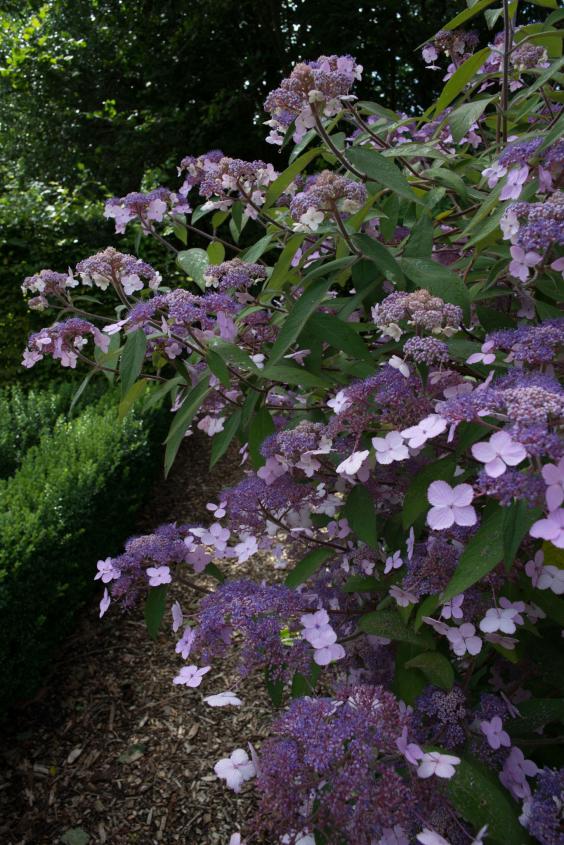 And, for reasons I don't understand, I haven't seen a lily beetle for at least a month. I caught the first one (being pillar-box red, you can't miss them) on 14 April and trapped perhaps 10 after that. Since then – zilch. Why? There are masses of lilies in the garden (I first began to grow them in quantity when I was writing my Bulb book) and in previous summers there have also been masses of lily beetles. I've sometimes noticed a fly, about the size and build of a house fly, resting on the lilies, a fly that I've not seen before. I scarcely dare hope that it's a predator, but if it's not, what else has kept the lily beetle off our flowers?
In late June, the most beautiful were the new kinds of martagon lily that, if you went to Chelsea, you might have seen on the stand of HW Hyde, who is building up a big collection of these early beauties. Their leaves are carried in whorls up the stem and the flowers come out in turn from a big spike at the top. They hang down but flip up their petals, Turk's cap fashion, to expose the ginger anthers arching out below. We had a deep maroon one, with 42 flowers on its spike, the dark petals with a pale reverse, pushing up through the lower branches of a young Yulan (Magnolia denudata). At that time, it was the best combo in the garden.
Even Rhododendron edgeworthii has flowered this season. "About time too," I said to it, when I saw the buds opening, palest pink. It's nine years since I bought it and these are the first flowers it has produced. The fault is probably mine. I kept it in a pot, as Kenneth Cox of the Glendoick nursery had warned that it was not fully hardy. For the first few years it overwintered in the greenhouse. Then I forgot about it, but it came through the cold weather unscathed. I thought that if it had already survived several sessions below zero, I might as well plant it out. I did that last year. And this is the result. It is gorgeously scented. And it comes from the Himalayas. What more could I ask of it? Nothing.
Even the veg are behaving themselves. Or rather, being allowed to behave by the hordes of creatures that bob out from the undergrowth. We've eaten mountains of courgettes ('Defender' grown from seed sown on 10 April) and have had several feasts of peas ('Hurst Green Shaft' grown from seed sown on 30 March). The beautiful tall hazel and willow wigwams we used to use for peas finally fell to bits, so we're growing the peas on big circles of pig netting. As the plants grew fast and tall, we had to stack another wire circle on top of the first. Together they make cylinders 3m/7ft tall, ideal for the sweet peas as well as the peas.
There have been times, like when I'm crawling around under the huge shrub roses, digging up bindweed, with rose thorns catching in my hair and ripping out bits of my skin, when I wonder why I ever got caught up in gardening. But then comes a moment, like that moment on the bank, when your soul lifts, and your garden quietly encloses you in an envelope of pure pleasure.