'I stalked the teacher," Sarah Salway, garden writer, laughs as she describes the slightly alarming enthusiasm she developed in her first-ever creative-writing class. ("Who I am still friends with!" she quickly adds, to reassure me.)
Gentle, kind and totally unstalkerish, these days, it's Salway who is the teacher: with classes in Kent, as well as in Canterbury, where she has just spent a year as the city's laureate. And despite the classroom base, gardens are often the focus of her work. In August, she's teaching an Arvon course entirely based on landscape writing and some of her favourite workshops are conducted entirely outdoors.
For the Wise Words Festival in Canterbury last year, Salway concocted a writing exercise that blurred the line with conceptual art. Choosing from a box of postcards, visitors could write to strangers, pinning their message to a line with a clothes peg, watching their words flutter in the wind, among flowers and leaves. And at least one extraordinary friendship evolved as an unexpected result. "I really like letters and correspondence," Salway explains. "And it was wonderful, because I got a note from one visitor saying, 'I took a card and I can't stop thinking about the person who wrote it.' People were making themselves very vulnerable. And in the end we were able to put those two people together." Was it romantic, I wonder? No, says Salway: just two potential friends who clicked via a single postcard.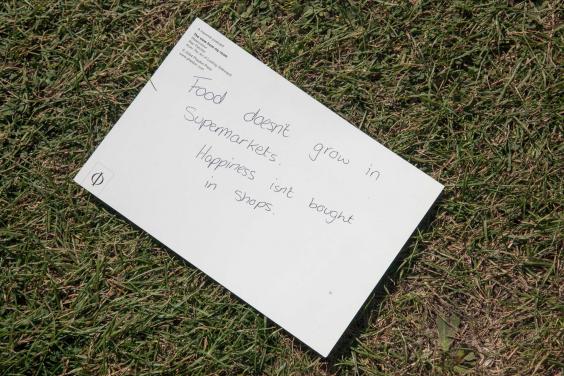 Salway's parents were both writers, turning out books on herbs and monastery gardens while working day jobs in commercial publishing: her father was assistant editor of Farmers Weekly, no less. And here the connections between past and present begin to become clear: "The garden I grew up in was open to the public, it was a series of Elizabethan herb gardens, just when people were beginning to get interested in herbs in the 1970s, and I remember being in the garden and people would come and be looking round it. I think that's why I'm still fascinated by private spaces within public gardens."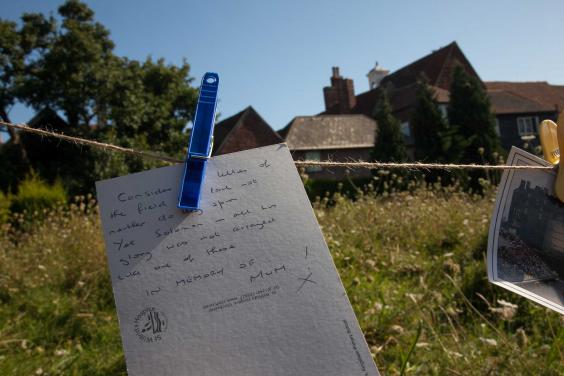 Then, as Canterbury laureate, she began to work on a portrait of Kent, a county nicknamed "the garden of England", through some of its green spaces, including, alongside world-renowned acres such as Knole, the Secret Gardens of Sandwich, and at least one shell grotto. First it was a blog, at writerinthegarden.com, and now it's a book, out in June, Digging Up Paradise, (Cultured Llama, £12).
The role of nostalgia interests her: "When you read people talking about their gardens, quite often they've seen something in their childhood – sometimes it's just a colour – and they're trying when they make a garden to recover a memory, which perhaps never really existed."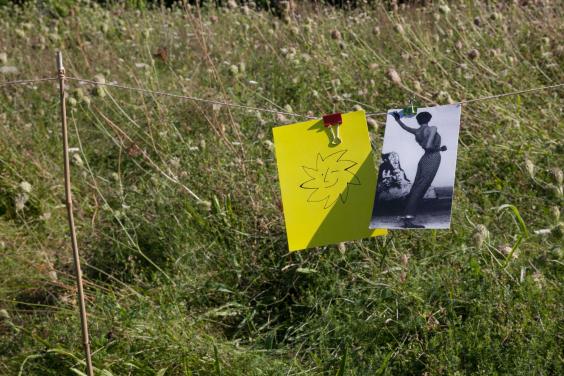 But the 2014 Salway project I'm most looking forward to is her participation in the Chelsea Fringe – a crazy, creative adjunct to the prim poshness of the Flower Show itself, that runs until 8 June across the UK and beyond. Salway has hooked up with the Old Map Man, aka Ken Titmuss, a walking guide with a difference, who takes groups through the streets of London with antique maps in hand, pointing out what's gone, and what's still there. "I did one of his walks, and it was just amazing. So we came up with the idea of doing a walk based on the lost gardens of the Strand."
The Strand is now a busy shopping street, but in the 17th century it was lined with the palaces of London's grandees, with gardens sloping down to the river. "So starting at Charing Cross, and finishing at Lincoln's Inn, we'll be using his maps and looking at where the big houses and gardens were." Along the way, Salway will read poetry and prose evoking London's lost gardens: "I've got bits from Virginia Woolf, Wordsworth and Pepys," she says.
'The Lost Gardens of the Strand' 3 and 8 June, £15; eventbrite.com and chelseafringe.com
Find out more about the Wise Words Festival at  http://wisewordsfestival.co.uk
Reuse content