Fergus Garrett, head gardener of Great Dixter, the centuries-old manor house in East Sussex, is standing in front of a class of secondary-school children. "I was held at gunpoint several times when looking for tulips in Eastern Turkey. There was an internal conflict going on, but that didn't get in the way," he tells them.
Recounting these tales of horticultural high jinks, Garrett is on a mission: to seed a new generation of gardeners.
Like most of England's famous gardens, Dixter has a long pedigree. In 1912, when Lutyens remodelled the medieval house, he also left his mark on the garden, straitjacketing it into the prim borders of the Arts and Crafts movement. These were soon ripped out by Daisy Lloyd, who lived there at the time and decided to bring the wild grasslands and meadows from the surrounding countryside back into the garden. Later, her son "Christo" Lloyd transformed it yet again, using bright colours and planting tropical dahlias long before they became fashionable.
But on Christo's death in 2006, Garrett – who had worked closely with him – realised the importance of preserving Dixter's future, as well as its past. "Christo breathed life into this place. It would have been easy for us to let it go stale; to just live off the name. He always said to me, 'I've given you everything and one day you'll be better than me.' I could never be better than Christo – he was a one-off, but I need to do the same thing for the next generation'."
Garrett and Catherine Haydock, Dixter's Education Officer, are concerned not only with the future of Dixter, but the horticultural industry more widely. "Critical skills are being lost," Haydock warns. "These days all the plants are grown for you. No one is hands-on."
There is a skills crisis facing the UK horticulture industry. According to a recent survey by Horticulture Matters, 72 per cent of businesses were finding it difficult to fill skilled vacancies, while estimates by sector skills council Lantra suggest that the industry will need 595,000 more employees by 2020.
To combat this, Dixter offers three different scholarships a year to students, as well as generous placements, funded jointly by the Great Dixter Charitable Trust and the Historic and Botanic Garden Training Programme.
The apprenticeship structure makes sure young gardeners are properly taught, learning the traditional techniques.
Having students is much more expensive and time-consuming than employing trained staff, but the team at Dixter see it as both a responsibility and an investment for the future. Otherwise, Garrett fears, "there will be no one left to run gardens across the country. Everything will continue to be dumbed down."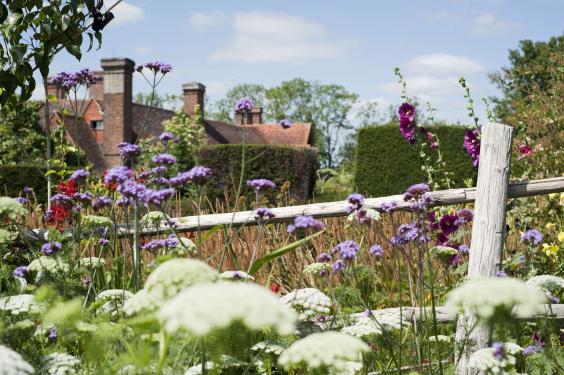 It is this mixture of past and future, old and young, which makes Dixter such a spirited and pioneering place. Garrett fondly describes his team as a family: "We are an eclectic mix and so we're generous to everyone and hope that they will be generous in turn when they grow."
Dixter is now funding a trainee gardener to visit Romania, so he can record the wildflowers in the meadows there and hopefully reintroduce them to the UK, where more than 98 per cent of our meadows have been lost.
Another student benefiting from Dixter's travel bursaries is the current Christopher Lloyd scholar Jonny Bruce. Currently, he is working with Garrett to plant next season's display, while teaching willow weaving in student workshops. But despite (or perhaps because of) Dixter's success in sprouting the next generation of gardeners, Garrett is humble about his role. "I'm not the future of this place. It's going to be the person after me and the person after that. It's for the benefit of the organisation to put training schemes in place. I'm just securing Dixter's future, as well as the future of the industry."
Reuse content