For flower power, particularly in a small garden, there is nothing to beat clematis. There are a few with handsome leaves, such as the evergreen early flowering C. armandii, but for the most part, flowers are all they have got. Form, and substance, can be borrowed from other shrubs. Clematis look good when they are scrambling through some obliging neighbour.
The season could start with creamy-yellow, freckled C. cirrhosa, often in bloom by February. It's not such a thug as C. armandii, which flowers through March and April. Both those are evergreen, unlike the glorious spring-flowering kinds derived from C. macropetala and C. alpina. Clematis flowers get bigger as the season advances, so you end up in midsummer with dinner plates such as mid-blue 'General Sikorski' and dark red 'Niobe'. By August and September, when the Viticellas are at their best, the flower size has shrunk. In many situations, this is an advantage.
The time of flowering to a great extent governs how you should prune your clematis: the early kinds need no attention, the mid-season monsters may need a light tidying up, the late-flowering types respond to butchering. The 'none' option may seem the easiest and it is worth remembering that a clematis will not die from lack of pruning. It may flower less than it otherwise would. It may flower at gutter, rather than at eye, level. But it will not keel over just because you and your flashing Felcos have not been near it.
You need never prune the earliest flowering clematis such as delicate C. alpina types ('Frances Rivis' and friends), vigorous C. armandii, C. macropetala and the popular C. montana, though both this and C. armandii may need cutting back if they are bullying other plants. If you want to reduce their spread, prune them immediately after flowering. Otherwise leave them alone.
Subjects for light pruning include the popular 'Nelly Moser' (mauve with a lilac bar), 'Barbara Jackman', purple-blue 'Lasurstern' and 'The President', all of which flower from June onwards all through the summer. Light pruning means taking out dead, weak, or scraggy-looking stems entirely and cutting the rest of the stems back to the first strong pair of buds you can find. These will already be showing themselves plainly by now.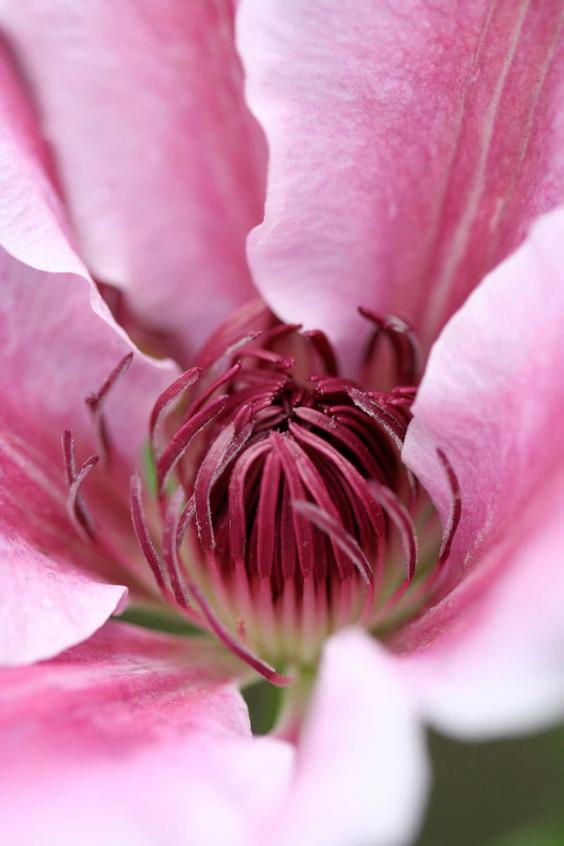 The clematis that need the toughest treatment are those that flower in the second half of summer: the beautiful purple 'Jackmanii Superba', mauve-pink 'Comtesse de Bouchaud', sky-blue 'Perle d'Azur' and the Viticellas (my favourites), such as reddish 'Abundance' and deep-purple 'Royal Velours'.
All these should be cut back hard every year to within 30cm/12in or so of the ground. This is cathartic and gives you an opportunity to train properly and tie in the fresh stems and avoid an unholy tangle of growth. At the same time, you can mulch all your clematis with compost or manure to keep the soil moist and the roots cool.
Although, as I said, it may seem a good idea to favour clematis that need little attention, I learnt – the hard way – that the easiest ones to deal with in a garden are the late-flowering kinds that you cut down hard every year. We had a wooden pergola in our old garden and every pole had its clematis, carefully chosen to extend the flowering season – something that gardening correspondents are always going on about, even to themselves.
I planted April-flowering Clematis macropetala to surge through the rose 'Easlea's Golden Rambler'; I swathed a purple solanum with fresh tendrils of the May-flowering clematis 'The President'. Both clematises went mad. But the solanum died and proved impossible to extricate from its suit of borrowed clothes. And I couldn't fight my way through the enveloping blankets of C. macropetala to prune the rose when I need to.
If I had planted just late-flowering types of C. viticella, all the clematis would have been cut down close to the ground by now and the way would be clear for me to get in and do whatever work was necessary on the host shrubs.
Amazingly, I took my own advice when we came to our present garden. In a gravelled yard at the side of the house, we put up trellis to camouflage the oil tank which stood quite close to the boundary there. I planted 'Easlea's Golden Rambler', to spread over one arm of the trellis and 'Rambling Rector', a white cluster-flowered rose on the other. Then I chucked clematis into the mix.
I planted two of my favourite Viticella 'Venosa Violacea' with purple petals banded down the centre with white. I put in sky-blue 'Fujimusume' and 'Bill Mackenzie' which produces wonderful fluffy seedheads as well as yellow flowers. A friend gave us deep-red 'Niobe' as a house-warming present and as a final flourish I added the dark, dark-purple Viticella 'Black Prince' and the larger-flowered purple 'Polish Spirit'. All could be cut down to 30cm/12in in late February or early March.
'Bill Mackenzie' took off like a rocket and found its way up into a hazel. 'Venosa Violacea' did everything I'd hoped. The others sulked, despite special petting and feeding and barriers against mice. Then, after the cataclysmic storms of summer 2012, when there were landslides all around us, we thought we ought to move the oil tank a little further in from the old drystone wall that forms our boundary at this point.
I meant to shift the clematis before work started, but never did. There was too much other chaos going on. The trellis came down, new footings were dug, a great deal of concrete sloshed around in the yard. The trellis went back up again in its new position, with new (but the same) roses. I didn't plant any more clematis. And then this last summer, fat, juicy stems sprouted from the gravel-covered rubble left behind after the tank was moved. 'Polish Spirit', 'Niobe' and the rest had finally decided to flourish, though now they were marooned nearly two metres away from a support.
I left them where they were and can now vouch for the fact that clematis make wonderful ground cover. Spreading over gravel, at least, they do not get munched by slugs and snails. And I'm covering the re-sited trellis with seed-grown cobaea. Finally, a result.
MY FIVE FAVOURITE CLEMATIS
'Bill Mackenzie': small yellow lantern flowers from July-Sept and superb fluffy seedheads. Vigorous. Where there's space, can be left to its own fate. Otherwise, prune hard in late Feb or March.
C. macropetala: charming small flowers, blue with a boss of white stamens inside. Flowers vigorously from April-May. Needs no regular pruning.
'Jackmanii Superba': a vigorous clematis with sumptuous velvety blooms of deep purple, flowering from July-Sept. Prune hard in late Feb or March.
'The President': has two, sometimes three crops of flowers, between May and Sept. Extremely vigorous with large flowers of purplish-blue. Prune lightly in late Feb or March.
'Venosa Violacea': a splendid Viticella with medium-sized flowers of blue-purple striped with white. Flowers June-Aug. Prune hard in late Feb or March.
Reuse content